Magnetically Aligned Nanorods in Alginate Capsules (MANiACs): Soft Matter Tumbling Robots for Manipulation and Drug Delivery
1
Weinberg Medical Physics, Inc., North Bethesda, MD 20852, USA
2
Multi-Scale Robotics and Automation Lab, School of Mechanical Engineering, Purdue University, West Lafayette, IN 47907, USA
3
Russel H. Morgan Department of Radiology, Division of Magnetic Resonance Research, The Johns Hopkins University School of Medicine, Baltimore, MD 21205, USA
4
Cellular Imaging Section and Vascular Biology Program, Institute for Cell Engineering, The Johns Hopkins University School of Medicine, Baltimore, MD 21205, USA
5
Department of Oncology, The Johns Hopkins University School of Medicine, Baltimore, MD 21205, USA
6
Department of Biomedical Engineering, The Johns Hopkins University School of Medicine, Baltimore, MD 21205, USA
7
Department of Chemical & Biomolecular Engineering, The Johns Hopkins School of Engineering, Baltimore, MD 21218, USA
8
Department of Physics, Elon University, Elon, NC 27244, USA
*
Authors to whom correspondence should be addressed.
†
These authors contributed equally.
Received: 16 February 2019 / Revised: 23 March 2019 / Accepted: 27 March 2019 / Published: 31 March 2019
Abstract
Soft, untethered microrobots composed of biocompatible materials for completing micromanipulation and drug delivery tasks in lab-on-a-chip and medical scenarios are currently being developed. Alginate holds significant potential in medical microrobotics due to its biocompatibility, biodegradability, and drug encapsulation capabilities. Here, we describe the synthesis of MANiACs—Magnetically Aligned Nanorods in Alginate Capsules—for use as untethered microrobotic surface tumblers, demonstrating magnetically guided lateral tumbling via rotating magnetic fields. MANiAC translation is demonstrated on tissue surfaces as well as inclined slopes. These alginate microrobots are capable of manipulating objects over millimeter-scale distances. Finally, we demonstrate payload release capabilities of MANiACs during translational tumbling motion.
View Full-Text
►

▼

Figures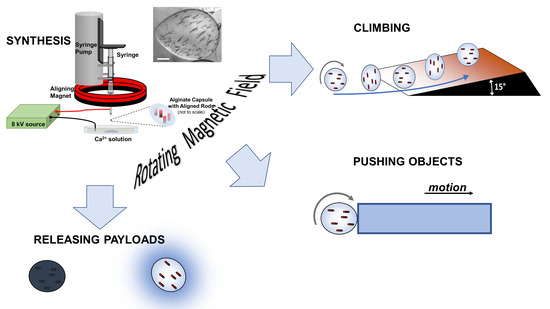 Graphical abstract
This is an open access article distributed under the
Creative Commons Attribution License
which permits unrestricted use, distribution, and reproduction in any medium, provided the original work is properly cited (CC BY 4.0).

Share & Cite This Article
MDPI and ACS Style
Mair, L.O.; Chowdhury, S.; Paredes-Juarez, G.A.; Guix, M.; Bi, C.; Johnson, B.; English, B.W.; Jafari, S.; Baker-McKee, J.; Watson-Daniels, J.; Hale, O.; Stepanov, P.; Sun, D.; Baker, Z.; Ropp, C.; Raval, S.B.; Arifin, D.R.; Bulte, J.W.; Weinberg, I.N.; Evans, B.A.; Cappelleri, D.J. Magnetically Aligned Nanorods in Alginate Capsules (MANiACs): Soft Matter Tumbling Robots for Manipulation and Drug Delivery. Micromachines 2019, 10, 230.
Note that from the first issue of 2016, MDPI journals use article numbers instead of page numbers. See further details here.
Related Articles
Comments
[Return to top]