Pinus densiflora

Sieb.

et Zucc.

Alleviates Lipogenesis and Oxidative Stress during Oleic Acid-Induced Steatosis in HepG2 Cells

1

Department of Agrofood Resources, National Academy of Agricultural Science, RDA, Suwon 441-853, Korea

2

Department of Food Science and Biotechnology, Sungkyunkwan University, Suwon 440-746, Korea

*

Author to whom correspondence should be addressed.

Received: 5 June 2014 / Revised: 10 July 2014 / Accepted: 18 July 2014 / Published: 23 July 2014
Abstract
Excess accumulation of lipids and oxidative stress in the liver contribute to nonalcoholic fatty liver disease (NAFLD). We hypothesized that
Pinus densiflora
Sieb.
et Zucc.
(PSZ)
can
protect against NAFLD by regulating lipid accumulation and oxidative stress in the liver. To investigate the effect of PSZ
upon NAFLD, we used an established cellular model: HepG2 cells treated with oleic acid. Then, the extent of hepatic steatosis and oxidative stress was assessed and levels of inflammatory markers measured. Oleic acid-treated HepG2 cells, compared with controls, had greater lipid accumulation. PSZ decreased lipid accumulation by 63% in oleic acid-treated HepG2 cells. Additionally, PSZ decreased the target gene expression of lipogenesis such as sterol regulatory element binding protein-1c, fatty acid synthase, stearoyl-CoA desaturase-1, diacylglycerol
O
-acyltransferase-1, and acetyl-CoA carboxylase-1 by 1.75, 6.0, 2.32, 1.93 and 1.81 fold, respectively. In addition, Oleic acid-treated HepG2 cells elicited extensive accumulation of tumor necrosis factor-α (TNFα) by 4.53 fold, whereas PSZ-treated cells
decreased the expression of TNFα mRNA by 1.76 fold. PSZ significantly inhibited oxidative stress induced by reactive oxygen species. These results suggest that PSZ has effects on steatosis
in vitro
and further studies are needed
in vivo
to verify the current observations.
View Full-Text
►

▼

Figures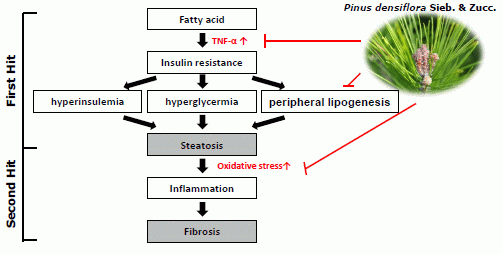 Graphical abstract

Share & Cite This Article
MDPI and ACS Style
Hwang, Y.-J.; Wi, H.-R.; Kim, H.-R.; Park, K.W.; Hwang, K.-A. Pinus densiflora Sieb. et Zucc. Alleviates Lipogenesis and Oxidative Stress during Oleic Acid-Induced Steatosis in HepG2 Cells. Nutrients 2014, 6, 2956-2972.
Related Articles
Comments
[Return to top]