Effectiveness and Safety of a Probiotic-Mixture for the Treatment of Infantile Colic: A Double-Blind, Randomized, Placebo-Controlled Clinical Trial with Fecal Real-Time PCR and NMR-Based Metabolomics Analysis
1
Neonatology and Neonatal Intensive Care Unit, Department of Biomedical Science and Human Oncology, Aldo Moro University of Bari, 70100 Bari, Italy
2
SIGENP (Italian Society of Pediatric Gastroenterology, Hepatology, and Nutrition), via Libero Temolo 4 (Torre UB), 20126 Milan, Italy
3
Section of Hygiene, Department of Biomedical Science and Human Oncology, Aldo Moro University of Bari, 70100 Bari, Italy
4
Department of Public Health and Infectious Disease, "Sapienza" University of Rome, 00100 Rome, Italy
5
Department of Agro-Food Science and Technology, University of Bologna, Piazza Goidanich 60, 47522 Cesena, Italy
*
Author to whom correspondence should be addressed.
Received: 14 January 2018 / Revised: 5 February 2018 / Accepted: 7 February 2018 / Published: 10 February 2018
Abstract
Introduction: To investigate the effectiveness and the safety of a probiotic-mixture (Vivomixx
®
, Visbiome
®
, DeSimone Formulation
®
; Danisco-DuPont, Madison, WI, USA) for the treatment of infantile colic in breastfed infants, compared with a placebo. Methods: A randomized, double-blind, placebo-controlled trial was conducted in exclusively breastfed infants with colic, randomly assigned to receive a probiotic-mixture or a placebo for 21 days. A structured diary of gastrointestinal events of the infants was given to the parents to complete. Samples of feces were also collected to evaluate microbial content and metabolome using fecal real-time polymerase chain reaction (qPCR) and Nuclear magnetic resonance (NMR)-based analysis. Study registered at
ClinicalTrials.gov
(NCT01869426). Results: Fifty-three exclusively-breastfed infants completed three weeks of treatment with a probiotic-mixture (
n
= 27) or a placebo (
n
= 26). Infants receiving the probiotic-mixture had less minutes of crying per day throughout the study by the end of treatment period (68.4 min/day vs. 98.7 min/day;
p
= 0.001). A higher rate of infants from the probiotic-mixture group responded to treatment (defined by reduction of crying times of ≥50% from baseline), on day 14, 12 vs. 5 (
p
= 0.04) and on day 21, 26 vs. 17 (
p
= 0.001). A higher quality of life, assessed by a 10-cm visual analogue scale, was reported by parents of the probiotic-mixture group on day 14, 7.1 ± 1.2 vs. 7.7 ± 0.9 (
p
= 0.02); and on day 21, 6.7 ± 1.6 vs. 5.9 ± 1.0 (
p
= 0.001). No differences between groups were found regarding anthropometric data, bowel movements, stool consistency or microbiota composition. Probiotics were found to affect the fecal molecular profile. No adverse events were reported. Conclusions: Administration of a probiotic-mixture appears safe and reduces inconsolable crying in exclusively breastfed infants.
View Full-Text
►

▼

Figures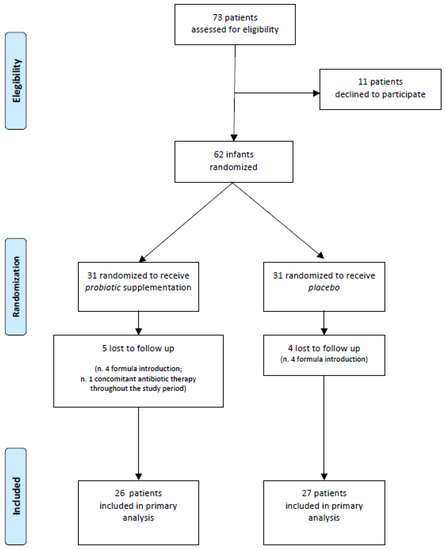 Figure 1
This is an open access article distributed under the
Creative Commons Attribution License
which permits unrestricted use, distribution, and reproduction in any medium, provided the original work is properly cited (CC BY 4.0).

Share & Cite This Article
MDPI and ACS Style
Baldassarre, M.E.; Di Mauro, A.; Tafuri, S.; Rizzo, V.; Gallone, M.S.; Mastromarino, P.; Capobianco, D.; Laghi, L.; Zhu, C.; Capozza, M.; Laforgia, N. Effectiveness and Safety of a Probiotic-Mixture for the Treatment of Infantile Colic: A Double-Blind, Randomized, Placebo-Controlled Clinical Trial with Fecal Real-Time PCR and NMR-Based Metabolomics Analysis. Nutrients 2018, 10, 195.
Note that from the first issue of 2016, MDPI journals use article numbers instead of page numbers. See further details here.
Related Articles
Comments
[Return to top]