Shallow Landslide Prediction Using a Novel Hybrid Functional Machine Learning Algorithm
1
Geographic Information Science Research Group, Ton Duc Thang University, Ho Chi Minh City, Vietnam
2
Faculty of Environment and Labour Safety, Ton Duc Thang University, Ho Chi Minh City, Vietnam
3
Department of Geomorphology, Faculty of Natural Resources, University of Kurdistan, Sanandaj 66177-15175, Iran
4
Department of Rangeland and Watershed Management, Faculty of Natural Resources and Earth Sciences, University of Kashan, Kashan 87317-53153, Iran
5
Department of Rangeland and Watershed Management, Faculty of Natural Resources, University of Kurdistan, Sanandaj 66177-15175, Iran
6
British Columbia, Ministry of Forests, Lands, Natural Resource Operations and Rural Development, Prince George, BC V2L 1R5, Canada
7
Department of Earth Sciences Simon Fraser University 8888 University Drive Burnaby, Burnaby, BC V5A 1S6, Canada
8
Department ofWatershed Management, Faculty of Natural Resources, Sari Agricultural Sciences and Natural Resources University, Sari, Mazandaran 48181-68984, Iran
9
Center for Advanced Modeling and Geospatial System (CAMGIS), Faculty of Engineering and IT, University of Technology Sydney, CB11.06.106, Building 11, 81 Broadway, Ultimo, NSW 2007, Australia
10
Department of Energy and Mineral Resources Engineering, Choongmu-gwan, Sejong University, 209 Neungdong-ro, Gwangjin-gu, Seoul 05006, Korea
11
Institute of Research and Development, Duy Tan University, Da Nang 550000, Vietnam
12
Faculty of Built Environment and Surveying, Universiti Teknologi Malaysia (UTM), Johor Bahru 81310, Malaysia
13
Department of Computer Science and Engineering and IT, School of Electrical and Computer Engineering, Shiraz University, Shiraz 84334-71964, Iran
14
Department of Energy Engineering, Budapest University of Technology and Economics, 1111 Budapest, Hungary
15
Geoscience Platform Research Division, Korea Institute of Geoscience and Mineral Resources (KIGAM), 124, Gwahak-ro Yuseong-gu, Daejeon 34132, Korea
16
Department of Geophysical Exploration, Korea University of Science and Technology, 217 Gajeong-ro Yuseong-gu, Daejeon 34113, Korea
*
Authors to whom correspondence should be addressed.
Received: 17 March 2019 / Revised: 11 April 2019 / Accepted: 12 April 2019 / Published: 17 April 2019
Abstract
We used a novel hybrid functional machine learning algorithm to predict the spatial distribution of landslides in the Sarkhoon watershed, Iran. We developed a new ensemble model which is a combination of a functional algorithm, stochastic gradient descent (SGD) and an AdaBoost (AB) Meta classifier namely ABSGD model to predict the landslides. The model incorporates 20 landslide conditioning factors, which we ranked using the least-square support vector machine (LSSVM) technique. For the modeling, we considered 98 landslide locations, of which 70% (79) were used for training and 30% (19) for validation processes. Model validation was performed using sensitivity, specificity, accuracy, the root mean square error (RMSE) and the area under the receiver operatic characteristic (AUC) curve. We also used soft computing benchmark models, including SGD, logistic regression (LR), logistic model tree (LMT) and functional tree (FT) algorithms for model validation and comparison. The selected conditioning factors were significant in landslide occurrence but distance to road was found to be the most important factor. The ABSGD model (AUC= 0.860) outperformed the LR (0.797), SGD (0.776), LMT (0.740) and FT (0.734) models. Our results confirm that the combined use of a functional algorithm and a Meta classifier prevents over-fitting, reduces noise and enhances the power prediction of the individual SGD algorithm for the spatial prediction of landslides.
View Full-Text
►

▼

Figures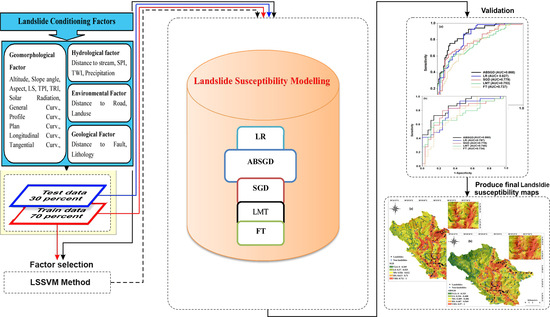 Graphical abstract
This is an open access article distributed under the
Creative Commons Attribution License
which permits unrestricted use, distribution, and reproduction in any medium, provided the original work is properly cited (CC BY 4.0).

Share & Cite This Article
MDPI and ACS Style
Tien Bui, D.; Shahabi, H.; Omidvar, E.; Shirzadi, A.; Geertsema, M.; Clague, J.J.; Khosravi, K.; Pradhan, B.; Pham, B.T.; Chapi, K.; Barati, Z.; Bin Ahmad, B.; Rahmani, H.; Gróf, G.; Lee, S. Shallow Landslide Prediction Using a Novel Hybrid Functional Machine Learning Algorithm. Remote Sens. 2019, 11, 931.
Note that from the first issue of 2016, MDPI journals use article numbers instead of page numbers. See further details here.
Related Articles
Comments
[Return to top]