Volcanic Cloud Top Height Estimation Using the Plume Elevation Model Procedure Applied to Orthorectified Landsat 8 Data. Test Case: 26 October 2013 Mt. Etna Eruption
1
Bureau de Recherches Géologiques et Minières, 3 av. C. Guillemin, 45000 Orléans, France
2
Istituto Nazionale di Geofisica e Vulcanologia, Sez. Roma Via di Vigna Murata, 00100 Rome, Italy
3
Istituto Nazionale di Geofisica e Vulcanologia, Sez Catania, Piazza Roma, 95100 Catania, Italy
4
Laboratoire Interuniversitaire des Systèmes Atmosphériques, Université Paris-Est, 94000 Créteil, France
5
COMET, Atmospheric, Oceanic and Planetary Physics, University of Oxford, Clarendon Laboratory, Parks Road, Oxford OX1 3PU, UK
*
Author to whom correspondence should be addressed.
Received: 22 January 2019 / Revised: 26 March 2019 / Accepted: 28 March 2019 / Published: 2 April 2019
Abstract
In this study, we present a method for extracting the volcanic cloud top height (VCTH) as a plume elevation model (PEM) from orthorectified Landsat 8 data (Level 1). A similar methodology was previously applied to raw Landsat-8 data (Level 0). But level 0 data are not the standard product provided by the National Aeronautics and Space Administration (NASA)/United States Geological Survey (USGS). Level 0 data are available only on demand and consist on 14 data stripes multiplied by the number of multispectral bands. The standard product for Landsat 8 is the ortho image, available free of charge for end-users. Therefore, there is the need to adapt our previous methodology to Level 1 Landsat data. The advantages of using the standard Landsat products instead of raw data mainly include the fast -ready to use- availability of the data and free access to registered users, which is of major importance during volcanic crises. In this study, we adapt the PEM methodology to the standard Landsat-8 products, with the aim of simplifying the procedure for routine monitoring, offering an opportunity to produce PEM maps. In this study, we present the method. Our approach is applied to the 26 October 2013 Mt. Etna episodes comparing results independent VCTH measures from the spinning enhanced visible and infrared imager (SEVIRI) and the moderate resolution imaging spectroradiometer (MODIS).
View Full-Text
►

▼

Figures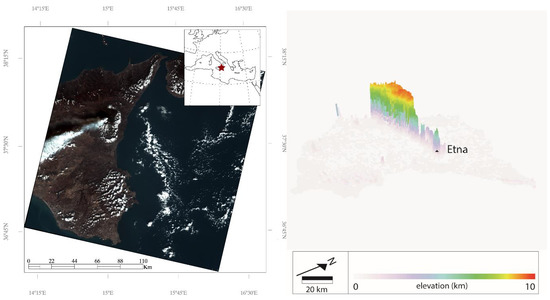 Graphical abstract
This is an open access article distributed under the
Creative Commons Attribution License
which permits unrestricted use, distribution, and reproduction in any medium, provided the original work is properly cited (CC BY 4.0).

Share & Cite This Article
MDPI and ACS Style
de Michele, M.; Raucoules, D.; Corradini, S.; Merucci, L.; Salerno, G.; Sellitto, P.; Carboni, E. Volcanic Cloud Top Height Estimation Using the Plume Elevation Model Procedure Applied to Orthorectified Landsat 8 Data. Test Case: 26 October 2013 Mt. Etna Eruption. Remote Sens. 2019, 11, 785.
Note that from the first issue of 2016, MDPI journals use article numbers instead of page numbers. See further details here.
Related Articles
Comments
[Return to top]