Depolarization Ratio Profiles Calibration and Observations of Aerosol and Cloud in the Tibetan Plateau Based on Polarization Raman Lidar
1
Ocean Remote Sensing Institute, Ocean University of China, Qingdao 266100, China
2
Laboratory for Regional Oceanography and Numerical Modeling, Qingdao National Laboratory for Marine Science and Technology, Qingdao 266237, China
*
Author to whom correspondence should be addressed.
Received: 4 January 2018 / Revised: 13 February 2018 / Accepted: 22 February 2018 / Published: 1 March 2018
Abstract
A brief description of the Water vapor, Cloud and Aerosol Lidar (WACAL) system is provided. To calibrate the volume linear depolarization ratio, the concept of "
-calibration" is applied in this study. This effective and accurate calibration method is adjusted according to the design of WACAL. Error calculations and analysis of the gain ratio, calibrated volume linear depolarization ratio and particle linear depolarization ratio are provided as well. In this method, the influences of the gain ratio, the rotation angle of the plane of polarization and the polarizing beam splitter are discussed in depth. Two groups of measurements with half wave plate (HWP) at angles of (0
, 45
) and (22.5
, −22.5
) are operated to calibrate the volume linear depolarization ratio. Then, the particle linear depolarization ratios measured by WACAL and CALIOP (the Cloud-Aerosol Lidar with Orthogonal Polarization) during the simultaneous observations were compared. Good agreements are found. The calibration method was applied in the third Tibetan Plateau Experiment of Atmospheric Sciences (TIPEX III) in 2013 and 2014 in China. Vertical profiles of the particle depolarization ratio of clouds and aerosol in the Tibetan Plateau were measured with WACAL in Litang (30.03° N, 100.28° E, 3949 m above sea level (a.s.l.)) in 2013 and Naqu (31.48° N, 92.06° E, 4508 m a.s.l.) in 2014. Then an analysis on the polarizing properties of the aerosol, clouds and cirrus over the Tibetan Plateau is provided. The particle depolarization ratio of cirrus clouds varies from 0.36 to 0.52, with a mean value of 0.44 ± 0.04. Cirrus clouds occurred between 5.2 and 12 km above ground level (a.g.l.). The cloud thickness ranges from 0.12 to 2.55 km with a mean thickness of 1.22 ± 0.70 km. It is found that the particle depolarization ratio of cirrus clouds become larger as the height increases. However, the increase rate of the particle depolarization ratio becomes smaller as the height increases.
View Full-Text
►

▼

Figures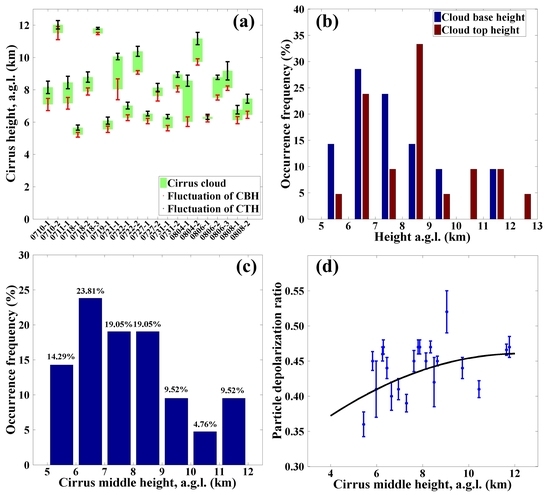 Graphical abstract
This is an open access article distributed under the
Creative Commons Attribution License
which permits unrestricted use, distribution, and reproduction in any medium, provided the original work is properly cited (CC BY 4.0).

Share & Cite This Article
MDPI and ACS Style
Dai, G.; Wu, S.; Song, X. Depolarization Ratio Profiles Calibration and Observations of Aerosol and Cloud in the Tibetan Plateau Based on Polarization Raman Lidar. Remote Sens. 2018, 10, 378.
Note that from the first issue of 2016, MDPI journals use article numbers instead of page numbers. See further details here.
Related Articles
Comments
[Return to top]