Prediction of Soil Organic Matter by VIS–NIR Spectroscopy Using Normalized Soil Moisture Index as a Proxy of Soil Moisture
1
School of Resource and Environmental Sciences, Wuhan University, Wuhan 430079, China
2
Institute of Soil Science, State Key Laboratory of Soil and Sustainable Agriculture, Chinese Academy of Sciences, Nanjing 210008, China
3
Collaborative Innovation Center of Geospatial Technology, Wuhan University, Wuhan 430079, China
4
School of Urban and Environmental Sciences, Central China Normal University, Wuhan 430079, China
5
Key Laboratory for Geographical Process Analysis & Simulation of Hubei Province, Central China Normal University, Wuhan 430079, China
6
Key Laboratory of Geographic Information System of the Ministry of Education, Wuhan University, Wuhan 430079, China
*
Authors to whom correspondence should be addressed.
Received: 24 November 2017 / Revised: 13 December 2017 / Accepted: 21 December 2017 / Published: 24 December 2017
Abstract
Soil organic matter (SOM) is an important parameter of soil fertility, and visible and near-infrared (VIS–NIR) spectroscopy combined with multivariate modeling techniques have provided new possibilities to estimate SOM. However, the spectral signal is strongly influenced by soil moisture (SM) in the field. Interest in using spectral classification to predict soils in the moist conditions to minimize the influence of SM is growing. The objective of this study was to investigate the transferability of two approaches, SM–based cluster method with known SM (classifying the VIS–NIR spectra into different SM clusters to develop models separately), the normalized soil moisture index (NSMI)–based cluster method with unknown SM (utilizing NSMI to indicate the SM and establish models separately), to predict SOM directly in moist soil spectra. One hundred and twenty one soil samples were collected from Central China, and eight SM levels were obtained for each sample through rewetting experiments. Their reflectance spectra and SOM concentrations were measured in the laboratory. Partial least square-support vector machine (PLS-SVM) was employed to construct SOM prediction models. Specifically, prediction models were developed for NSMI–based clusters with unknown SM data. The models were assessed through three statistics in the processes of calibration and validation: the coefficient of determination (
R
2
), root mean square error (RMSE) and the ratio of the performance to deviation (RPD). Results showed that the variable SM led to reduced VIS–NIR reflectance nonlinearly across the entire spectral range. NSMI was an effective spectral index to indicate the SM. Classifying the VIS–NIR spectra into different SM clusters in known SM states could improve the performance of PLS-SVM models to acceptable prediction accuracies (
R
2
cv
= 0.69–0.77, RPD = 1.79–2.08). The estimation of SOM, when using the NSMI–based cluster method with unknown SM (RPD = 1.95–2.04), was similar to the use of the SM–based cluster method with known SM (RPD = 1.79–2.08). The predictive results (RPD = 1.87–2.06) demonstrated that the NSMI-–based cluster method has potential for application outside the laboratory for SOM prediction without knowing the SM explicitly, and this method is also easy to carry out and only requires spectral information.
View Full-Text
►

▼

Figures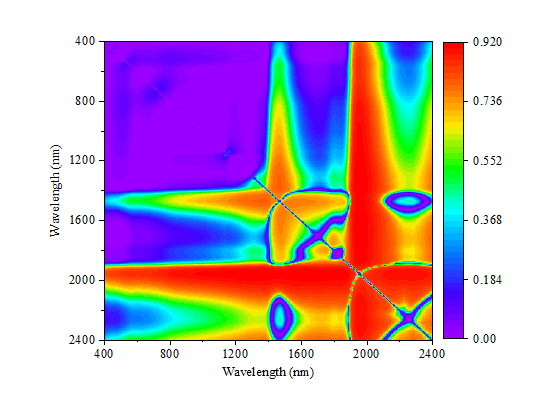 Graphical abstract
This is an open access article distributed under the
Creative Commons Attribution License
which permits unrestricted use, distribution, and reproduction in any medium, provided the original work is properly cited (CC BY 4.0).

Share & Cite This Article
MDPI and ACS Style
Hong, Y.; Yu, L.; Chen, Y.; Liu, Y.; Liu, Y.; Liu, Y.; Cheng, H. Prediction of Soil Organic Matter by VIS–NIR Spectroscopy Using Normalized Soil Moisture Index as a Proxy of Soil Moisture. Remote Sens. 2018, 10, 28.
Note that from the first issue of 2016, MDPI journals use article numbers instead of page numbers. See further details here.
Related Articles
Comments
[Return to top]