Incorporating In-Stream Nutrient Uptake into River Management: Gipuzkoa Rivers (Basque Country, North Spain) as a Case Study
1
Department of Plant Biology and Ecology, University of the Basque Country (UPV/EHU), 48940 Leioa, Spain
2
Center for Advanced Studies of Blanes (CEAB-CSIC), 17300 Blanes, Spain
3
Department of Evolutionary Biology, Ecology and Environmental Sciences, University of Barcelona, 08028 Barcelona, Spain
4
Department of Mathematics and Experimental Sciences Education, University of the Basque Country (UPV/EHU), 48940 Leioa, Spain
5
Province Government of Gipuzkoa, 2004 Donostia-San Sebastián, Spain
*
Author to whom correspondence should be addressed.
Received: 8 February 2019 / Revised: 1 May 2019 / Accepted: 6 May 2019 / Published: 11 May 2019
Abstract
Gipuzkoa (Basque Country, North Spain) is an industrial region where investments in sanitation and wastewater treatment have improved water quality and partially recovered river biological communities. However, further technological improvements are unlikely. Our objective was to assess whether in-stream self-purification may contribute to improvement of the trophic state of rivers. We propose an integrative approach to assessing river water quality, which diagnoses problems, identifies likely causes and prescribes solutions. We first analysed the loads of nutrients transported by Gipuzkoa rivers and compared them with the potential nutrient uptake rates (estimated from published empirical regressions). In reaches where both of them were within one order of magnitude, we considered that the self-purification capacity of river channels may influence nutrient concentrations. Then, we selected some river reaches where no other water quality problems beyond nutrient concentrations occurred and ran the expert system STREAMES 1.0 to diagnose the problems and detect their causes. The studied reaches differed in their problems and in their potential solutions. We empirically determined nutrient retention in two streams by means of mass balances and slug nutrient additions. We detected large differences in retention capacity between reaches and siltation as one of the main problems affecting the self-purification capacity of the study streams. Finally, we used STREAMES 1.0 to identify potential solutions to specific river sections. The results obtained so far point towards an important potential of in-stream bioreactive capacity to reduce nutrient loads and to specific restoration activities that may improve the functionality and trophic status of the streams in Gipuzkoa.
View Full-Text
►

▼

Figures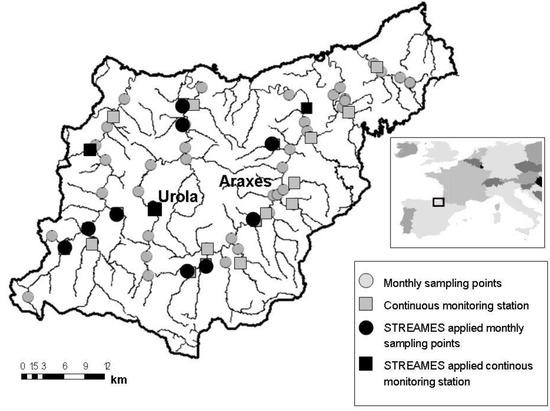 Figure 1
This is an open access article distributed under the
Creative Commons Attribution License
which permits unrestricted use, distribution, and reproduction in any medium, provided the original work is properly cited (CC BY 4.0).

Share & Cite This Article
MDPI and ACS Style
Altuna, M.; Martí, E.; Sabater, F.; Díez, J.R.; Riera, J.L.; Izco, F.; Elosegi, A. Incorporating In-Stream Nutrient Uptake into River Management: Gipuzkoa Rivers (Basque Country, North Spain) as a Case Study. Sustainability 2019, 11, 2692.
Note that from the first issue of 2016, MDPI journals use article numbers instead of page numbers. See further details here.
Related Articles
Comments
[Return to top]