The Production–Living–Ecological Land Classification System and Its Characteristics in the Hilly Area of Sichuan Province, Southwest China Based on Identification of the Main Functions
1
College of Resource, Sichuan Agricultural University, Chengdu 611130, China
2
Yibin Agricultural Bureau, Yibin 644000, China
3
Agricultural Information and Rural Economy Research Institute, Sichuan Academy of Agricultural Sciences, Chengdu 610066, China
4
Institute of Resources and Geography Information Technology, Sichuan Agricultural University, Chengdu 611130, China
5
Institute of Soil Fertilizer and Resource Environment, Sichuan Agricultural Bureau, Chengdu 610041, China
*
Author to whom correspondence should be addressed.
Received: 13 February 2019 / Revised: 12 March 2019 / Accepted: 12 March 2019 / Published: 16 March 2019
Abstract
Production–living–ecological land (PLEL) is one of the research focuses of land planning and regional sustainable development in China. This paper builds a three-level classification system of PLEL based on the identification of the main land use functions (LUFs). Taking 215 typical towns in the hilly area of Sichuan Province, Southwest China as samples, the quantitative, spatial, and functional characteristics and impact factors of PLEL were studied. The results showed that (1) production land holds a dominant role in the hilly area of Sichuan Province, and production land (PL), living land (LL) and ecological land (EL) account for 66.06%, 7.60%, and 26.34% of the area, respectively. The area of agricultural production land is the largest; forestland and rural living land rank second and third. (2) The spatial patterns of PLEL in different regions of hilly area have differences. The proportion of PL gradually decreases from north to south, while the proportion of EL gradually increases from north to south, and the difference in LL is not obvious. The EL is mainly distributed in the upper and middle parts of hills, and the PL and LL are mainly distributed in the foot slopes and valleys. (3) The main functions of PLEL in the hilly area of Sichuan are production and ecology. The production function is mainly for agricultural and forestry products, and the living function is mainly for cultural leisure and residential functions. There are little differences among the ecological sub-functions. (4) There is a strong correlation between PLEL and natural–social–economic factors in the hilly area of Sichuan. Natural conditions such as latitude, relative height, and surface roughness have significant impacts on PL and EL. Social and economic factors such as population density, location and total industrial output value have a significant impact on LL. The results of this study provide valuable implications for the spatial planning and sustainable development in the Sichuan Basin and upstream of the Yangtze River.
View Full-Text
►

▼

Figures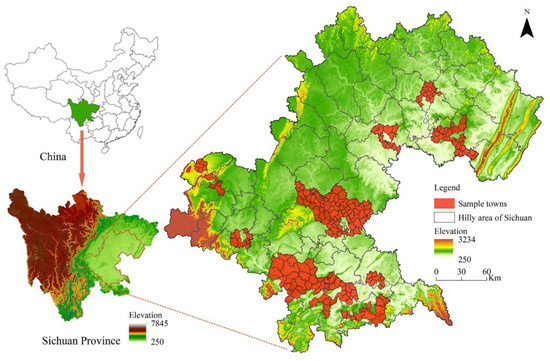 Figure 1
This is an open access article distributed under the
Creative Commons Attribution License
which permits unrestricted use, distribution, and reproduction in any medium, provided the original work is properly cited (CC BY 4.0).

Share & Cite This Article
MDPI and ACS Style
Liao, G.; He, P.; Gao, X.; Deng, L.; Zhang, H.; Feng, N.; Zhou, W.; Deng, O. The Production–Living–Ecological Land Classification System and Its Characteristics in the Hilly Area of Sichuan Province, Southwest China Based on Identification of the Main Functions. Sustainability 2019, 11, 1600.
Note that from the first issue of 2016, MDPI journals use article numbers instead of page numbers. See further details here.
Related Articles
Comments
[Return to top]