Study of the School–Residence Spatial Relationship and the Characteristics of Travel-to-School Distance in Shenyang
1
School of Geographical Sciences, Northeast Normal University, Changchun 130024, Jilin, China
2
College of Jang Ho Architecture, Northeastern University, Shenyang 110169, Liaoning, China
*
Author to whom correspondence should be addressed.
Sustainability 2019, 11(16), 4432; https://doi.org/10.3390/su11164432 (registering DOI)
Received: 17 July 2019 / Revised: 6 August 2019 / Accepted: 13 August 2019 / Published: 16 August 2019
Abstract
The school–residence spatial relationship is a key factor in understanding urban spatial structure and travel-to-school behavior of students. Analyzing the change law and the spatial characteristics of travel-to-school distance can provide a basis for improved accessibility of urban educational facilities and enable enrolment of students from the neighborhood. Based on one complete month of mobile phone signaling data for May 2018, the changes in student density with the travel-to-school distance was analyzed using MATLAB and Mann–Kendall Trend Test, and the pattern and the spatial structure of travel-to-school were explored. The results revealed that: (1) With increase in travel-to-school distance, the student density showed a decrease in truncated power law distribution, and it is concentrated within the travel-to-school distance of 5.0 km; (2) According to the sudden change points of the student density growth rate, the threshold distance for travel to kindergartens is 1.30 km, and for primary schools and secondary schools is 1.50 km. The school–residence spatial structure is divided according to the threshold of travel-to-school distance and the scope of attendance; (3) The dominant flow of travel-to-school is generally from urban peripheral and marginal areas to the urban core area, and partly from marginal areas to peripheral areas; (4) The pattern of travel-to-school is polycentric, and the study centers are mainly located in the urban central district north of the Hun River. The urban core area has the strongest attraction of students, while the marginal area has the weakest.
View Full-Text
►

▼

Figures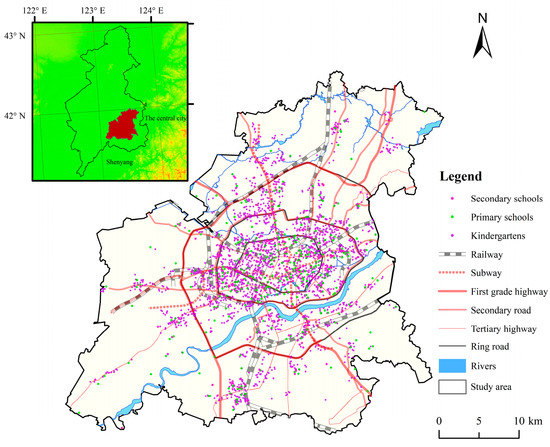 Figure 1
This is an open access article distributed under the
Creative Commons Attribution License
which permits unrestricted use, distribution, and reproduction in any medium, provided the original work is properly cited (CC BY 4.0).
Share & Cite This Article
MDPI and ACS Style
Mei, D.; Xiu, C.; Feng, X.; Wei, Y. Study of the School–Residence Spatial Relationship and the Characteristics of Travel-to-School Distance in Shenyang. Sustainability 2019, 11, 4432.
Note that from the first issue of 2016, MDPI journals use article numbers instead of page numbers. See further details here.
Related Articles
Comments
[Return to top]