Wood Polymer Composites Technology Supporting the Recovery and Protection of Tropical Forests: The Amazonian Phoenix Project
1
Departamento de Engenharia de Materiais, Universidade Federal de São Carlos, DEMa-UFSCar, Rodovia Washington Luis, Km 235, CEP13565-905, São Carlos, SP, Brasil
2
Centro de Caracterização e Desenvolvimento de Materiais, Universidade Federal de São Carlos, CCDM-UFSCar, Rodovia Washington Luis, Km 235, CEP13565-905, São Carlos, SP, Brasil
3
Escritório Regional do INPA no INPE Sigma, Avenida dos Astronautas, 1758, CEP12227-010, São José dos Campos, SP, Brasil
*
Author to whom correspondence should be addressed.
Received: 12 November 2009 / Accepted: 17 December 2009 / Published: 22 December 2009
Abstract
The Amazon Rain Forest has attracted worldwide attention due its large scale services to climate and also due to the green house gas emissions arising from deforestation. Contributing to the later and detrimental to the former, timber logging in the region has very low efficiency (only 16% in the production chain). Such timber extraction, often referred to as selective logging, has been claimed as a sustainable extractive industry, because the forest is said to restore itself through regenerative growth. But forest regeneration in the Amazon occurs naturally only in a very limited scale, resulting that large scale, low efficiency logging poses a big treat to the functional integrity of the biome, supplying to the market only a fraction of what it could if done differently. So, instead of extracting big centennial logs from the forests, the Amazonian Phoenix project proposes that large expanses of degraded lands be reforested using pioneer plants species from the forest itself. These plants have the capacity to heal gaps in the canopy, being able to grow and produce woody biomass in very extreme conditions. The idea is to mimic the regenerative dynamics of the natural ecosystem in short cycle agrosilvicultural production areas, utilizing a variety of technologies to transform raw fibers from these fast growth native plants into a variety of materials with high aggregated value. This communication presents the research on natural fibers by the Polymeric Composites Group within the Amazonian Phoenix Project. Sustainable technologies employing materials with good and responsible ecological footprints are important and necessary stimulus for a change in the destructive economical activities present in the Amazon frontiers. The relatively well established wood polymer composites technology, for example, is a good candidate solution. Two research and development fields are proposed: the first one considers production systems with simple and cheap machinery, to facilitate technology assimilation by rural communities in the Amazon. The second one aims at developing composite materials with advanced production technology, like profile and sheet extrusion and injection molding. The source of the fibers would be both the short cycle agrosilviculture with softwood species, on already deforested lands, and the hardwood residues from operating sawmills. Preliminary results show that softwood fibers act as potentially important reinforcement for synthetic plastics.
View Full-Text
►

▼

Figures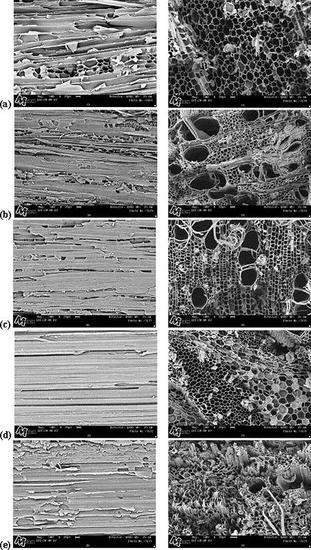 Graphical abstract

Share & Cite This Article
MDPI and ACS Style
Branciforti, M.C.; Marinelli, A.L.; Kobayashi, M.; Ambrosio, J.D.; Monteiro, M.R.; Nobre, A.D. Wood Polymer Composites Technology Supporting the Recovery and Protection of Tropical Forests: The Amazonian Phoenix Project. Sustainability 2009, 1, 1431-1443.
Related Articles
Comments
[Return to top]