Boosting Drug Discovery for Parkinson's: Enhancement of the Delivery of a Monoamine Oxidase-B Inhibitor by Brain-Targeted PEGylated Polycaprolactone-Based Nanoparticles
1
CIQUP, Departmento de Química e Bioquímica, Centro de Investigação em Química, Faculdade de Ciências, Universidade do Porto, 4169-007 Porto, Portugal
2
UCIBIO-REQUIMTE, Laboratório de Toxicologia, Departamento de Ciências Biológicas, Faculdade de Farmácia, Universidade do Porto, 4050-313 Porto, Portugal
3
Departamento de Química, CICECO-Instituto de Materiais de Aveiro, Universidade de Aveiro, 3810-193 Aveiro, Portugal
4
Departamento de Engenharia Química, Instituto Superior de Engenharia do Porto (ISEP), Instituto Politécnico do Porto, 4200-072 Porto, Portugal
*
Author to whom correspondence should be addressed.
†
These authors contributed equally to this work.
Received: 15 May 2019 / Revised: 30 June 2019 / Accepted: 9 July 2019 / Published: 12 July 2019
Abstract
The current pharmacological treatments for Parkinson's disease only offer symptomatic relief to the patients and are based on the administration of levodopa and catechol-O-methyltransferase or monoamine oxidase-B inhibitors (IMAO-B). Since the majority of drug candidates fail in pre- and clinical trials, due largely to bioavailability pitfalls, the use of polymeric nanoparticles (NPs) as drug delivery systems has been reported as an interesting tool to increase the stealth capacity of drugs or help drug candidates to surpass biological barriers, among other benefits. Thus, a novel potent, selective, and reversible IMAO-B (chromone C27, IC
50
= 670 ± 130
p
M) was encapsulated in poly(caprolactone) (PCL) NPs by a nanoprecipitation process. The resulting C27-loaded PEGylated PCL NPs (~213 nm) showed high stability and no cytotoxic effects in neuronal (SH-SY5Y), epithelial (Caco-2), and endothelial (
h
CMEC/D3) cells. An accumulation of PEGylated PCL NPs in the cytoplasm of SH-SY5Y and
h
CMEC/D3 cells was also observed, and their permeation across Caco-2 and
h
CMEC/D3 cell monolayers, used as in vitro models of the human intestine and blood-brain barrier, respectively, was demonstrated. PEGylated PCL NPs delivered C27 at concentrations higher than the MAO-B IC
50
value, which provides evidence of their relevance to solving the drug discovery pitfalls.
View Full-Text
►

▼

Figures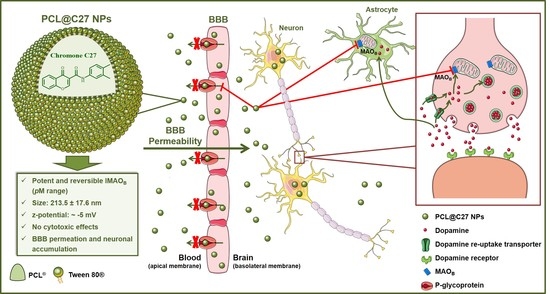 Graphical abstract
This is an open access article distributed under the
Creative Commons Attribution License
which permits unrestricted use, distribution, and reproduction in any medium, provided the original work is properly cited (CC BY 4.0).

Share & Cite This Article
MDPI and ACS Style
Pinto, M.; Fernandes, C.; Martins, E.; Silva, R.; Benfeito, S.; Cagide, F.; Mendes, R.F.; Almeida Paz, F.A.; Garrido, J.; Remião, F.; Borges, F. Boosting Drug Discovery for Parkinson's: Enhancement of the Delivery of a Monoamine Oxidase-B Inhibitor by Brain-Targeted PEGylated Polycaprolactone-Based Nanoparticles. Pharmaceutics 2019, 11, 331.
Note that from the first issue of 2016, MDPI journals use article numbers instead of page numbers. See further details here.
Related Articles
Comments
[Return to top]