Doxorubicin-Conjugated PAMAM Dendrimers for pH-Responsive Drug Release and Folic Acid-Targeted Cancer Therapy
1
Key Laboratory of Science & Technology of Eco-Textile, Ministry of Education, College of Chemistry, Chemical Engineering and Biotechnology, Donghua University, Shanghai 201620, China
2
College of Materials Science and Engineering, Donghua University, Shanghai 201620, China
3
Centro de Química da Madeira (CQM), Universidade da Madeira, Campus da Penteada, 9020-105 Funchal, Portugal
4
Laboratoire de Chimie de Coordination du CNRS, 205 Route de Narbonne, BP 44099, 31077 Toulouse CEDEX 4, France
*
Author to whom correspondence should be addressed.
Received: 18 August 2018 / Revised: 11 September 2018 / Accepted: 17 September 2018 / Published: 19 September 2018
Abstract
We present here the development of multifunctional doxorubicin (DOX)-conjugated poly(amidoamine) (PAMAM) dendrimers as a unique platform for pH-responsive drug release and targeted chemotherapy of cancer cells. In this work, we covalently conjugated DOX onto the periphery of partially acetylated and folic acid (FA)-modified generation 5 (G5) PAMAM dendrimers through a pH-sensitive
cis
-aconityl linkage to form the G5.NHAc-FA-DOX conjugates. The formed dendrimer conjugates were well characterized using different methods. We show that DOX release from the G5.NHAc-FA-DOX conjugates follows an acid-triggered manner with a higher release rate under an acidic pH condition (pH = 5 or 6, close to the acidic pH of tumor microenvironment) than under a physiological pH condition. Both in vitro cytotoxicity evaluation and cell morphological observation demonstrate that the therapeutic activity of dendrimer-DOX conjugates against cancer cells is absolutely related to the DOX drug released. More importantly, the FA conjugation onto the dendrimers allowed a specific targeting to cancer cells overexpressing FA receptors (FAR), and allowed targeted inhibition of cancer cells. The developed G5.NHAc-FA-DOX conjugates may be used as a promising nanodevice for targeted cancer chemotherapy.
View Full-Text
►

▼

Figures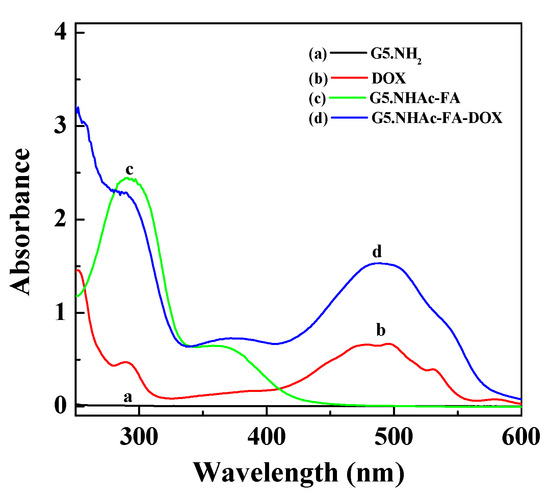 Figure 1
This is an open access article distributed under the
Creative Commons Attribution License
which permits unrestricted use, distribution, and reproduction in any medium, provided the original work is properly cited (CC BY 4.0).

Share & Cite This Article
MDPI and ACS Style
Zhang, M.; Zhu, J.; Zheng, Y.; Guo, R.; Wang, S.; Mignani, S.; Caminade, A.-M.; Majoral, J.-P.; Shi, X. Doxorubicin-Conjugated PAMAM Dendrimers for pH-Responsive Drug Release and Folic Acid-Targeted Cancer Therapy. Pharmaceutics 2018, 10, 162.
Note that from the first issue of 2016, MDPI journals use article numbers instead of page numbers. See further details here.
Related Articles
Comments
[Return to top]