New Ways to Treat Tuberculosis Using Dendrimers as Nanocarriers
1
Université Paris Descartes, PRES Sorbonne Paris Cité, CNRS UMR 860, Laboratoire de Chimie et de Biochimie Pharmacologiques et Toxicologique, 45, rue des Saints Peres, 75006 Paris, France
2
CQM—Centro de Química da Madeira, MMRG, Universidade da Madeira, Campus da Penteada, 9020-105 Funchal, Portugal
3
National Institute of Pharmaceutics and Education and Research, Raibarely 226031, India
4
State Key Laboratory for Modification of Chemical Fibers and Polymer Materials, College of Chemistry, Chemical Engineering and Biotechnology, Donghua University, Shanghai 201620, China
5
Laboratoire de Chimie de Coordination du CNRS, 205 Route de Narbonne, BP 44099, 31077 Toulouse CEDEX 4, France
6
Université de Toulouse, UPS, INPT, 31077 Toulouse CEDEX 4, France
*
Authors to whom correspondence should be addressed.
Received: 3 July 2018 / Revised: 20 July 2018 / Accepted: 24 July 2018 / Published: 26 July 2018
Abstract
Tuberculosis (TB) is a contagious infection that usually attacks not only the lungs, but also brain and spine. More than twenty drugs have been developed for the treatment of TB, but most of them were developed some years ago. They are used in different combinations. Isoniazid and Rifampicin are examples of the five first line TB drugs, whereas, for instance, Levofloxacin, Kanamycin and Linezolid belong to the second line drugs that are used for the treatment of drug resistant TB. Several new bicyclic nitroimidazoles (e.g., Delamanid) without mutagenic effects were developed. New TB drugs need to provide several main issues such as more effective, less toxic, and less expensive for drug resistant TB. Besides polymeric, metal-based nanoparticles, polymeric micelles and polymers, dendrimer nanostructures represent ideal delivery vehicles and offer high hopes for the future of nanomedicine. In this original review, we present and analyze the development of anti-TB drugs in combination with dendrimers. Few articles have highlighted the encapsulation of anti-TB drugs with dendrimers. Due to their unique structure, dendrimers represent attractive candidates for the encapsulation and conjugation of other anti-TB drugs presenting important drawbacks (e.g., solubility, toxicity, low bioavailability) that hinder their development, including clinic trials.
View Full-Text
►

▼

Figures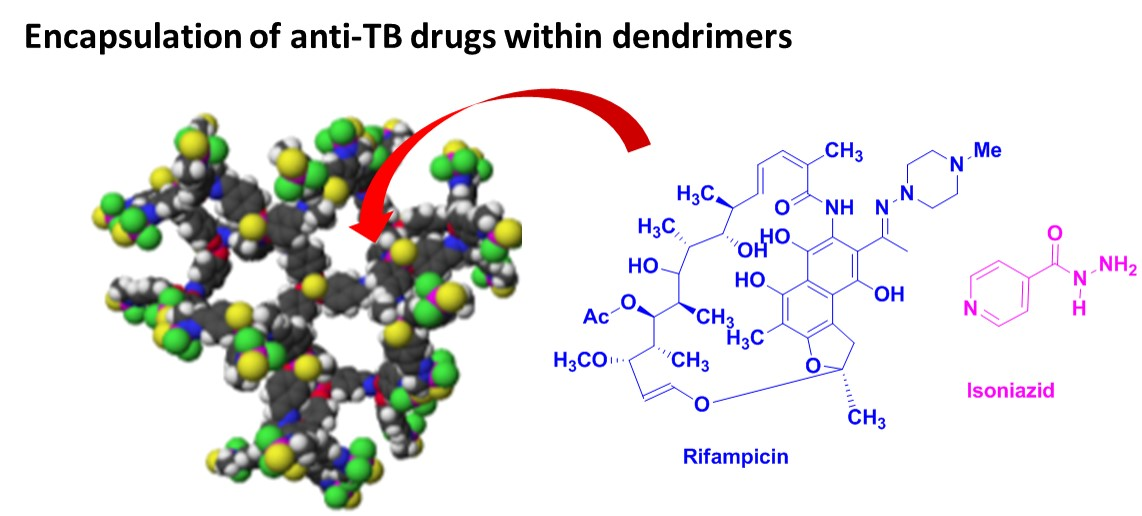 Graphical abstract
This is an open access article distributed under the
Creative Commons Attribution License
which permits unrestricted use, distribution, and reproduction in any medium, provided the original work is properly cited (CC BY 4.0).

Share & Cite This Article
MDPI and ACS Style
Mignani, S.; Tripathi, R.P.; Chen, L.; Caminade, A.-M.; Shi, X.; Majoral, J.-P. New Ways to Treat Tuberculosis Using Dendrimers as Nanocarriers. Pharmaceutics 2018, 10, 105.
Note that from the first issue of 2016, MDPI journals use article numbers instead of page numbers. See further details here.
Related Articles
Comments
[Return to top]