Rational Design, Synthesis and Evaluation of γ-CD-Containing Cross-Linked Polyvinyl Alcohol Hydrogel as a Prednisone Delivery Platform
1
Instituto de Química de Recursos Naturales, Universidad de Talca, Talca 3460000, Maule, Chile
2
Centro de Nanotecnología Aplicada, Facultad de Ciencias, Universidad Mayor, Huechuraba 8580000, Región Metropolitana, Chile
3
Centro de Bioinformática y Simulación Molecular (CBSM), Facultad de Ingeniería, Universidad de Talca, Talca 34600000, Maule, Chile
4
Vicerrectoría de Investigación y Postgrado, Universidad Católica del Maule, Talca 3460000, Maule, Chile
5
Department of Clinical Biochemistry and Immunohematology, Faculty of Heatlh Sciences, Universidad de Talca, Talca 3460000, Maule, Chile
6
Center for Studies of Exercise, Metabolism and Cancer (CEMC), Universidad de Chile, Independencia 8380000, Región Metropolitana, Chile
7
Departamento de Microbiología, Facultad de Ciencias de la Salud, Universidad de Talca, Talca 3460000, Maule, Chile
8
Instituto de Innovación Basada en Ciencia, Universidad de Talca, Talca 3460000, Maule, Chile
9
Biomaterials Laboratory Drug Delivery and Controlled Release, Núcleo Científico Multidisciplinario, Dirección de Investigación, Universidad de Talca, Talca 3460000, Maule, Chile
*
Authors to whom correspondence should be addressed.
Received: 30 January 2018 / Revised: 1 March 2018 / Accepted: 4 March 2018 / Published: 7 March 2018
Abstract
This study describes the
in-silico
rational design, synthesis and evaluation of cross-linked polyvinyl alcohol hydrogels containing γ-cyclodextrin (γ-CDHSAs) as platforms for the sustained release of prednisone (PDN). Through
in-silico
studies using semi-empirical quantum mechanical calculations, the effectiveness of 20 dicarboxylic acids to generate a specific cross-linked hydrogel capable of supporting different amounts of γ-cyclodextrin (γ-CD) was evaluated. According to the interaction energies calculated with the
in-silico
studies, the hydrogel made from PVA cross-linked with succinic acids (SA) was shown to be the best candidate for containing γ-CD. Later, molecular dynamics simulation studies were performed in order to evaluate the intermolecular interactions between PDN and three cross-linked hydrogel formulations with different proportions of γ-CD (2.44%, 4.76% and 9.1%). These three cross-linked hydrogels were synthesized and characterized. The loading and the subsequent release of PDN from the hydrogels were investigated. The
in-silico
and experimental results showed that the interaction between PDN and γ-CDHSA was mainly produced with the γ-CDs linked to the hydrogels. Thus, the unique structures and properties of γ-CDHSA demonstrated an interesting multiphasic profile that could be utilized as a promising drug carrier for controlled, sustained and localized release of PDN.
View Full-Text
►

▼

Figures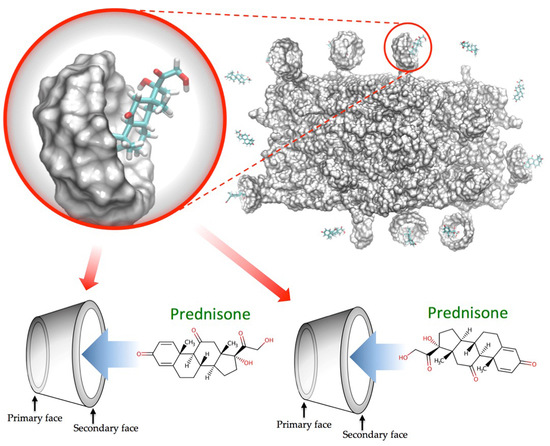 Graphical abstract
This is an open access article distributed under the
Creative Commons Attribution License
which permits unrestricted use, distribution, and reproduction in any medium, provided the original work is properly cited (CC BY 4.0).

Share & Cite This Article
MDPI and ACS Style
Marican, A.; Avila-Salas, F.; Valdés, O.; Wehinger, S.; Villaseñor, J.; Fuentealba, N.; Arenas-Salinas, M.; Argandoña, Y.; Carrasco-Sánchez, V.; Durán-Lara, E.F. Rational Design, Synthesis and Evaluation of γ-CD-Containing Cross-Linked Polyvinyl Alcohol Hydrogel as a Prednisone Delivery Platform. Pharmaceutics 2018, 10, 30.
Note that from the first issue of 2016, MDPI journals use article numbers instead of page numbers. See further details here.
Related Articles
Comments
[Return to top]