Characterization of
Sinorhizobium

sp. LM21 Prophages and Virus-Encoded DNA Methyltransferases in the Light of Comparative Genomic Analyses of the Sinorhizobial Virome

1

Department of Bacterial Genetics, Institute of Microbiology, Faculty of Biology, University of Warsaw, Miecznikowa 1, 02-096 Warsaw, Poland

2

Department of Virology, Institute of Microbiology, Faculty of Biology, University of Warsaw, Miecznikowa 1, 02-096 Warsaw, Poland

*

Author to whom correspondence should be addressed.

Academic Editor: Laurent Debarbieux

Received: 23 April 2017 / Revised: 19 June 2017 / Accepted: 21 June 2017 / Published: 26 June 2017
Abstract
The genus
Sinorhizobium/Ensifer
mostly groups nitrogen-fixing bacteria that create root or stem nodules on leguminous plants and transform atmospheric nitrogen into ammonia, which improves the productivity of the plants. Although these biotechnologically-important bacteria are commonly found in various soil environments, little is known about their phages. In this study, the genome of
Sinorhizobium
sp. LM21 isolated from a heavy-metal-contaminated copper mine in Poland was investigated for the presence of prophages and DNA methyltransferase-encoding genes. In addition to the previously identified temperate phage, ΦLM21, and the phage-plasmid, pLM21S1, the analysis revealed the presence of three prophage regions. Moreover, four novel phage-encoded DNA methyltransferase (MTase) genes were identified and the enzymes were characterized. It was shown that two of the identified viral MTases methylated the same target sequence (GANTC) as cell cycle-regulated methyltransferase (CcrM) of the bacterial host strain, LM21. This discovery was recognized as an example of the evolutionary convergence between enzymes of sinorhizobial viruses and their host, which may play an important role in virus cycle. In the last part of the study, thorough comparative analyses of 31 sinorhizobial (pro)phages (including active sinorhizobial phages and novel putative prophages retrieved and manually re-annotated from
Sinorhizobium
spp. genomes) were performed. The networking analysis revealed the presence of highly conserved proteins (e.g., holins and endolysins) and a high diversity of viral integrases. The analysis also revealed a large number of viral DNA MTases, whose genes were frequently located within the predicted replication modules of analyzed prophages, which may suggest their important regulatory role. Summarizing, complex analysis of the phage protein similarity network enabled a new insight into overall sinorhizobial virome diversity.
View Full-Text
►

▼

Figures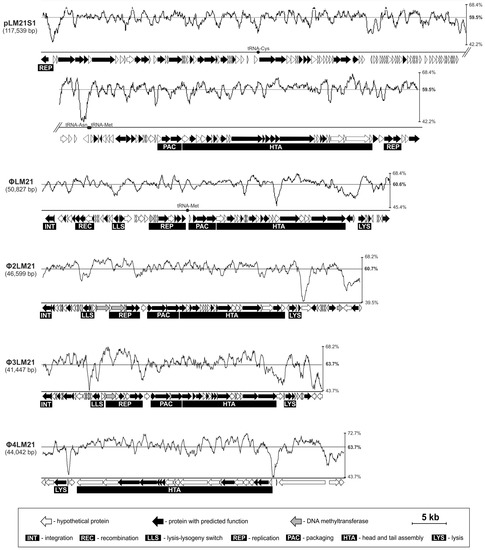 Figure 1
This is an open access article distributed under the
Creative Commons Attribution License
which permits unrestricted use, distribution, and reproduction in any medium, provided the original work is properly cited (CC BY 4.0).

Share & Cite This Article
MDPI and ACS Style
Decewicz, P.; Radlinska, M.; Dziewit, L. Characterization of Sinorhizobium sp. LM21 Prophages and Virus-Encoded DNA Methyltransferases in the Light of Comparative Genomic Analyses of the Sinorhizobial Virome. Viruses 2017, 9, 161.
Note that from the first issue of 2016, MDPI journals use article numbers instead of page numbers. See further details here.
Related Articles
Comments
[Return to top]