Combined Proteomics/Genomics Approach Reveals Proteomic Changes of Mature Virions as a Novel Poxvirus Adaptation Mechanism
1
Centre for Biological Threats and Special Pathogens, Highly Pathogenic Viruses (ZBS 1), Robert Koch Institute, Seestr. 10, 13353 Berlin, Germany
2
Centre for Biological Threats and Special Pathogens, Proteomics and Spectroscopy (ZBS 6), Robert Koch Institute, Seestr. 10, 13353 Berlin, Germany
3
Centre for Biological Threats and Special Pathogens (ZBS), Robert Koch Institute, Nordufer 20, 13353 Berlin, Germany
*
Author to whom correspondence should be addressed.
Received: 24 September 2017 / Revised: 6 November 2017 / Accepted: 7 November 2017 / Published: 10 November 2017
Abstract
DNA viruses, like poxviruses, possess a highly stable genome, suggesting that adaptation of virus particles to specific cell types is not restricted to genomic changes. Cowpox viruses are zoonotic poxviruses with an extraordinarily broad host range, demonstrating their adaptive potential in vivo. To elucidate adaptation mechanisms of poxviruses, we isolated cowpox virus particles from a rat and passaged them five times in a human and a rat cell line. Subsequently, we analyzed the proteome and genome of the non-passaged virions and each passage. While the overall viral genome sequence was stable during passaging, proteomics revealed multiple changes in the virion composition. Interestingly, an increased viral fitness in human cells was observed in the presence of increased immunomodulatory protein amounts. As the only minor variant with increasing frequency during passaging was located in a viral RNA polymerase subunit and, moreover, most minor variants were found in transcription-associated genes, protein amounts were presumably regulated at transcription level. This study is the first comparative proteome analysis of virus particles before and after cell culture propagation, revealing proteomic changes as a novel poxvirus adaptation mechanism.
View Full-Text
►

▼

Figures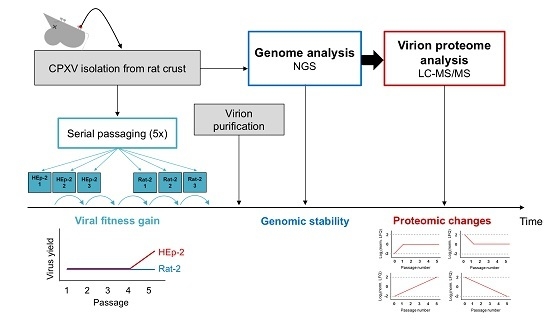 Graphical abstract
This is an open access article distributed under the
Creative Commons Attribution License
which permits unrestricted use, distribution, and reproduction in any medium, provided the original work is properly cited (CC BY 4.0).

Share & Cite This Article
MDPI and ACS Style
Grossegesse, M.; Doellinger, J.; Tyshaieva, A.; Schaade, L.; Nitsche, A. Combined Proteomics/Genomics Approach Reveals Proteomic Changes of Mature Virions as a Novel Poxvirus Adaptation Mechanism. Viruses 2017, 9, 337.
Note that from the first issue of 2016, MDPI journals use article numbers instead of page numbers. See further details here.
Related Articles
Comments
[Return to top]