Adenovirus E1A/E1B Transformed Amniotic Fluid Cells Support Human Cytomegalovirus Replication
1
Institute for Virology, University Medical Center of the Johannes Gutenberg-University Mainz, D-55131 Mainz, Germany
2
Department of Pediatric Molecular Biology, Charité University Medical Centre Berlin, D-10117 Berlin, Germany
3
CAP-CMV GmbH, D-51105 Cologne, Germany
4
Institute for Medical Microbiology and Hygiene, University Medical Center of the Johannes Gutenberg-University Mainz, D-55131 Mainz, Germany
5
Institute for Zoology, Johannes Gutenberg-University Mainz, D-55099 Mainz, Germany
6
Research Center for Immunotherapy, University Medical Center of the Johannes Gutenberg-University Mainz, D-55131 Mainz, Germany
*
Author to whom correspondence should be addressed.
†
Present address: Vakzine Projekt Management GmbH, D-30625 Hannover, Germany
Academic Editor: Andrew Mehle
Received: 14 December 2015 / Revised: 22 January 2016 / Accepted: 28 January 2016 / Published: 2 February 2016
Abstract
The human cytomegalovirus (HCMV) replicates to high titers in primary human fibroblast cell cultures. A variety of primary human cells and some tumor-derived cell lines do also support permissive HCMV replication, yet at low levels. Cell lines established by transfection of the transforming functions of adenoviruses have been notoriously resistant to HCMV replication and progeny production. Here, we provide first-time evidence that a permanent cell line immortalized by adenovirus type 5 E1A and E1B (CAP) is supporting the full HCMV replication cycle and is releasing infectious progeny. The CAP cell line had previously been established from amniotic fluid cells which were likely derived from membranes of the developing fetus. These cells can be grown under serum-free conditions. HCMV efficiently penetrated CAP cells, expressed its immediate-early proteins and dispersed restrictive PML-bodies. Viral DNA replication was initiated and viral progeny became detectable by electron microscopy in CAP cells. Furthermore, infectious virus was released from CAP cells, yet to lower levels compared to fibroblasts. Subviral dense bodies were also secreted from CAP cells. The results show that E1A/E1B expression in transformed cells is not generally repressive to HCMV replication and that CAP cells may be a good substrate for dense body based vaccine production.
View Full-Text
►

▼

Figures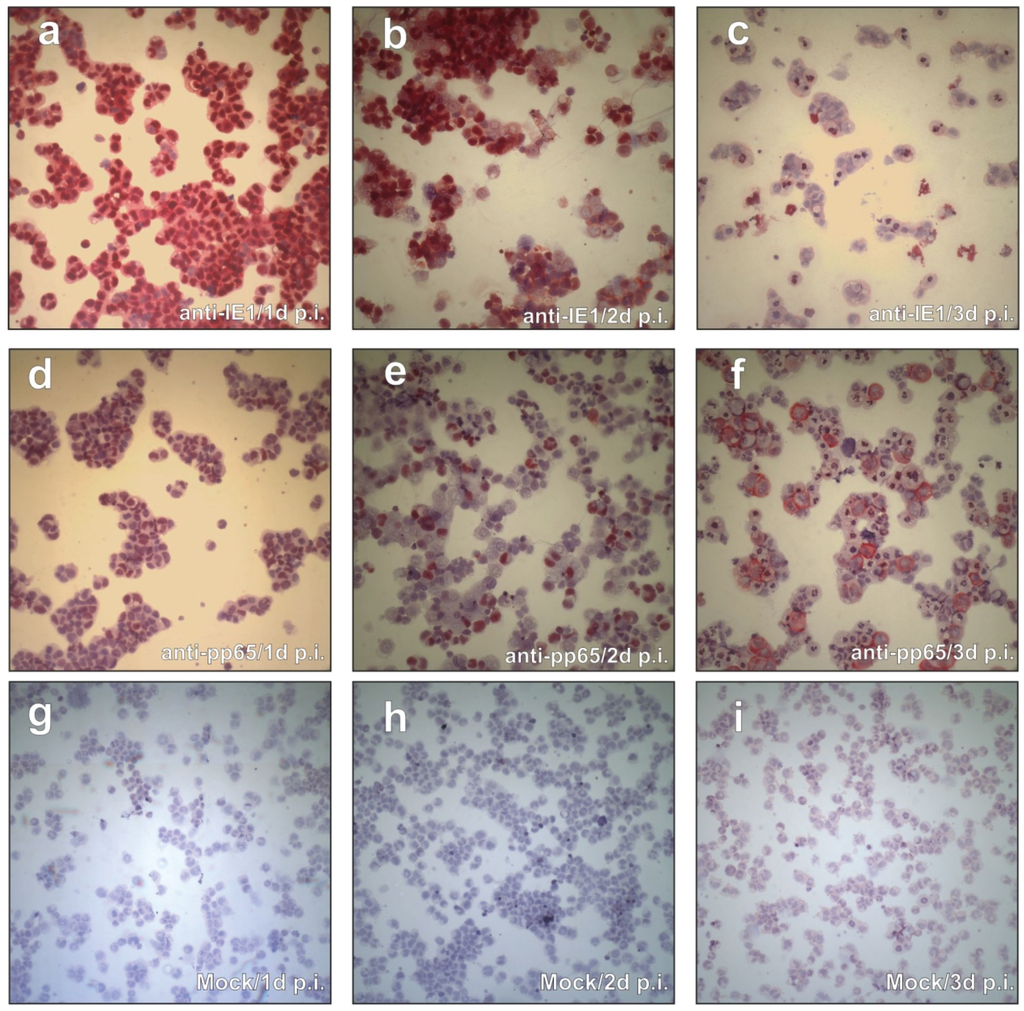 Figure 1
This is an open access article distributed under the
Creative Commons Attribution License
which permits unrestricted use, distribution, and reproduction in any medium, provided the original work is properly cited (CC BY 4.0).

Share & Cite This Article
MDPI and ACS Style
Krömmelbein, N.; Wiebusch, L.; Schiedner, G.; Büscher, N.; Sauer, C.; Florin, L.; Sehn, E.; Wolfrum, U.; Plachter, B. Adenovirus E1A/E1B Transformed Amniotic Fluid Cells Support Human Cytomegalovirus Replication. Viruses 2016, 8, 37.
Note that from the first issue of 2016, MDPI journals use article numbers instead of page numbers. See further details here.
Related Articles
Comments
[Return to top]