Analysis of the Genome of the Sexually Transmitted Insect Virus
Helicoverpa zea

Nudivirus 2

1

Department of Plant, Soil and Insect Sciences, University of Massachusetts Amherst, Amherst, MA 01003, USA

2

Plum Island Animal Disease Center, Agricultural Research Service, U.S. Department of Agriculture, Greenport, NY 11944, USA

*

Author to whom correspondence should be addressed.

†

The authors contributed equally to this work.

Received: 29 November 2011 / Revised: 30 December 2011 / Accepted: 31 December 2011 / Published: 6 January 2012
Abstract
The sexually transmitted insect virus
Helicoverpa zea
nudivirus 2 (HzNV-2) was determined to have a circular double-stranded DNA genome of 231,621 bp coding for an estimated 113 open reading frames (ORFs). HzNV-2 is most closely related to the nudiviruses, a sister group of the insect baculoviruses. Several putative ORFs that share homology with the baculovirus core genes were identified in the viral genome. However, HzNV-2 lacks several key genetic features of baculoviruses including the late transcriptional regulation factor, LEF-1 and the palindromic
hrs
, which serve as origins of replication. The HzNV-2 genome was found to code for three ORFs that had significant sequence homology to cellular genes which are not generally found in viral genomes. These included a presumed juvenile hormone esterase gene, a gene coding for a putative zinc-dependent matrix metalloprotease, and a major facilitator superfamily protein gene; all of which are believed to play a role in the cellular proliferation and the tissue hypertrophy observed in the malformation of reproductive organs observed in HzNV-2 infected corn earworm moths,
Helicoverpa zea
.
View Full-Text
►

▼

Figures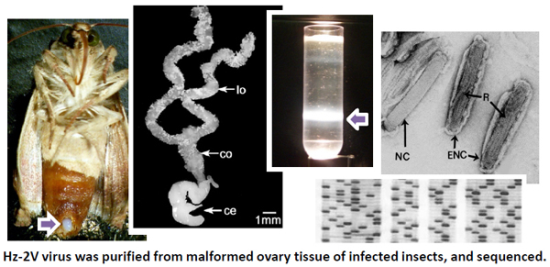 Graphical abstract

Share & Cite This Article
MDPI and ACS Style
Burand, J.P.; Kim, W.; Afonso, C.L.; Tulman, E.R.; Kutish, G.F.; Lu, Z.; Rock, D.L. Analysis of the Genome of the Sexually Transmitted Insect Virus Helicoverpa zea Nudivirus 2. Viruses 2012, 4, 28-61.
Related Articles
Comments
[Return to top]