IFN-λ Decreases Murid Herpesvirus-4 Infection of the Olfactory Epithelium but Fails to Prevent Virus Reactivation in the Vaginal Mucosa
1
De Duve Institute, Université catholique de Louvain (UCLouvain), 1200 Brussels, Belgium
2
Immunology-Vaccinology unit, Department of Infectious and Parasitic Diseases, Faculty of Veterinary Medicine- Fundamental and Applied Research for Animals and Health (FARAH), University of Liège, 4000 Liège, Belgium
*
Author to whom correspondence should be addressed.
Received: 26 June 2019 / Revised: 13 August 2019 / Accepted: 14 August 2019 / Published: 16 August 2019
Abstract
Murid herpesvirus-4 (MuHV-4), a natural gammaherpesvirus of rodents, can infect the mouse through the nasal mucosa, where it targets sustentacular cells and olfactory neurons in the olfactory epithelium before it propagates to myeloid cells and then to B cells in lymphoid tissues. After establishment of latency in B cells, viral reactivation occurs in the genital tract in 80% of female mice, which can lead to spontaneous sexual transmission to co-housed males. Interferon-lambda (IFN-λ) is a key player of the innate immune response at mucosal surfaces and is believed to limit the transmission of numerous viruses by acting on epithelial cells. We used in vivo plasmid-mediated IFN-λ expression to assess whether IFN-λ could prophylactically limit MuHV-4 infection in the olfactory and vaginal mucosae. In vitro, IFN-λ decreased MuHV-4 infection in cells that overexpressed IFN-λ receptor 1 (IFNLR1). In vivo, prophylactic IFN-λ expression decreased infection of the olfactory epithelium but did not prevent virus propagation to downstream organs, such as the spleen where the virus establishes latency. In the olfactory epithelium, sustentacular cells readily responded to IFN-λ. In contrast, olfactory neurons did not respond to IFN-λ, thus, likely allowing viral entry. In the female genital tract, columnar epithelial cells strongly responded to IFN-λ, as did most vaginal epithelial cells, although with some variation from mouse to mouse. IFN-λ expression, however, failed to prevent virus reactivation in the vaginal mucosa. In conclusion, IFN-λ decreased MuHV-4 replication in the upper respiratory epithelium, likely by protecting the sustentacular epithelial cells, but it did not protect olfactory neurons and failed to block virus reactivation in the genital mucosa.
View Full-Text
►

▼

Figures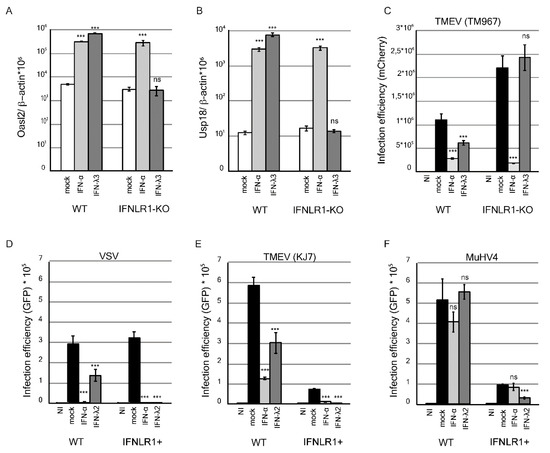 Figure 1
This is an open access article distributed under the
Creative Commons Attribution License
which permits unrestricted use, distribution, and reproduction in any medium, provided the original work is properly cited (CC BY 4.0).

Share & Cite This Article
MDPI and ACS Style
Jacobs, S.; Zeippen, C.; Wavreil, F.; Gillet, L.; Michiels, T. IFN-λ Decreases Murid Herpesvirus-4 Infection of the Olfactory Epithelium but Fails to Prevent Virus Reactivation in the Vaginal Mucosa. Viruses 2019, 11, 757.
Note that from the first issue of 2016, MDPI journals use article numbers instead of page numbers. See further details here.
Related Articles
Comments
[Return to top]