A Stillborn Multiple Organs' Investigation from a Maternal DENV-4 Infection: Histopathological and Inflammatory Mediators Characterization
1
Laboratório de Imunologia Viral, Instituto Oswaldo Cruz, Fundação Oswaldo Cruz, Rio de Janeiro 21040-900, Brazil
2
Laboratório de Flavivirus, Instituto Oswaldo Cruz, Fundação Oswaldo Cruz/FIOCRUZ, Rio de Janeiro 21040-900, Brazil
3
Laboratório de Anatomia Patológica, Instituto Nacional de Infectologia, Fundação Oswaldo Cruz/FIOCRUZ, Rio de Janeiro 21040-900, Brazil
4
Laboratório Interdisciplinar de Pesquisas Médicas, Instituto Oswaldo Cruz, Fundação Oswaldo Cruz/FIOCRUZ, Rio de Janeiro 21040-900, Brazil
5
Laboratório de Ultraestrutura e Biologia Tecidual, Universidade do Estado do Rio de Janeiro/UERJ, Rio de Janeiro 20551-030, Brazil
6
Anatomia Patológica, Universidade Federal do Estado do Rio de Janeiro, Rio de Janeiro 20270-901, Brazil
*
Author to whom correspondence should be addressed.
†
These authors contributed equally to the work.
Received: 15 January 2019 / Revised: 18 February 2019 / Accepted: 20 February 2019 / Published: 2 April 2019
Abstract
Dengue virus (DENV) is an emerging virus involved in outbreaks in Brazil. The association between the virus and vertical transmission, with disorders in the placenta, has raised a worldwide concern. On the 29th gestational week, a pregnant woman presented severe complications due to a DENV infection leading to maternal and fetus death. Postmortem analysis of fetal organs demonstrated the presence of DENV using reverse transcriptase polymerase chain reaction (RT-PCR) in the fetal brain and DENV non-structural protein 3 (NS3) staining in placenta and several peripheral fetal tissues, such as the brain, liver, lungs, and spleen. Histological analysis of the placenta and fetal organs revealed different types of tissue abnormalities, which included inflammation, hemorrhage, edema, and necrosis in placenta and tissue disorganization in the fetus, such as spongiform parenchyma, microglial inflammation, steatosis, hyalinose arteriolar, inflammatory cells in the alveolar septa, and disorganization of the lymphoid follicle. Increased cellularity (macrophage, Hofbauer cells and TCD8+ lymphocytes) and up-regulation of inflammatory mediators such as IFN-γ, TNF-α, RANTES/CCL5, MCP1/CCL2, and VEGF/R2 were detected in the liver, lung, spleen, brain, and placenta, supporting placental and fetus peripheral tissues inflammation. Maternal infection leading to the production of those vascular mediators may alter the vascular permeability, facilitating the virus entry and tissue and barrier dysfunction.
View Full-Text
►

▼

Figures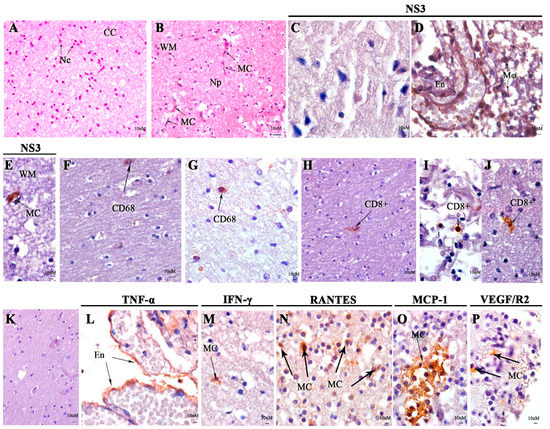 Figure 1
This is an open access article distributed under the
Creative Commons Attribution License
which permits unrestricted use, distribution, and reproduction in any medium, provided the original work is properly cited (CC BY 4.0).

Share & Cite This Article
MDPI and ACS Style
Nunes, P.; Nogueira, R.; Coelho, J.; Rodrigues, F.; Salomão, N.; José, C.; de Carvalho, J.; Rabelo, K.; de Azeredo, E.; Basílio-de-Oliveira, R.; Basílio-de-Oliveira, C.; dos Santos, F.; Paes, M. A Stillborn Multiple Organs' Investigation from a Maternal DENV-4 Infection: Histopathological and Inflammatory Mediators Characterization. Viruses 2019, 11, 319.
Note that from the first issue of 2016, MDPI journals use article numbers instead of page numbers. See further details here.
Related Articles
Comments
[Return to top]