Open Access This article is
freely available
re-usable
Review
Stimuli-Responsive Polymer-Clay Nanocomposites under Electric Fields
Department of Polymer Science and Engineering, Inha University, Incheon 402-751, Korea
*
Author to whom correspondence should be addressed.
Academic Editor: Biqiong Chen
Received: 15 October 2015 / Accepted: 28 December 2015 / Published: 15 January 2016
Abstract
:
This short Feature Article reviews electric stimuli-responsive polymer/clay nanocomposites with respect to their fabrication, physical characteristics and electrorheological (ER) behaviors under applied electric fields when dispersed in oil. Their structural characteristics, morphological features and thermal degradation behavior were examined by X-ray diffraction pattern, scanning electron microscopy and transmission electron microscopy, and thermogravimetric analysis, respectively. Particular focus is given to the electro-responsive ER characteristics of the polymer/clay nanocomposites in terms of the yield stress and viscoelastic properties along with their applications.
Keywords:
polymer; clay; nanocomposite; electrorheological; conducting polymer
1. Introduction
This paper reviews the fabrication methods and characteristics of smart polymer/clay nanocomposites used as ER materials prepared from a range of different fabrication methods. The ER performance of the polymer/clay nanocomposites was observed by either optical microscopy or rotational rheometry.
1.1. Fabrication of Electro-Responsive Polymer/Clay Nanocomposites
As a simple and interesting way to construct organic-inorganic hybrid systems and provide synergistic properties, which cannot be achieved from individual materials, such as easily controlled conductivity and higher mechanical stability, several methods to prepare electro-responsive polymer/clay nanocomposites have been reported [
25
,
40
].
1.2. Melt Processing
Based on the effects of the applied electric field on the structural evolution of poly(propylene) (PP)/clay nanocomposites, showing a tendency toward exfoliation [
54
], Kim
et al.
[
55
] reported a novel method to produce poly(propylene)/clay nanocomposites continuously with a clay content of 5 wt % using an electric melt pipe equipped with a twin-screw extruder, as shown in
Scheme 4
. In their study, partial intercalation was obtained by continuous processing, showing the possibility to produce nanocomposites using this method. As this physical process can be appropriate for conventional extrusion, the approach may also be used in other polymer/clay nanocomposite systems [
55
].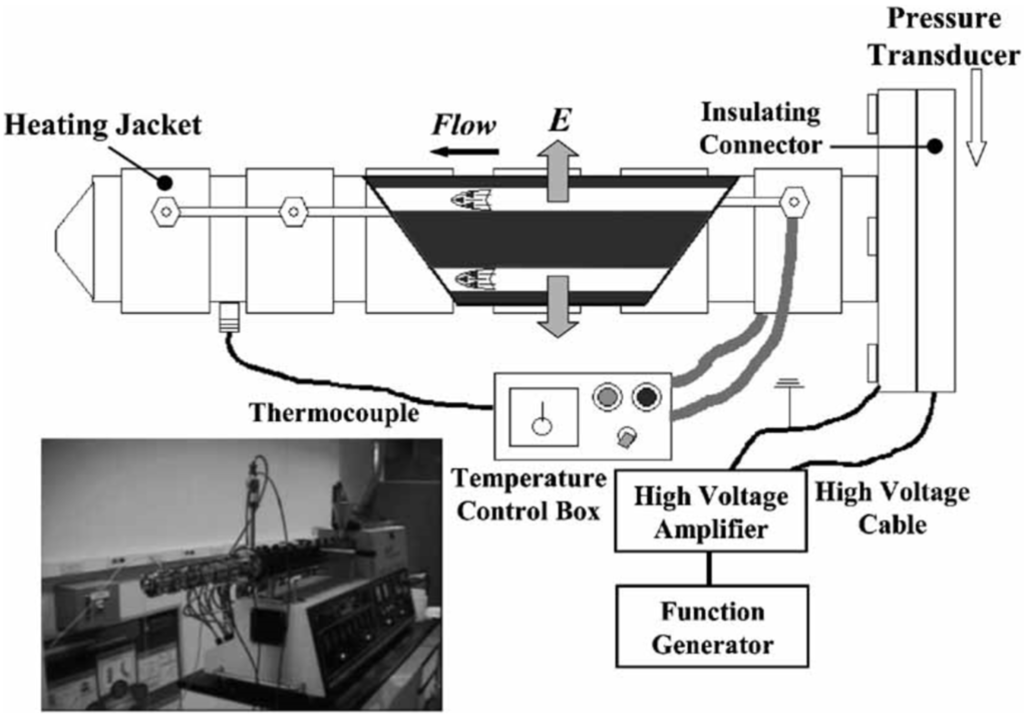 Scheme 4.
Schematic diagram of an electric melt pipe equipped with a twin-screw extruder. (Reprinted from Reference [
55
] with permission).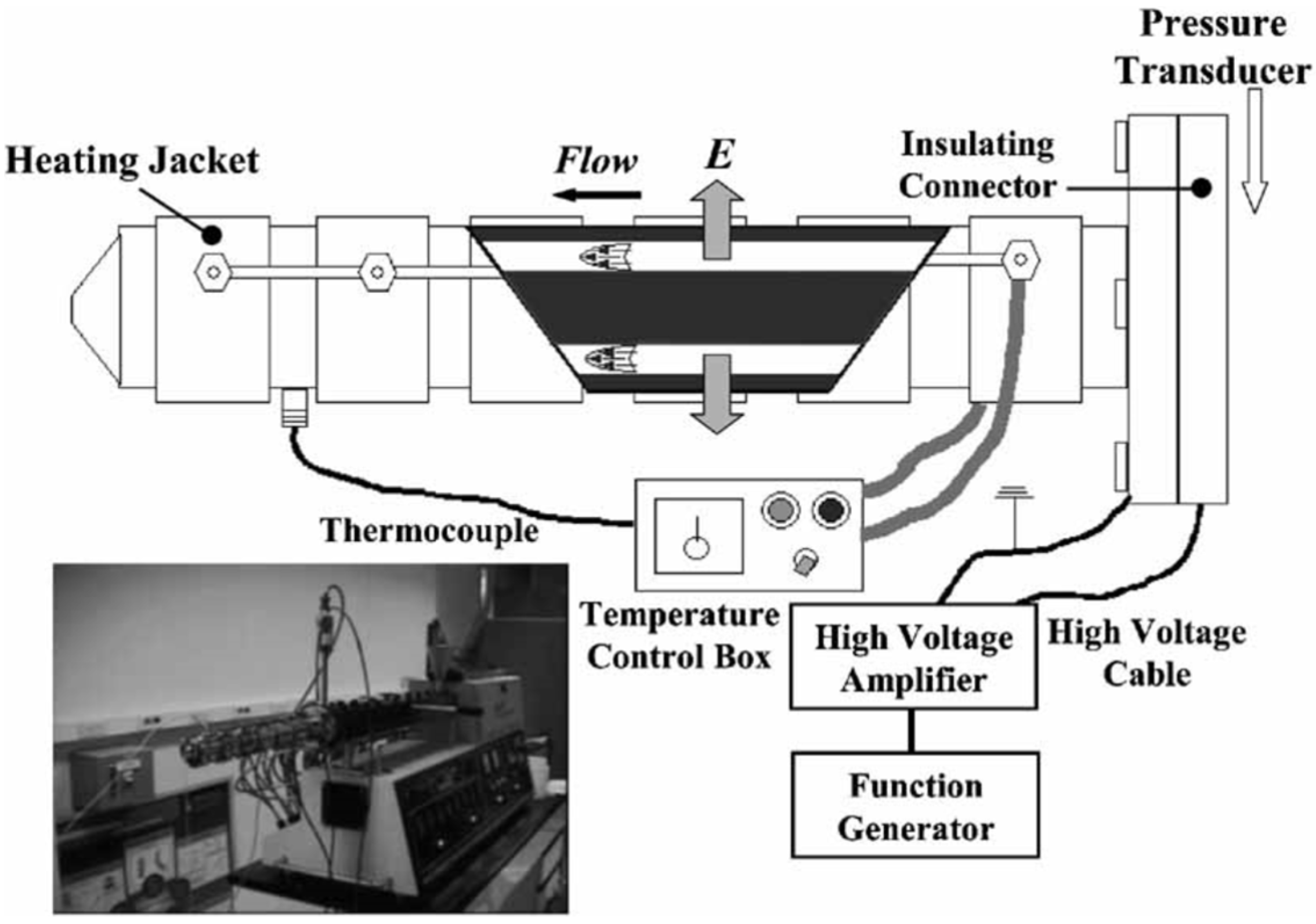 2. Characterization of Polymer-Clay Nanocomposites
2.1. Morphology
Once the electro-responsive smart polymer/clay nanocomposites were synthesized, their morphology was examined to determine if the nanocomposite had been synthesized successfully. These can be answered by either scanning electron microscopy (SEM) or transmission electron microscopy (TEM).
Figure 1
provides direct evidence of the synthesis of a PANI-coated HNT surface provided by the SEM images, in which the neat nanotubes of the raw HNT can be seen. Compared to the pure HNT, the distinctive tubular shape of the PANI/HNT composite in
Figure 1
b disappeared, indicating the formation of PANI.
Regarding the morphology of the PANI/OMMT nanocomposite confirmed by SEM (
Figure 2
a), pure clay exhibits a lamellar structure with a nanosized thickness and huge surface area in each layer. After the polymerization of aniline, a large number of nano-granules were observed with a broad particle size distribution, as shown in
Figure 2
b. The granular surface became rough due to the adsorbed OMMT sheets [
56
,
57
,
58
,
59
]. Therefore, the PANI/OMMT nanocomposite particles have a core-shell structure, in which the core material is an organic PANI and the shell material is the exfoliated clay sheet.

Figure 1.
Scanning electron microscopy (SEM) images of (
a
) halloysites (HNTs) and (
b
) PANI/HNT composites (Reprinted from Reference [
45
] with permission).


Figure 2.
SEM images of pristine clay (
a
) and fabricated PANI/OMMT nanocomposite particles (
b
) (Reprinted from Reference [
52
] with permission).

The morphologies of both Pal/PANI and Pal were examined by TEM to characterize the surface morphology of the pure Pal (
Figure 3
a) and Pal/PANI particles (
Figure 3
b).
Figure 3
a showed that the surface of Pal was quite smooth, in which Pal has a highly fibrous morphology that forms bundles. The length of each fiber was varied from the sub-micrometer to micrometer range with a mean diameter of approximately 20 nm. In contrast, the Pal/PANI composite particles had a much rougher surface due to the wrapping of PANI (
Figure 3
b), meaning that the aniline had been polymerized onto the Pal template by a chemical oxidation method, altering the outside surface.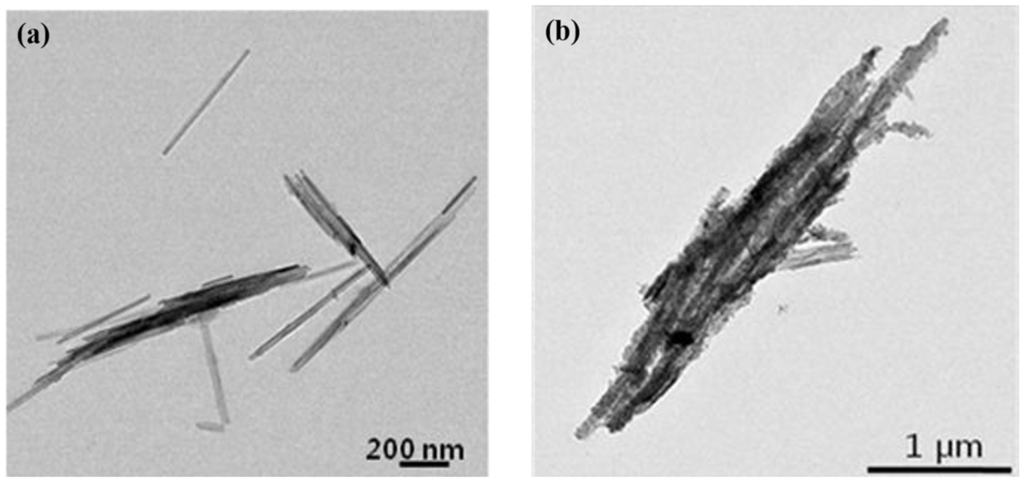 Figure 3.
Transmission electron microscopy (TEM) images of Pal (
a
) and Pal/PANI composite particles (
b
), respectively (Reprinted from Reference [
46
] with permission).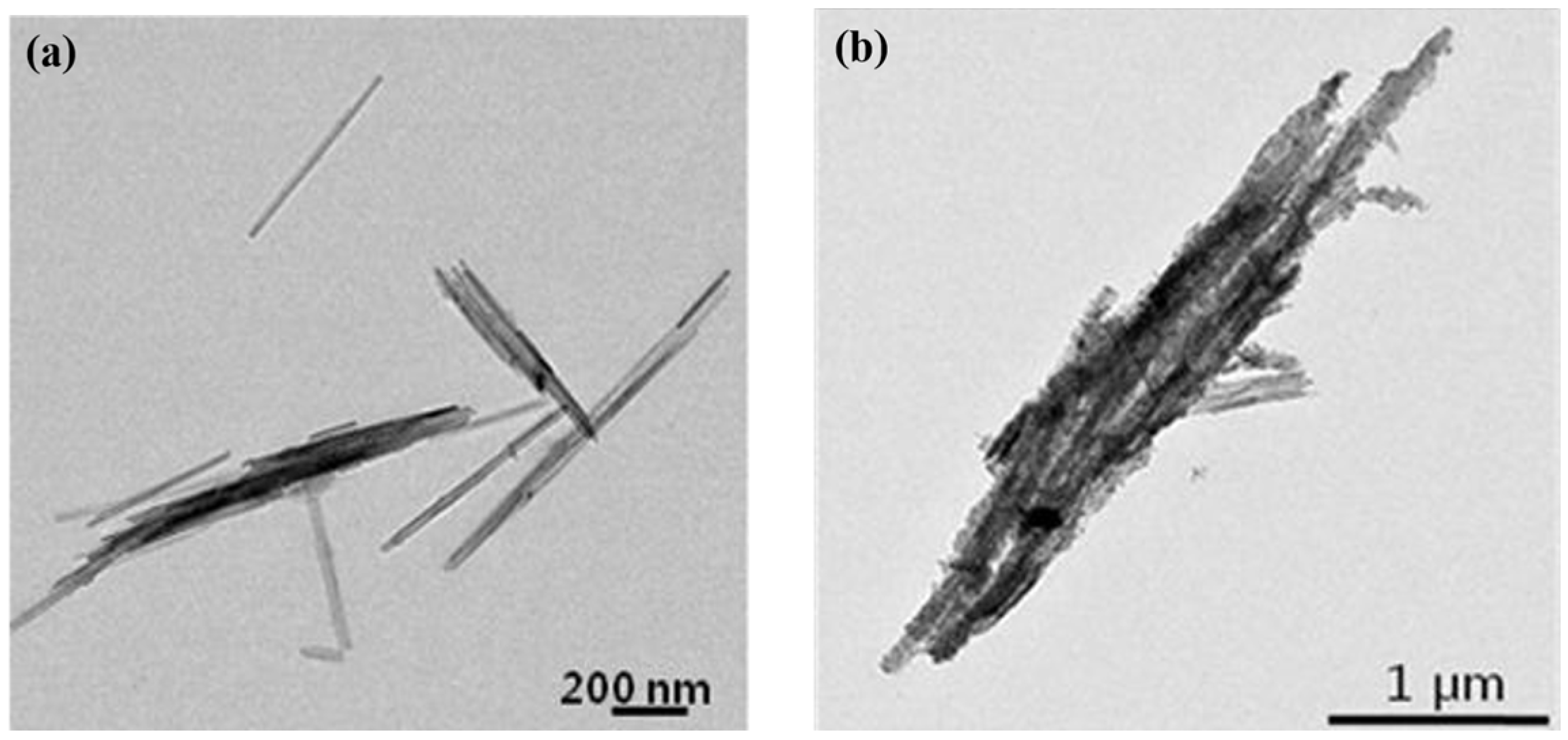 Fang
et al.
[
60
] published a TEM image of a cross-sectional view of the synthesized nano-sized laponite stabilized poly(methyl methacrylate) (PMMA) spheres, as shown in
Figure 4
. The PMMA nanospheres were synthesized by surfactant-free Pickering emulsion polymerization, the emulsions of methyl methacrylate (MMA) monomer were dispersed in water stabilized by the hydrophilic laponite clay. The grey spherical regions were considered to be PMMA cores and the dark strips were laponite plates. The grey cores were surrounded by multitudinous densely stacked laponite plates, demonstrating the role of laponite plates as a stabilizer.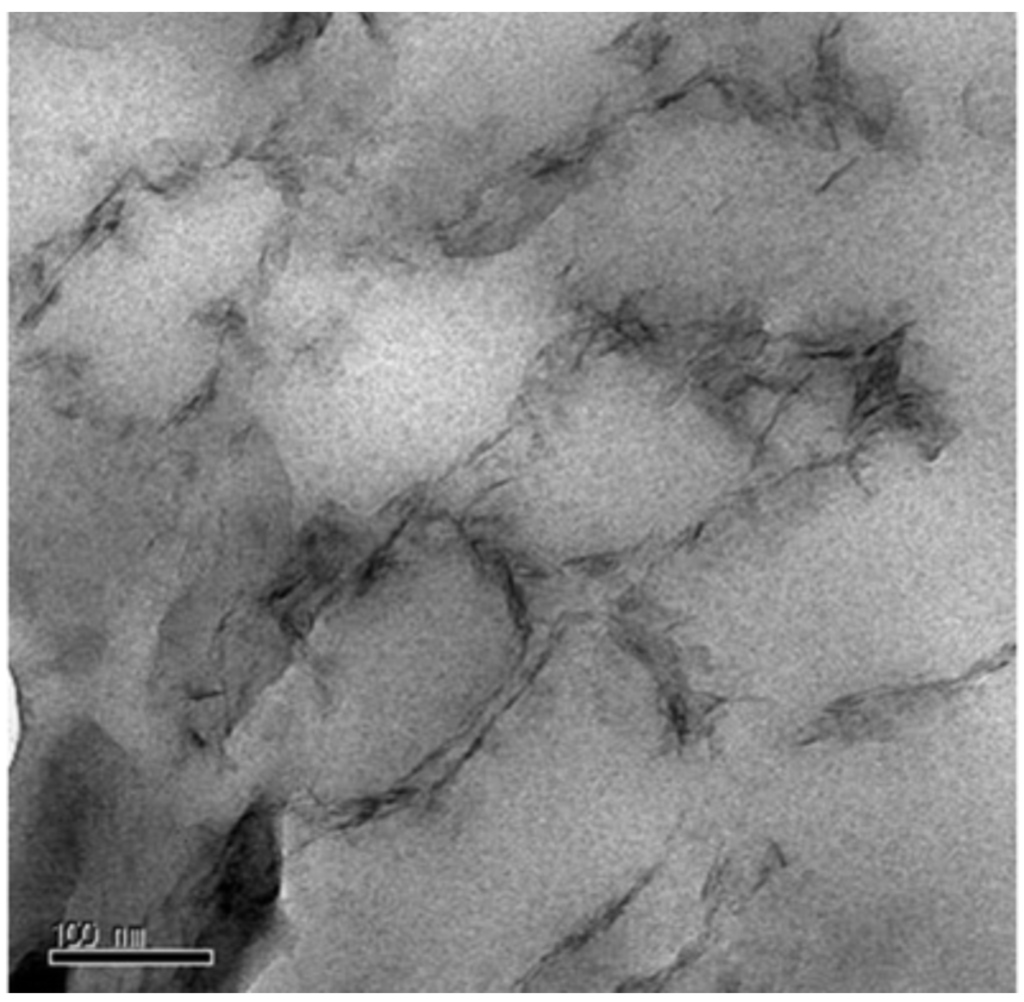 Figure 4.
TEM image of a poly(methyl methacrylate) (PMMA) nanoparticle stabilized by laponite (Reprinted from Reference [
60
] with permission).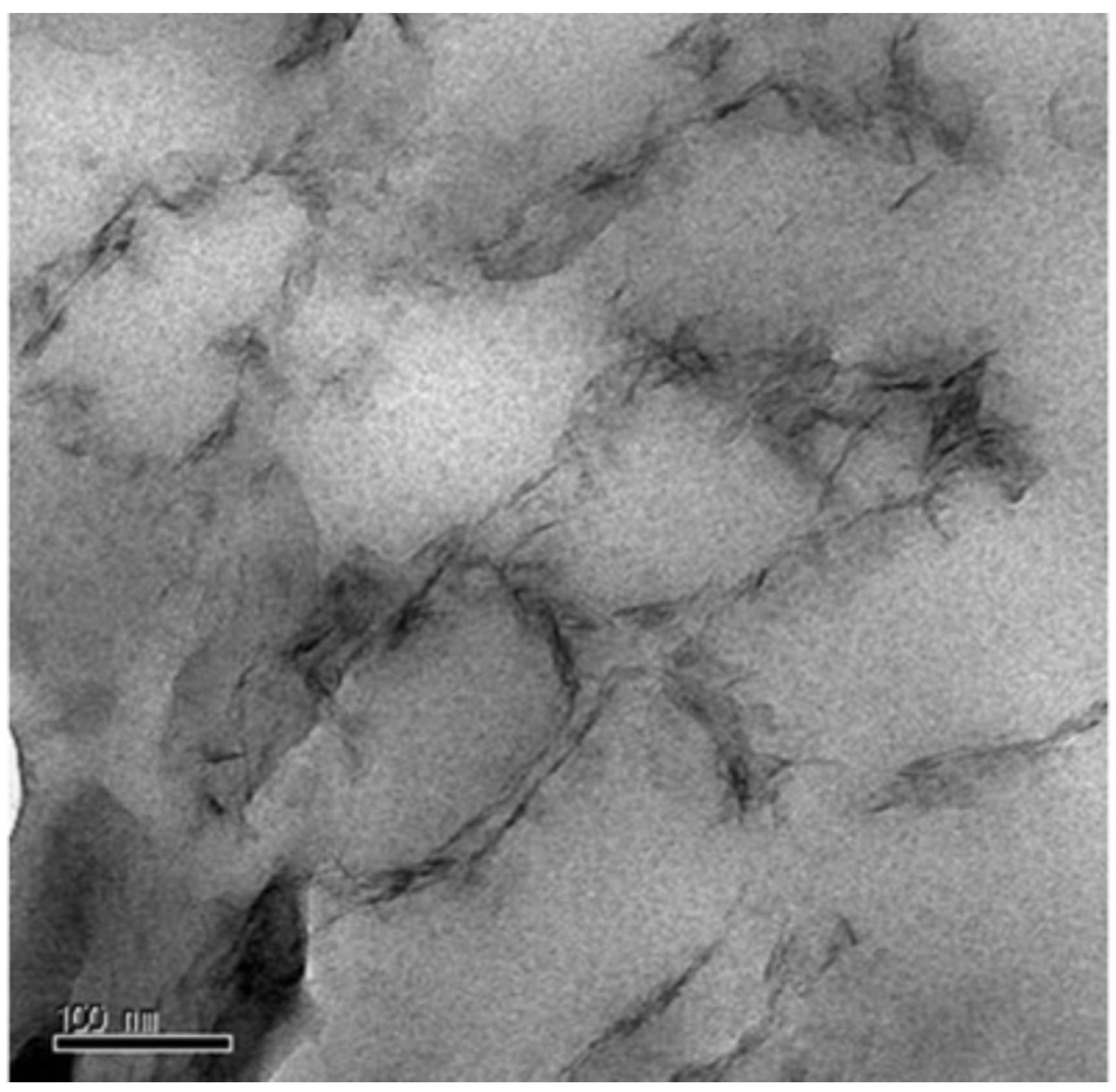 2.2. Crystalline State
In the case of crystalline clay, the delicate layer-layer structure and the changes in the d-spacing between adjacent layers were examined by X-ray diffraction (XRD). The initial XRD patterns were different from the final XRD patterns, in which the characteristic peak for clay showed a shift in intensity and position.
From the XRD pattern of pure clay and PANI/clay nanoparticles [
61
] (
Figure 5
), the salient peak (d001) equivalent to the basal spacing of MMT was calculated to be 3.25 nm using the Bragg Equation: λ = 2
d
·sinθ (λ = 0.154 nm) [
62
]. The PANI/clay nanoparticles in
Figure 5
showed no distinct sharp peak but a wide plateau, proving the disappearance of the layered structure. Nevertheless, it can be deduced that a few clay particles were not exfoliated, and the entire exfoliation of clay remains a difficult task [
63
].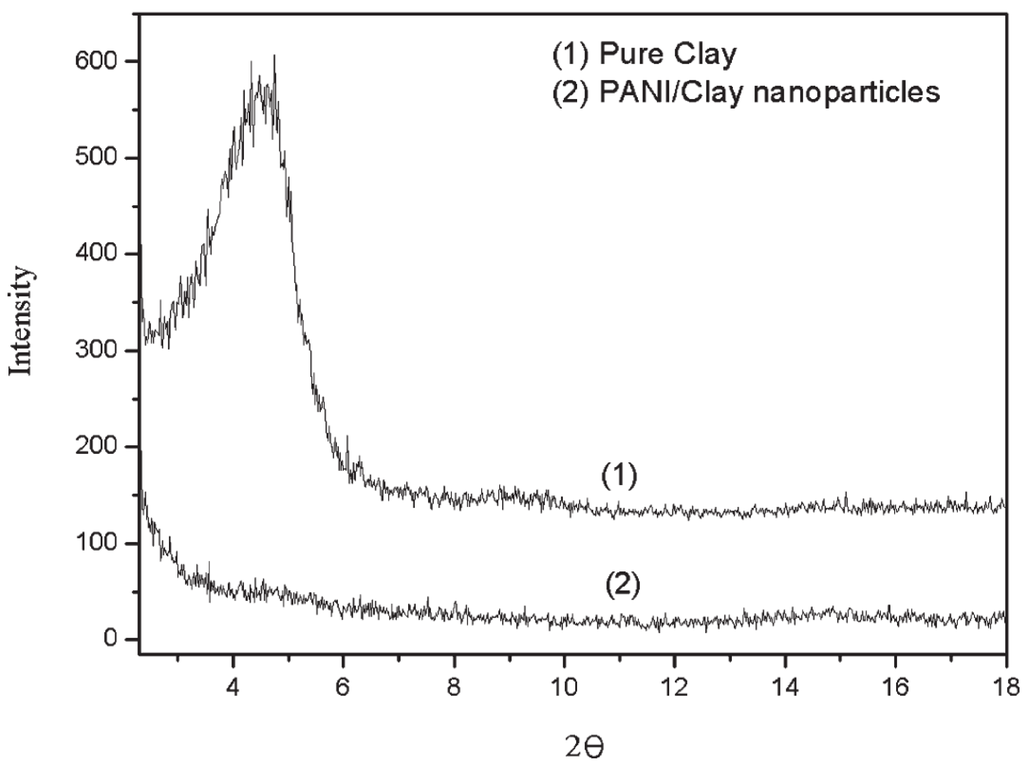 Figure 5.
X-ray diffraction (XRD) patterns of pure clay (1) and clay sheet-stabilized polyaniline granules (2) (Reprinted from Reference [
61
] with permission).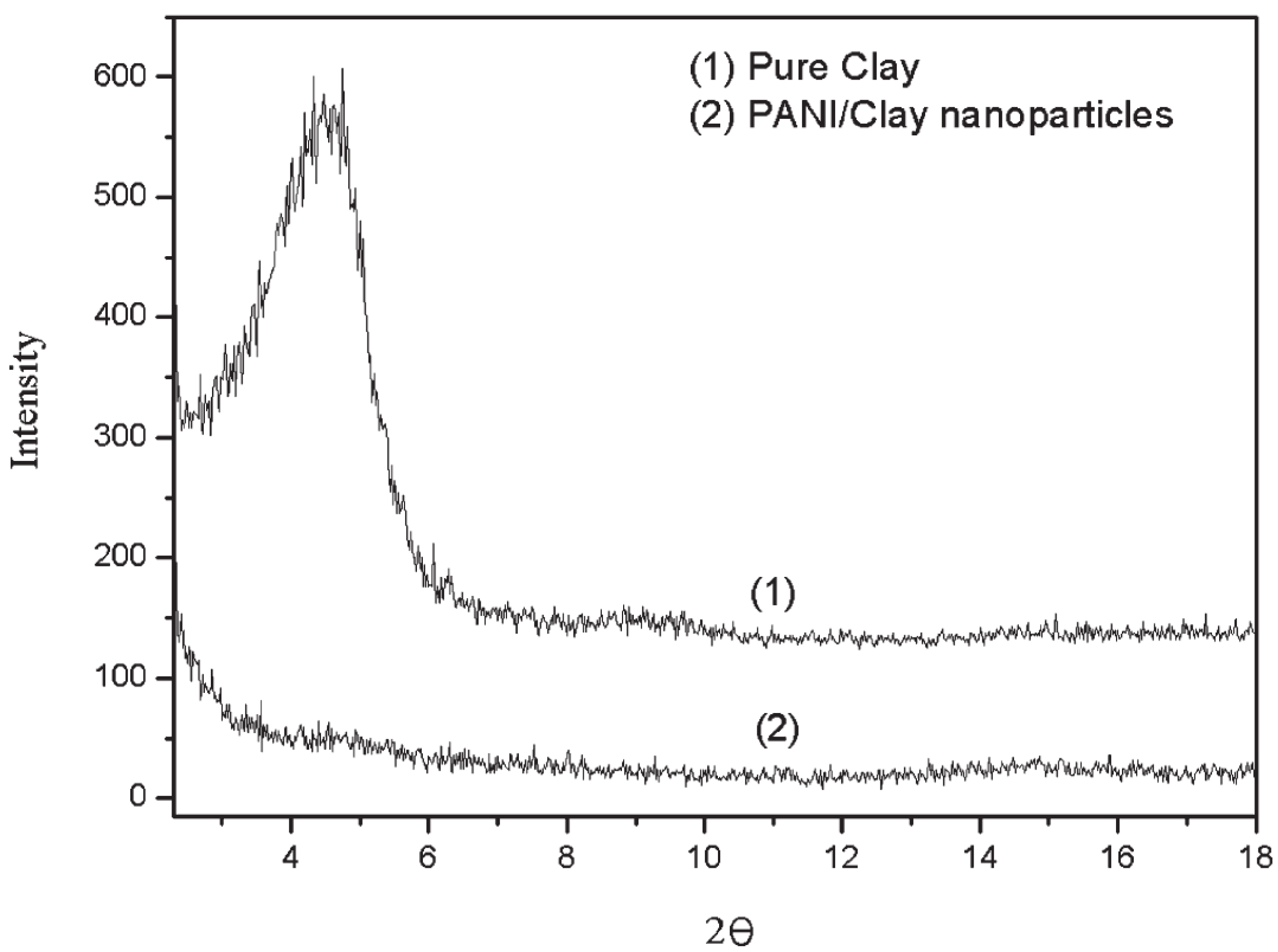 Figure 6
presents XRD patterns of Pal, PANI and synthesized Pal/PANI nanocomposite particles. The crystalline PANI possessed reflections at 18.4° and 25.7° 2θ. The reflection centered at 18.4° 2θ was due to the periodicity in the orientation parallel to the polymer chain, while the peak at 25.7° 2θ was assigned to the periodicity in the orientation perpendicular to the polymer chain [
64
]. For Pal, the representative reflections were observed at 8.3°, 13.6°, 19.7° and 26.6° 2θ, which were assigned to the (1 1 0), (2 0 0), (0 4 0) and (4 0 0) planes of Pal, respectively [
65
]. Pal/PANI showed a similar set of characteristic reflections, which means that the crystal structure of Pal has been maintained during its polymerization reaction. The PANI reflection in Pal/PANI is almost invisible because Pal/PANI has a relative thin layer of amorphous PANI synthesized by this polymerization reaction [
65
].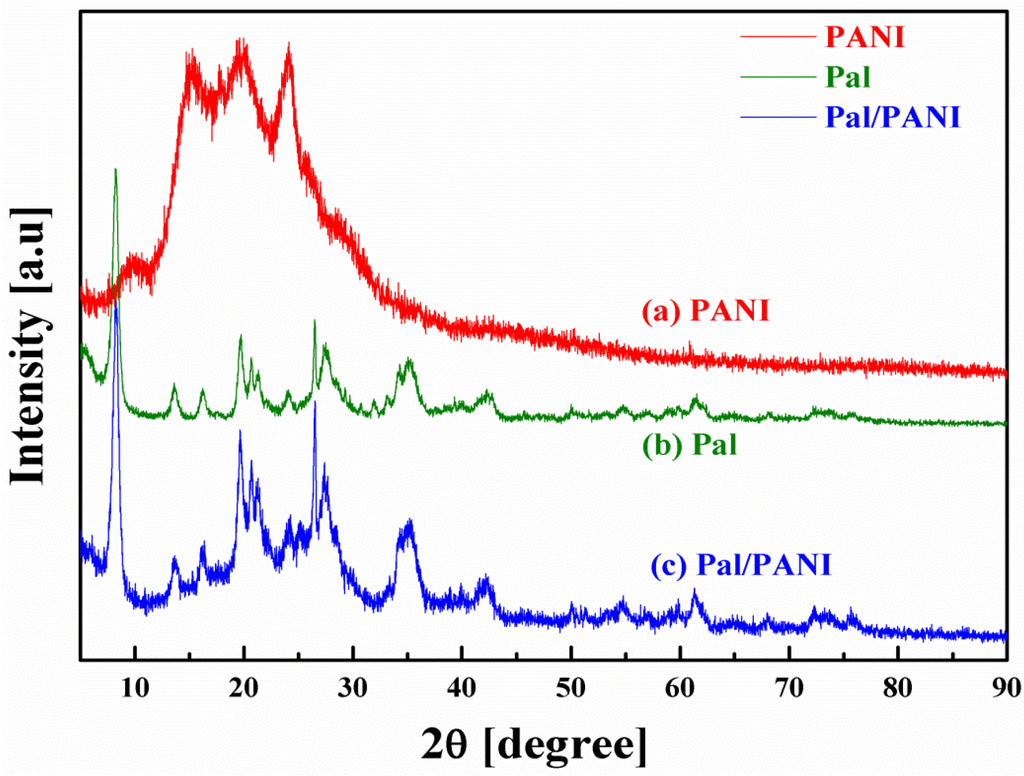 Figure 6.
XRD patterns for pristine PANI (
a
), Pal (
b
) and Pal/PANI (
c
) (Reprinted from Reference [
46
] with permission).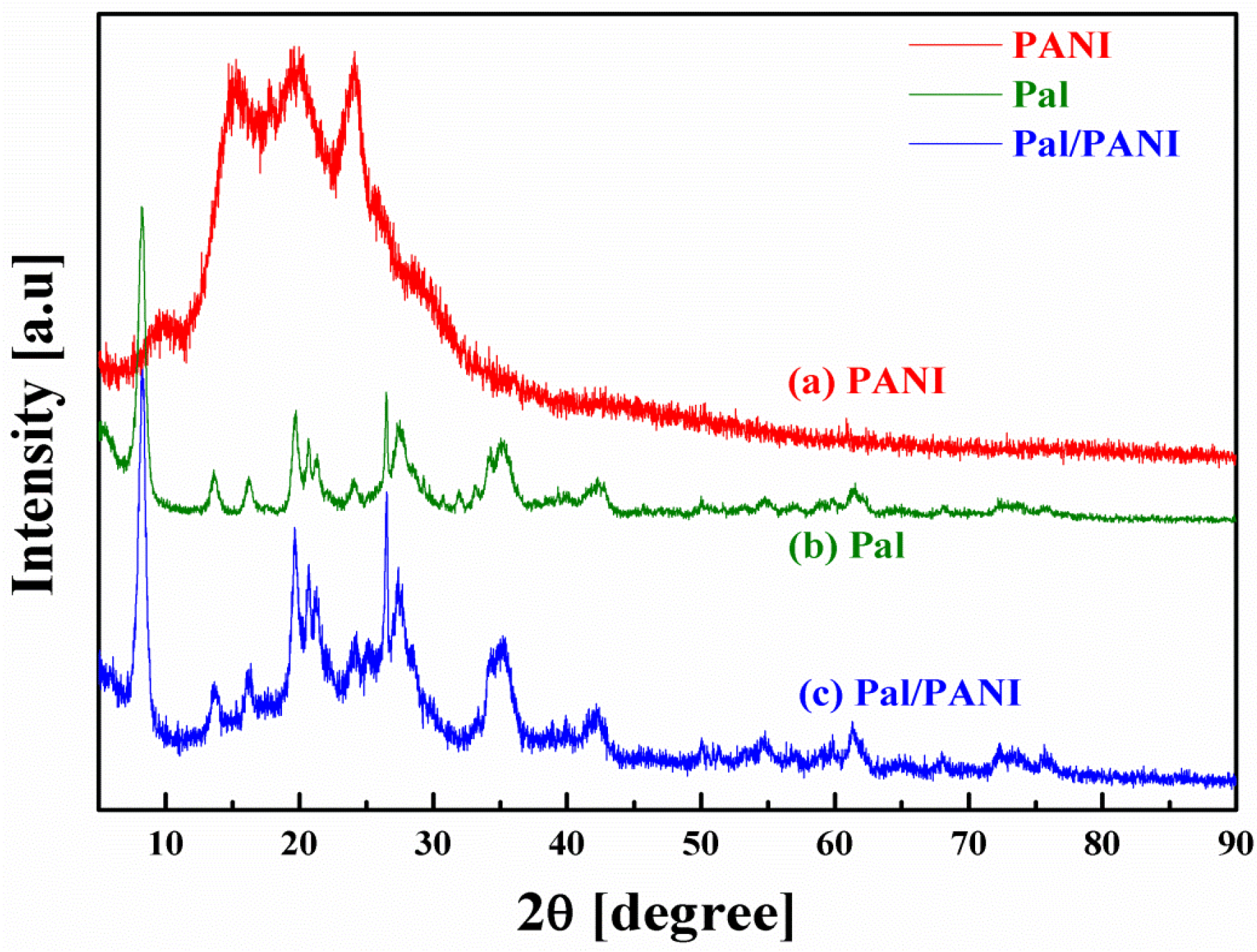 2.3. Thermal Properties
The nanoscopic combination of conducting polymers with clay affects the thermal performance, in which the enhanced thermal properties are due to the significant enhancements in the interfacial conglutination between the polymer and clay [
66
]. Generally, better interfacial bonding imparts better properties to a polymer nanocomposite, such as tensile strength, hardness and high modulus, as well as resistance to fatigue, tear, corrosion and cracking [
67
]. Thermogravimetric analysis (TGA) shows the changed thermal behaviors.
Figure 7
presents the weight composition and thermal stability of the HNT and polypyrrole (PPy)/HNT nanocomposite [
68
]. The PPy/HNT nanocomposites exhibited two-step thermal degradation behavior with the first weight loss from 300 °C and the second thermal degradation from 500 °C, indicating that they were thermally stable up to 300 °C. A sharp loss in mass was observed at 300 and 500 °C, possibly due to the large scale thermal degradation of the PPy chains [
69
] and the dehydroxylation of HNT [
70
]. On the other hand, this char formation temperature indicates the increased thermal stability of the polymer/clay nanocomposite [
71
].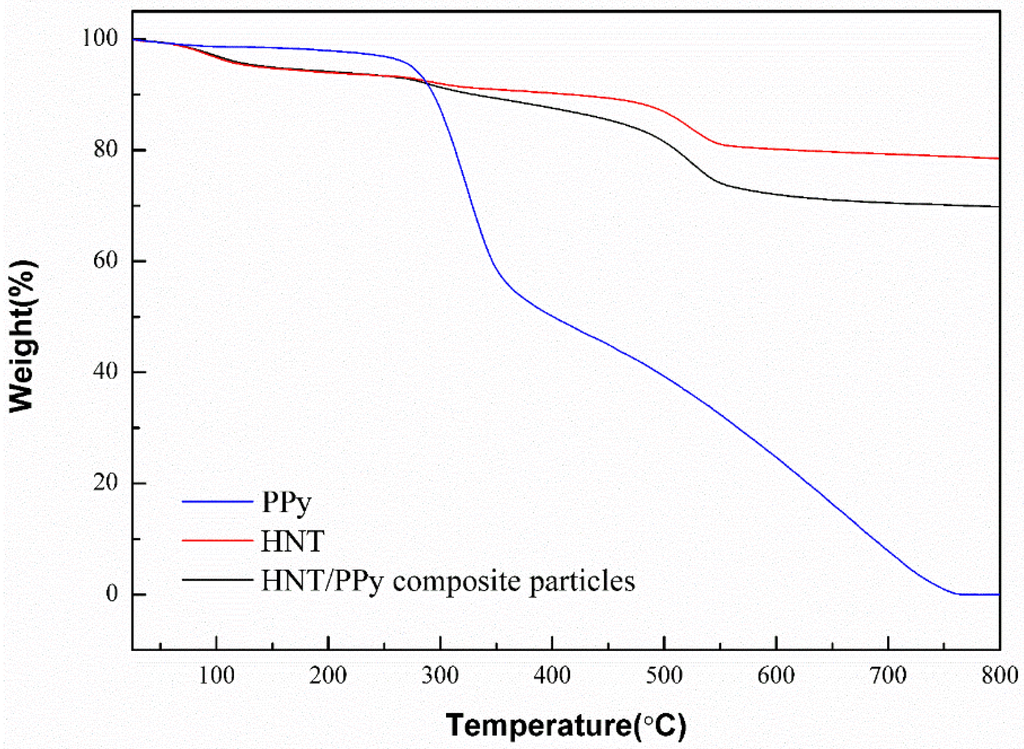 Figure 7.
Thermogravimetric analysis (TGA) curve of HNT and PPy/HNT composite (Reprinted from Reference [
68
] with permission).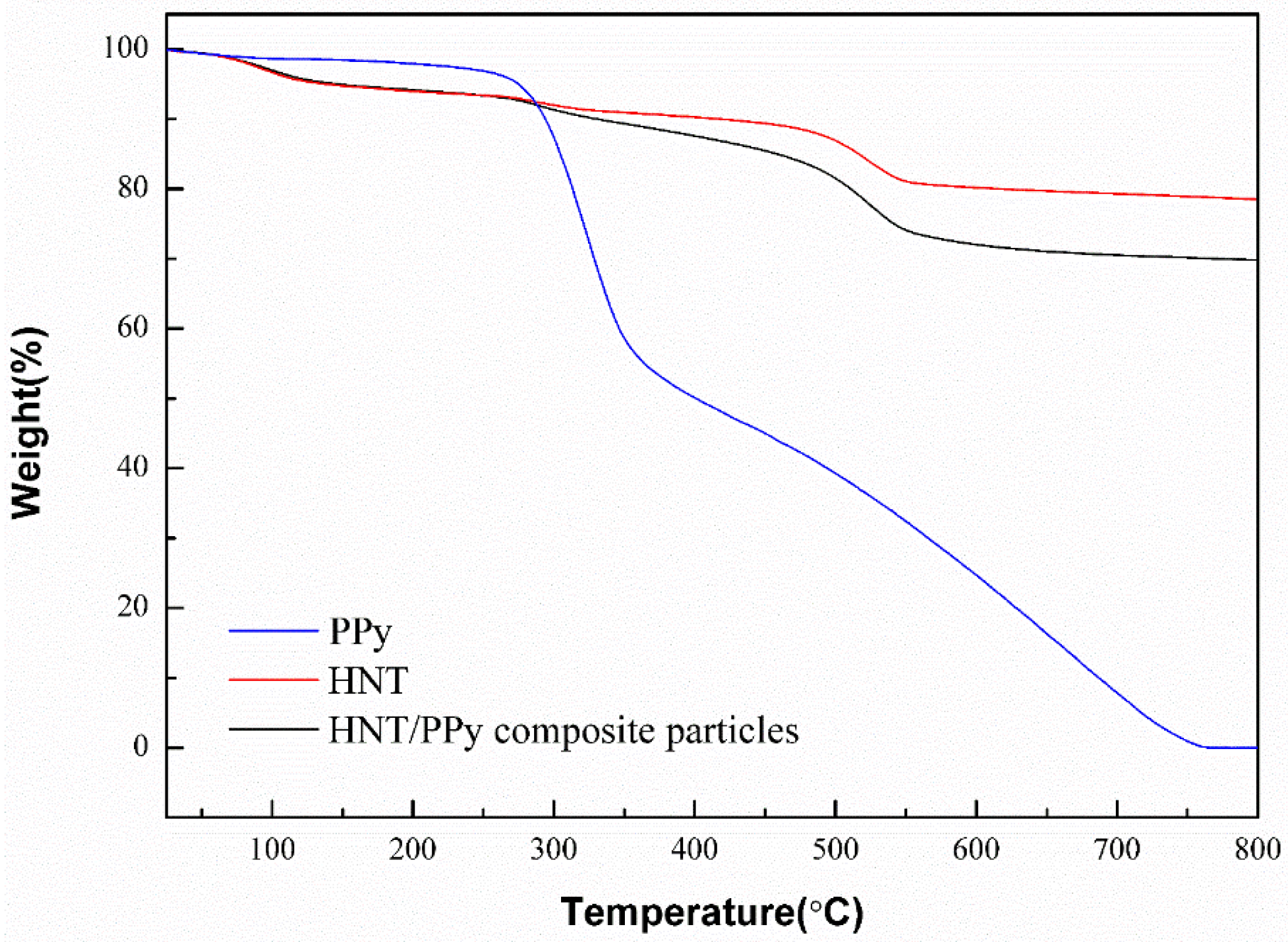 3. Electrorheological (ER) Characteristics
4. Conclusions
Various electric stimuli-responsive polymer-clay nanocomposites synthesized by a range of methods were reviewed. SEM, TEM and XRD confirmed their successful intercalation. The thermal stability of the conducting polymer chain was also enhanced due to the shielding role of the clay. In addition, the conducting polymer/clay nanocomposite-based ER fluids also found showed excellent ER behaviors and follow the previously proposed CCJ model.
Acknowledgments
This work was supported by a research grant from National Research Foundation, Korea (NRF-2013R1A1A2057955).
Author Contributions
The whole process of preparation of this review has been initiated and guided by Hyoung Jin Choi, while Shang Hao Piao and Seung Hyuk Kwon wrote the original version of the manuscript.
Conflicts of Interest
The authors declare no conflict of interest.
© 2016 by the authors; licensee MDPI, Basel, Switzerland. This article is an open access article distributed under the terms and conditions of the Creative Commons by Attribution (CC-BY) license (http://creativecommons.org/licenses/by/4.0/).