Effect of the Milling Time of the Precursors on the Physical Properties of Sprayed Aluminum-Doped Zinc Oxide (ZnO:Al) Thin Films
1
Center for Nanotechnology Research, Vellore Institute of Technology, Vellore 632014, Tamil Nadu, India
2
Department of Electrical Engineering-SEES, CINVESTAV-IPN, Apdo. Postal 14-740, México D.F. 07000, Mexico
*
Author to whom correspondence should be addressed.
Received: 21 March 2012 / Revised: 29 June 2012 / Accepted: 24 July 2012 / Published: 16 August 2012
Abstract
Aluminum doped zinc oxide (ZnO:Al) thin films were deposited on soda-lime glass substrates by the chemical spray technique. The atomization of the solution was carried out by ultrasonic excitation. Six different starting solutions from both unmilled and milled Zn and Al precursors, dissolved in a mix of methanol and acetic acid, were prepared. The milling process was carried out using a planetary ball mill at a speed of 300 rpm, and different milling times, namely, 15, 25, 35, 45, and 60 min. Molar concentration, [Al]/[Zn] atomic ratio, deposition temperature and time, were kept at constant values; 0.2 M, 3 at.%, 475 °C, and 10 min, respectively. Results show that, under the same deposition conditions, electrical resistivities of ZnO:Al thin films deposited from milled precursors are lower than those obtained for films deposited from unmilled precursors. X-ray diffraction analysis revealed that all films display a polycrystalline structure, fitting well with the hexagonal wurtzite structure. Changes in surface morphology were observed by scanning electron microscopy (SEM) as well, since films deposited from unmilled precursors show triangular shaped grains, in contrast to films deposited from 15 and 35 min milled precursors that display thin slices with hexagonal shapes. The use of milled precursors to prepare starting solutions for depositing ZnO:Al thin films by ultrasonic pyrolysis influences their physical properties.
View Full-Text
►

▼

Figures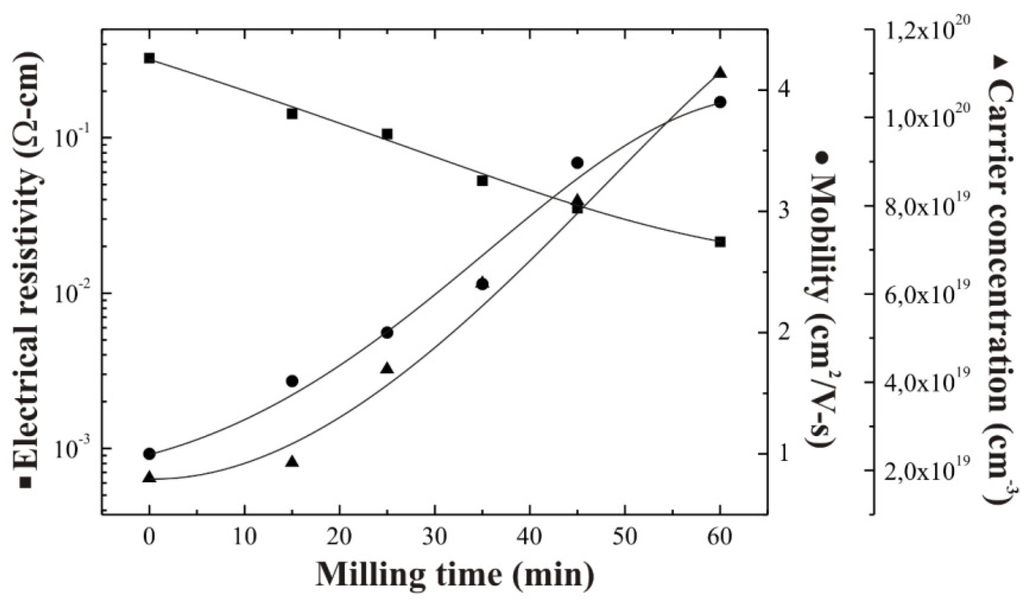 Figure 1

Share & Cite This Article
MDPI and ACS Style
Ramireddy, T.R.; Venugopal, V.; Bellam, J.B.; Maldonado, A.; Vega-Pérez, J.; Velumani, S.; Olvera, M.D.L.L. Effect of the Milling Time of the Precursors on the Physical Properties of Sprayed Aluminum-Doped Zinc Oxide (ZnO:Al) Thin Films. Materials 2012, 5, 1404-1412.
Related Articles
Comments
[Return to top]