The Influence of Microstructure on the Passive Layer Chemistry and Corrosion Resistance for Some Titanium-Based Alloys
1
Department of Chemistry, Faculty of Science, Taif University, P.O. Box 888, Taif 21974, Saudi Arabia
2
Department of Physics, Faculty of Science, Taif University, Hawiya 888, Saudi Arabia
3
Department of Physics, Faculty of Science, Ain Shams University, Abbassia 11566, Cairo, Egypt
4
Central Metallurgical Research and Development Institute, P.O. Box 87, Helwan, Cairo, Egypt
5
Chemistry Department, Faculty of Science, South Valley University, Qena 83523, Egypt
6
Chemistry Department, Faculty of Science, Kafrelsheikh University, Kafr El-Sheikh 33516, Egypt
7
Department of Electrochemistry, Corrosion and Materials Engineering, Chemical Faculty, Gdansk University of Technology, Narutowicza 11/12, 80-233 Gdansk, Poland
8
Univ. Lille, CNRS, Centrale Lille, ISEN, Univ. Valenciennes, UMR 8520-IEMN, F-59000 Lille, France
9
Department of Chemistry, Faculty of Science, Ain Shams University, Abbassia 11566, Cairo, Egypt
*
Authors to whom correspondence should be addressed.
Received: 5 March 2019 / Revised: 8 April 2019 / Accepted: 9 April 2019 / Published: 15 April 2019
Abstract
The effect of microstructure and chemistry on the kinetics of passive layer growth and passivity breakdown of some Ti-based alloys, namely Ti-6Al-4V, Ti-6Al-7Nb and TC21 alloys, was studied. The rate of pitting corrosion was evaluated using cyclic polarization measurements. Chronoamperometry was applied to assess the passive layer growth kinetics and breakdown. Microstructure influence on the uniform corrosion rate of these alloys was also investigated employing dynamic electrochemical impedance spectroscopy (DEIS). Corrosion studies were performed in 0.9% NaCl solution at 37 °C, and the obtained results were compared with ultrapure Ti (99.99%). The different phases of the microstructure were characterized by X-ray diffraction (XRD) and scanning electron microscopy (SEM). Chemical composition and chemistry of the corroded surfaces were studied using X-ray photoelectron spectroscopy (XPS) analysis. For all studied alloys, the microstructure consisted of α matrix, which was strengthened by β phase. The highest and the lowest values of the β phase's volume fraction were recorded for TC21 and Ti-Al-Nb alloys, respectively. The susceptibility of the investigated alloys toward pitting corrosion was enhanced following the sequence: Ti-6Al-7Nb < Ti-6Al-4V << TC21. Ti-6Al-7Nb alloy recorded the lowest pitting corrosion resistance (
R
pit
) among studied alloys, approaching that of pure Ti. The obvious changes in the microstructure of these alloys, together with XPS findings, were adopted to interpret the pronounced variation in the corrosion behavior of these materials.
View Full-Text
►

▼

Figures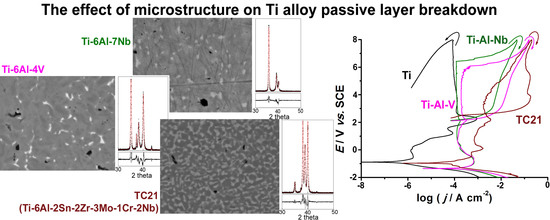 Graphical abstract
This is an open access article distributed under the
Creative Commons Attribution License
which permits unrestricted use, distribution, and reproduction in any medium, provided the original work is properly cited (CC BY 4.0).

Share & Cite This Article
MDPI and ACS Style
El-Bagoury, N.; Ahmed, S.I.; Ahmed Abu Ali, O.; El-Hadad, S.; Fallatah, A.M.; Mersal, G.A.M.; Ibrahim, M.M.; Wysocka, J.; Ryl, J.; Boukherroub, R.; A. Amin, M. The Influence of Microstructure on the Passive Layer Chemistry and Corrosion Resistance for Some Titanium-Based Alloys. Materials 2019, 12, 1233.
Note that from the first issue of 2016, MDPI journals use article numbers instead of page numbers. See further details here.
Related Articles
Comments
[Return to top]