A Comprehensive Study on The Accelerated Weathering Properties of Polypropylene—Wood Composites with Non-Metallic Materials of Waste-Printed Circuit Board Powders
1
Chongqing Key Laboratory of Nano-Micro Composite Materials and Devices, School of Metallurgy and Materials Engineering, Chongqing University of Science and Technology, Chongqing 401331, China
2
School of Materials Science and Engineering, Key Lab of Guangdong Province for High Property and Functional Macromolecular Materials, South China University of Technology, Guangzhou 510640, China
*
Author to whom correspondence should be addressed.
Received: 14 February 2019 / Revised: 5 March 2019 / Accepted: 12 March 2019 / Published: 15 March 2019
Abstract
In this study, non-metallic materials of waste-printed circuit board powders (WPCBP) were successfully used as reinforcing filler to produce polypropylene (PP)–wood composites, and their effect on the weathering properties of PP composites were fully evaluated via oxidation induction time (OIT), attenuated total reflectance Fourier-transform infrared spectroscopy (ATR-FTIR), differential scanning calorimetry, vicat softening point (VST), scanning electron microscopy, and mechanical properties analysis. The OIT analysis confirmed that the anti-thermal oxidative aging properties of PP–wood composites were decreased with the loading of WPCBP. Apart from that, the PP composite, reinforced with 30 wt.% of WPCBP, exhibited the highest value of active energy, which suggests that it is more sensitive to temperature and oxygen when compared with other PP composites. The mechanical properties analysis revealed that neat PP exhibited the poorest weathering properties after being subjected to UV exposure, and its retention rate of tensile strength and notched impact strength were only 70.6% and 59.6%, respectively, while WPCBP and wood flour (WF) could efficiently improve the retention rates of the mechanical properties of the PP composites when subjected to UV exposure. The visual appearance of the PP composites after being subjected to UV exposure showed more and smaller cracks with the loading of WPCBP and WF. The ATR-FTIR results revealed that the carbonyl index increased for all the weathered samples, and the more WPCBP was added into the PP composites led to a higher carbonyl index value, which might be due to the multivalent transition metals in WPCBP, which accelerate the photo-oxidation of the PP composites. The VST results show that both WPCBP and WF can effectively enhance the heat deformation resistance of the PP composites that have been subjected to UV exposure.
View Full-Text
►

▼

Figures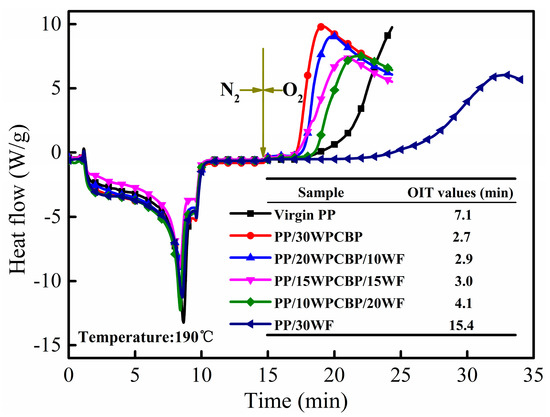 Figure 1
This is an open access article distributed under the
Creative Commons Attribution License
which permits unrestricted use, distribution, and reproduction in any medium, provided the original work is properly cited (CC BY 4.0).

Share & Cite This Article
MDPI and ACS Style
Tian, S.; Luo, Y.; Chen, J.; He, H.; Chen, Y.; Ling, Z. A Comprehensive Study on The Accelerated Weathering Properties of Polypropylene—Wood Composites with Non-Metallic Materials of Waste-Printed Circuit Board Powders. Materials 2019, 12, 876.
Note that from the first issue of 2016, MDPI journals use article numbers instead of page numbers. See further details here.
Related Articles
Comments
[Return to top]