Mesoporous Palladium N,N'-Bis(3-Allylsalicylidene)o-Phenylenediamine-Methyl Acrylate Resins as Heterogeneous Catalysts for the Heck Coupling Reaction
1
Depto. Físico-Química, Facultad de Ciencias Químicas, Universidad de Concepción, Edmundo Larenas 129, Concepción 4070371, Chile
2
Depto. de Ciencias Químicas, Facultad de Ciencias Exactas, Universidad Andrés Bello, Sede Concepción, Autopista Concepción-Talcahuano 7100, Talcahuano 4300866, Chile
3
Millenium Nuclei on Catalytic Processes towards Sustainable Chemistry (CSC), Santiago 8340518, Chile
*
Author to whom correspondence should be addressed.
Received: 31 July 2019 / Revised: 12 August 2019 / Accepted: 14 August 2019 / Published: 16 August 2019
Abstract
Palladium N,N'-bis(3-allylsalicylidene)o-phenylenediamine complex (PdAS) immobilized onto mesoporous polymeric methyl acrylate (MA) based resins (PdAS(x)-MA, x = 1, 2, 5, or 10 wt.%) were successfully prepared as heterogeneous catalysts for the Heck reaction. The catalysts were synthesized via radical suspension polymerization using PdAS as a metal chelate monomer, divinylbenzene and MA as co-monomers. The effect of the PdAS(x) content on the physicochemical properties of the resins is also reported. The catalysts were characterized by using a range of analytical techniques. The large surface area (>580 m
2
·g
−1
) and thermal stability (up to 250 °C) of the PdAS(x)-MA materials allows their application as catalysts in the C–C coupling reaction between iodobenzene and MA in the presence of trimethylamine at 120 °C using DMF as the solvent. The PdAS(10)-MA catalyst exhibited the highest catalytic performance with no significant catalytic loss being observed after five reuses, thereby indicating excellent catalyst stability in the reaction medium.
View Full-Text
►

▼

Figures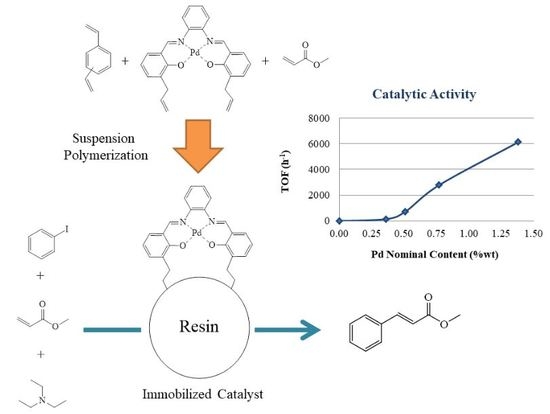 Graphical abstract
This is an open access article distributed under the
Creative Commons Attribution License
which permits unrestricted use, distribution, and reproduction in any medium, provided the original work is properly cited (CC BY 4.0).

Share & Cite This Article
MDPI and ACS Style
Mella, C.; Torres, C.C.; Pecchi, G.; Campos, C.H. Mesoporous Palladium N,N'-Bis(3-Allylsalicylidene)o-Phenylenediamine-Methyl Acrylate Resins as Heterogeneous Catalysts for the Heck Coupling Reaction. Materials 2019, 12, 2612.
Note that from the first issue of 2016, MDPI journals use article numbers instead of page numbers. See further details here.
Related Articles
Comments
[Return to top]