A Reconfigured Whale Optimization Technique (RWOT) for Renewable Electrical Energy Optimal Scheduling Impact on Sustainable Development Applied to Damietta Seaport, Egypt
1
Arab Academy for Science, Technology and Maritime Transport (AASTMT), 2033 Cairo, Egypt
2
Faculty of Engineering, Ain Shams University, 11566 Cairo, Egypt
*
Author to whom correspondence should be addressed.
Received: 27 January 2018 / Revised: 22 February 2018 / Accepted: 27 February 2018 / Published: 1 March 2018
Abstract
This paper studies the effect on the rate of growth of carbon dioxide emission in seaports' atmosphere of replacing a part of the fossil fuel electrical power generation by clean renewable electrical energies, through two different scheduling strategies. The increased rate of harmful greenhouse gas emissions due to conventional electrical power generation severely affects the whole global atmosphere. Carbon dioxide and other greenhouse gases emissions are responsible for a significant share of global warming. Developing countries participate in this environmental distortion to a great percentage. Two different suggested strategies for renewable electrical energy scheduling are discussed in this paper, to attain a sustainable green port by the utilization of two mutual sequential clean renewable energies, which are biomass and photovoltaic (PV) energy. The first strategy, which is called the eco-availability mode, is a simple method. It is based on operating the renewable electrical energy sources during the available time of operation, taking into consideration the simple and basic technical issues only, without considering the sophisticated technical and economical models. The available operation time is determined by the environmental condition. This strategy is addressed to result on the maximum available Biomass and PV energy generation based on the least environmental and technical conditions (panel efficiency, minimum average daily sunshine hours per month, minimum average solar insolation per month). The second strategy, which is called the Intelligent Scheduling (IS) mode, relies on an intelligent Reconfigured Whale Optimization Technique (RWOT) based-model. In this strategy, some additional technical and economical issues are considered. The studied renewable electrical energy generation system is considered in two scenarios, which are with and without storage units. The objective (cost) function of the scheduling optimization problem, for both scenarios, are developed. Also, the boundary conditions and problem constraints are concluded. The RWOT algorithm is an updated Whale Optimization Algorithm (WOA). It is developed to accelerate the rate of reaching the optimal solution for the IS problem. The two strategies simulation and implementation are illustrated and applied to the seaport of Damietta, which is an Egyptian port, located 10 km to the west of the Nile River (Damietta Branch). The scheduling of PV and biomass energy generation during the different year months is examined for both strategies. The impact of renewable electrical energies generation scheduling on carbon dioxide emission and consequently global warming is discussed. The saving in carbon dioxide emission is calculated and the efficient results of the suggested models are clarified. The carbon dioxide emission is reduced to around its fifth value, during renewable energy operation. This work focuses on decreasing the rate of growth of carbon dioxide emission coming from fossil fuel electrical power generation in Egypt, targeting, sustainable green seaports, through three main contributions in clean renewable electrical energies scheduling,. The contributions are; 1-presenting the eco-availability mode for minimum gifted biomass and PV energy generation, 2-developing and progressing the IRWOT scheduling strategy for both scenarios (with and without storage unit), 3-defining the scheduling optimization problem boundary conditions and constraints.
View Full-Text
►

▼

Figures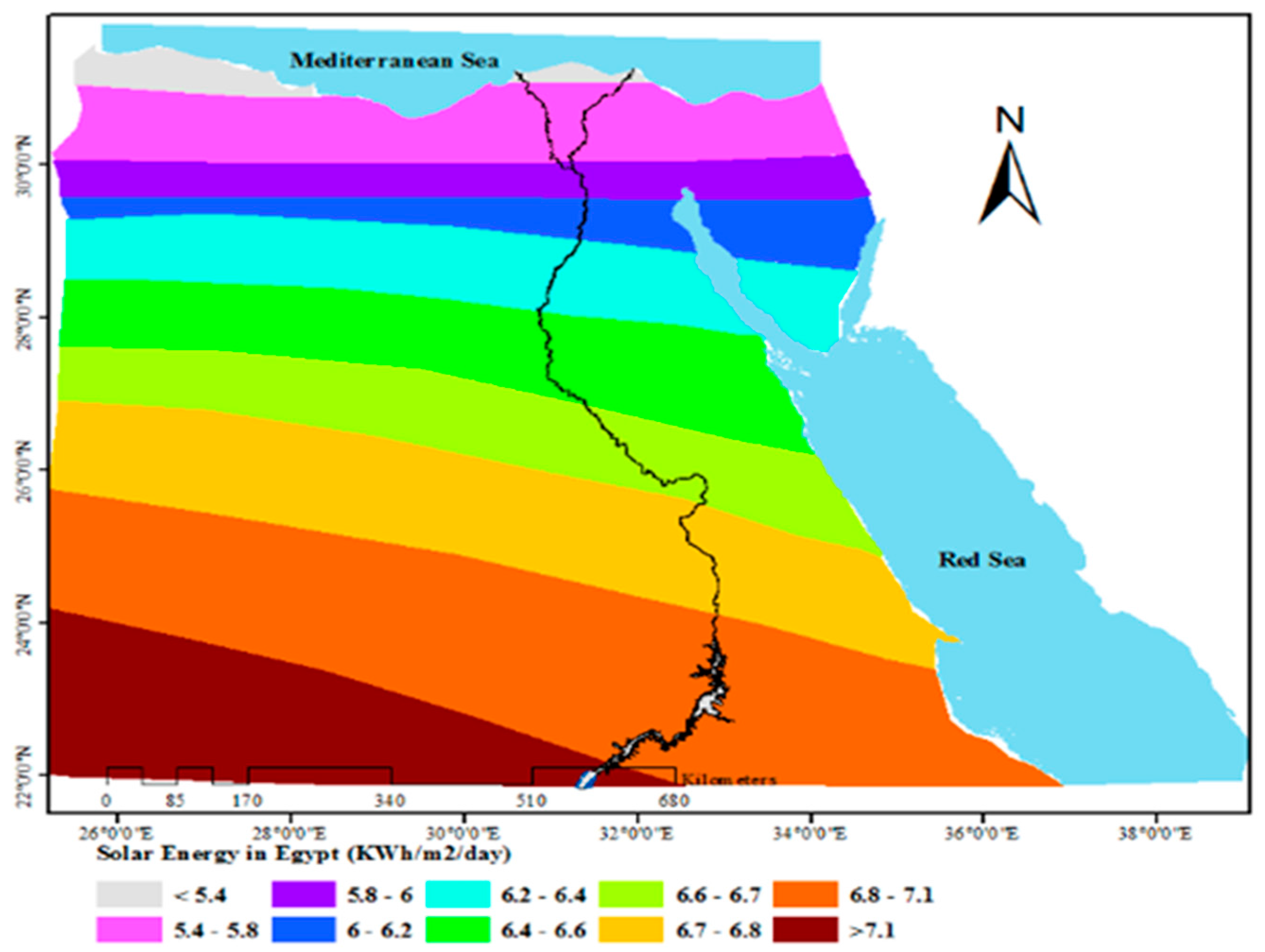 Figure 1
This is an open access article distributed under the
Creative Commons Attribution License
which permits unrestricted use, distribution, and reproduction in any medium, provided the original work is properly cited (CC BY 4.0).

Share & Cite This Article
MDPI and ACS Style
El-Amary, N.H.; Balbaa, A.; Swief, R.A.; Abdel-Salam, T.S. A Reconfigured Whale Optimization Technique (RWOT) for Renewable Electrical Energy Optimal Scheduling Impact on Sustainable Development Applied to Damietta Seaport, Egypt. Energies 2018, 11, 535.
Note that from the first issue of 2016, MDPI journals use article numbers instead of page numbers. See further details here.
Related Articles
Comments
[Return to top]