Association of School Residential PM2.5 with Childhood High Blood Pressure: Results from an Observational Study in 6 Cities in China
1
Institute of Child and Adolescent Health & School of Public Health, Peking University Health Science Center, Beijing 100191, China
2
Key laboratory of Reproductive Health, National Health Commission of the People's Republic of China, Beijing 100191, China
3
School of Public Health, Peking University, Beijing 100191, China
4
Key Laboratory of Molecular Cardiovascular Sciences, Peking University, Ministry of Education, Beijing 100191, China
*
Authors to whom correspondence should be addressed.
Received: 5 June 2019 / Revised: 4 July 2019 / Accepted: 12 July 2019 / Published: 14 July 2019
Abstract
Objective: To investigate the association of long-term PM
2.5
exposure with blood pressure (BP) outcomes in children aged 6–18 years, and to examine the population attributable risk (PAR) of PM
2.5
exposure. Methods: A total of 53,289 participants aged 6–18 years with full record of age, sex, BP, height, and local PM
2.5
exposure from a cross-sectional survey conducted in 6 cities of China in 2013 were involved in the present study. PM
2.5
data from 18 January 2013 to 31 December 2013 were obtained from the nearest environmental monitoring station for each selected school. Two-level linear and logistic regression models were used to evaluate the influence of PM
2.5
on children's BP, and PAR was calculated in each sex and age group. Results: Participants had a mean age of 10.8 (standard deviation: 3.4) years at enrollment, 51.7% of them were boys. U-shaped trends along with increased PM
2.5
concentration were found for both systolic blood pressure (SBP) and diastolic blood pressure (DBP), with the thresholds of 57.8 and 65.0 μg/m
3
, respectively. Both increased annual mean of PM
2.5
concentration and ratio of polluted days were associated with increased BP levels and high blood pressure (HBP), with effect estimates for BP ranging from 2.80 (95% CI: −0.51, 6.11) mmHg to 5.78 (95% CI: 2.32, 9.25) mmHg for SBP and from 0.77 (95% CI: −1.98, 3.52) mmHg to 2.66 (−0.35, 5.66) mmHg for DBP, and the odds ratios for HBP from 1.21 (0.43, 3.38) to 1.92 (0.65, 5.67) in the highest vs. the lowest quartiles. Overall, 1.16% of HBP in our participants could be attributed to increased annual mean of PM
2.5
concentration, while 2.82% could be attributed to increased ratio of polluted days. These proportions increased with age. Conclusions: The association between long-term PM
2.5
exposure and BP values appeared to be U-shaped in Chinese children aged 6–18 years, and increased PM
2.5
exposure was associated with higher risk of HBP.
View Full-Text
►

▼

Figures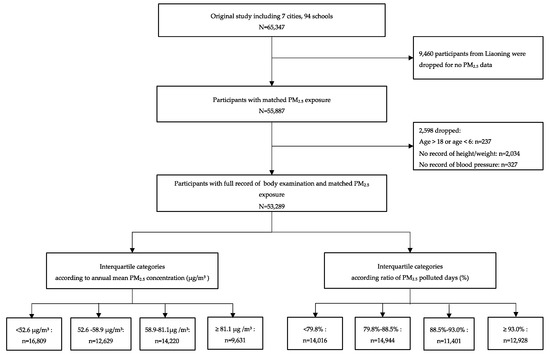 Figure 1
This is an open access article distributed under the
Creative Commons Attribution License
which permits unrestricted use, distribution, and reproduction in any medium, provided the original work is properly cited (CC BY 4.0).

Share & Cite This Article
MDPI and ACS Style
Wang, X.; Zou, Z.; Dong, B.; Dong, Y.; Ma, Y.; Gao, D.; Yang, Z.; Wu, S.; Ma, J. Association of School Residential PM2.5 with Childhood High Blood Pressure: Results from an Observational Study in 6 Cities in China. Int. J. Environ. Res. Public Health 2019, 16, 2515.
Note that from the first issue of 2016, MDPI journals use article numbers instead of page numbers. See further details here.
Related Articles
Comments
[Return to top]