Serum Lipid Profile and Its Association with Diabetes and Prediabetes in a Rural Bangladeshi Population
1
Department of Community Medicine and Global Health, University of Oslo, 0318 Oslo, Norway
2
Centre for Global Health Research, Diabetic Association of Bangladesh, Dhaka 1000, Bangladesh
3
Department of Pathology, Ibrahim Medical College, Diabetic Association of Bangladesh, Dhaka 1000, Bangladesh
4
Bangladesh Institute of Research & Rehabilitation of Diabetes, Endocrine and Metabolic Disorders (BIRDEM), Dhaka 1000, Bangladesh
5
Faculty of Health Science, NORD University, 8049 Bodo, Norway
*
Author to whom correspondence should be addressed.
Received: 30 June 2018 / Revised: 29 August 2018 / Accepted: 30 August 2018 / Published: 6 September 2018
Abstract
Dyslipidemia is commonly associated with diabetes (T2DM). This has been demonstrated for the Caucasian population, but few data are available for Asian Indians. The paper aims to investigate serum lipids (separately or in combination) and their association with glucose intolerance status (T2DM and prediabetes) in a rural Bangladeshi population. A sample of 2293 adults (≥20 years) were included in a community based cross-sectional survey in 2009. Anthropometric measures, blood pressure, blood glucose (fasting and 2-h oral glucose tolerance test) and fasting serum lipids (total cholesterol, T-Chol; triglycerides, Tg; low density lipoprotein cholesterol, LDL-C and high density lipoprotein cholesterol, HDL-C) were registered. Analysis of covariance (ANCOVA) and regression analysis were performed. High Tg levels were seen in 26% to 64% of the participants, depending on glucose tolerance status. Low HDL-C levels were seen in all groups (>90%). Significant linear trends were observed for high T-Chol, high Tg and low HDL-C with increasing glucose intolerance (
p
for trend <0.001). T2DM was significantly associated with high T-Chol (Odds ratio (OR): 2.43,
p
< 0.001), high Tg (OR: 3.91,
p
< 0.001) and low HDL-C (OR: 2.17,
p
= 0.044). Prediabetes showed a significant association with high Tg (OR: 1.96,
p
< 0.001) and low HDL-C (OR: 2.93,
p
= 0.011). Participants with combined high Tg and low HDL-C levels had a 12.75-fold higher OR for T2DM and 4.89 OR for prediabetes. In Asian Indian populations an assessment of serum lipids is warranted not only for T2DM patients, but also for those with prediabetes.
View Full-Text
►

▼

Figures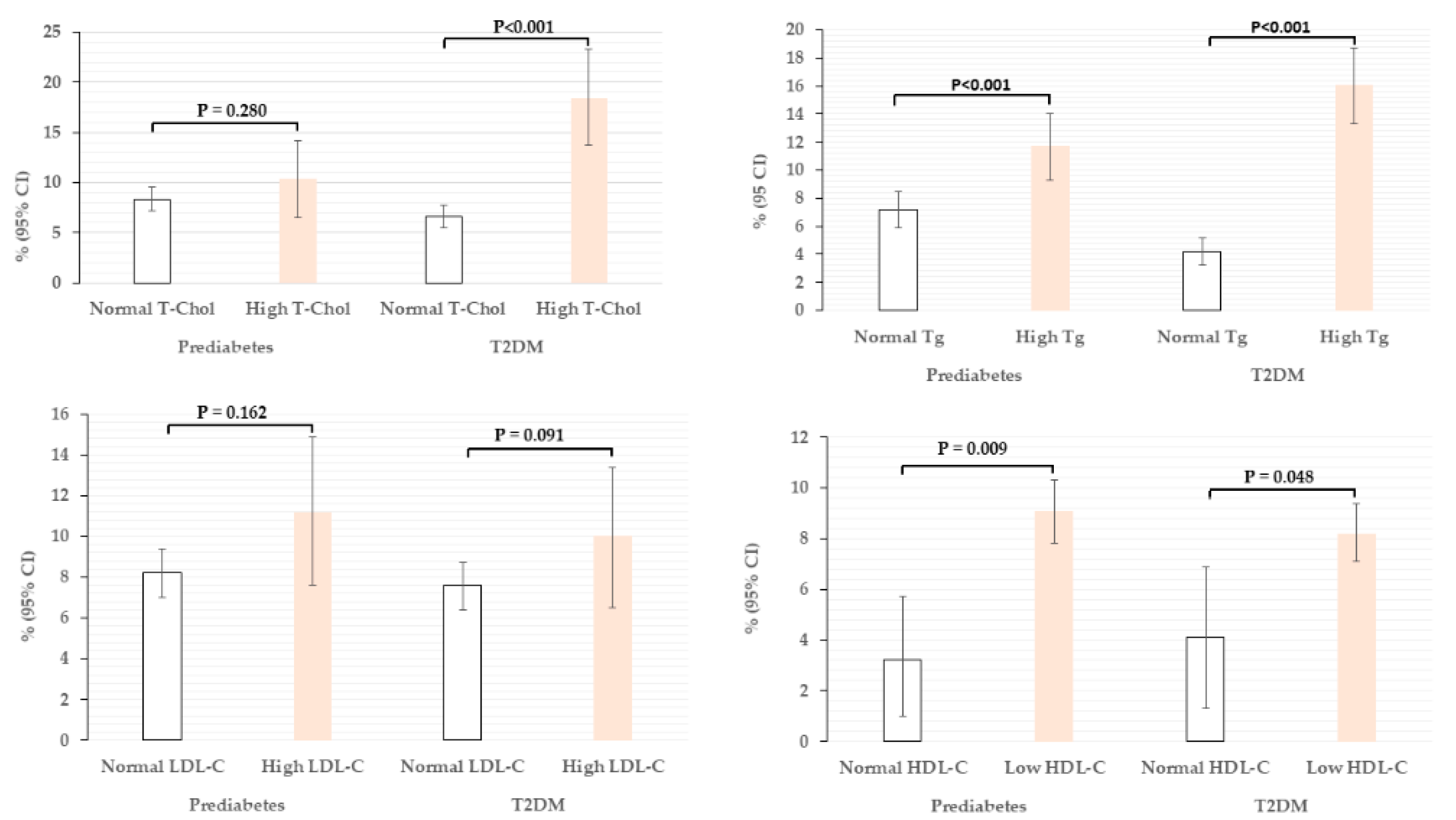 Figure 1
This is an open access article distributed under the
Creative Commons Attribution License
which permits unrestricted use, distribution, and reproduction in any medium, provided the original work is properly cited (CC BY 4.0).

Share & Cite This Article
MDPI and ACS Style
Bhowmik, B.; Siddiquee, T.; Mujumder, A.; Afsana, F.; Ahmed, T.; Mdala, I.A.; Do V. Moreira, N.C.; Khan, A.K.A.; Hussain, A.; Holmboe-Ottesen, G.; Omsland, T.K. Serum Lipid Profile and Its Association with Diabetes and Prediabetes in a Rural Bangladeshi Population. Int. J. Environ. Res. Public Health 2018, 15, 1944.
Note that from the first issue of 2016, MDPI journals use article numbers instead of page numbers. See further details here.
Related Articles
Comments
[Return to top]