Parallel Processing Transport Model MT3DMS by Using OpenMP
1
School of Water Conservancy and Environment, University of Jinan, Jinan 250022, China
2
Engineering Technology Institute for Groundwater Numerical Simulation and Contamination Control, Jinan 250022, China
3
Department of Geological Sciences, University of Texas, Austin, TX 78705, USA
4
School of Water Resources and Environment, China University of Geosciences (Beijing), Beijing 100083, China
5
Institute of Hydrogeology and Environment Geology, CAGS, Shijiazhuang 050000, China
6
Faculty of Geosciences and Environmental Engineering, Southwest Jiaotong University, Chengdu 610031, China
*
Authors to whom correspondence should be addressed.
Received: 29 April 2018 / Revised: 18 May 2018 / Accepted: 18 May 2018 / Published: 24 May 2018
Abstract
Solute transport modeling resolves advection, dispersion, and chemical reactions in groundwater systems with its accuracy depending on the resolution of domain at all scales, thus the computational efficiency of a simulator becomes a bottleneck for the wide application of numerical simulations. However, the traditional serial numerical simulators have reached their limits for the prohibitive computational time and memory requirement in solving large-scale problems. These limitations have greatly hindered the wide application of groundwater solute transport modeling. Thus, the development of an efficient method for handling large-scale groundwater solute transport simulation is urgently required. In this study, we developed and assessed a parallelized MT3DMS (Modular Three-Dimensional Multispecies Transport Model) by using OpenMP (Open specifications for Multi-Processing) to accelerate the solute transport simulation process. The parallelization was achieved by adding OpenMP compile directives (i.e., defining various types of parallel regions) into the most time-consuming packages, including the Advection package (ADV), Dispersion package (DSP), and Generalized Conjugate Gradient Solver package (GCG). This allows parallel processing on shared-memory multiprocessors, i.e., both the memory requirement and computing efforts are automatically distributed among all processors. Moreover, we discussed two different parallelization strategies for handling numerical models with either many layers or few layers. The performance of parallelized MT3DMS was assessed by two benchmark numerical models with different model domain sizes via a workstation with two quad-core processors. Results showed that the running time of parallelized MT3DMS can be 4.15 times faster than that using sequential MT3DMS. The effects of using different preconditioners (procedures that transform a given problem into a form that is more suitable for numerical solving methods) in the GCG package were additionally evaluated. The modified strategy for handling numerical models with few layers also achieved satisfactory results with running time two times faster than that via sequential simulation. Thus, the proposed parallelization allows high-resolution groundwater transport simulation with higher efficiency for large-scale or multimillion-cell simulation problems.
View Full-Text
►

▼

Figures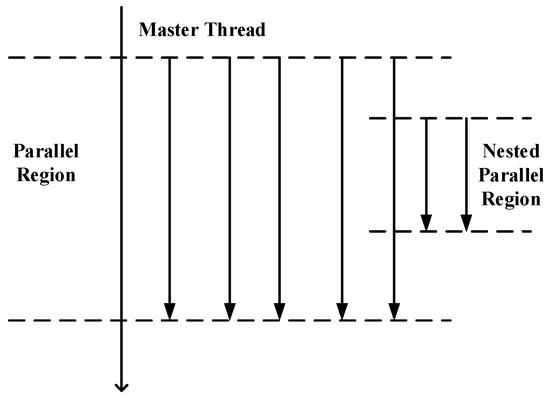 Figure 1
This is an open access article distributed under the
Creative Commons Attribution License
which permits unrestricted use, distribution, and reproduction in any medium, provided the original work is properly cited (CC BY 4.0).

Share & Cite This Article
MDPI and ACS Style
Huang, L.; Wang, L.; Shao, J.; Liu, X.; Hao, Q.; Xing, L.; Zheng, L.; Xiao, Y. Parallel Processing Transport Model MT3DMS by Using OpenMP. Int. J. Environ. Res. Public Health 2018, 15, 1063.
Note that from the first issue of 2016, MDPI journals use article numbers instead of page numbers. See further details here.
Related Articles
Comments
[Return to top]