Enhancement of X-ray Induced Apoptosis by Mobile Phone-Like Radio-Frequency Electromagnetic Fields in Mouse Spermatocyte-Derived Cells
1
Department of Radiation Biology, Fourth Military Medical University, 169# ChangLe West Road, Xi'an 710032, China
2
Radiological College, Taishan Medical University, Taian 271000, China
3
Student Brigade, Fourth Military Medical University,169# ChangLe West Road, Xi'an 710032, China
4
Department of Pathology, Fourth Military Medical University, 169# ChangLe West Road, Xi'an 710032, China
5
Department of Radiation Oncology, Fourth Military Medical University, 169# ChangLe West Road, Xi'an 710032, China
*
Authors to whom correspondence should be addressed.
†
These authors contributed equally to the work.
Academic Editor: Mats-Olof Mattsson
Received: 12 February 2017 / Revised: 26 May 2017 / Accepted: 31 May 2017 / Published: 7 June 2017
Abstract
To explore the combined effects of environmental radio-frequency (RF) field and X-ray, mouse spermatocyte-derived (GC-1) cells were exposed to 1950 MHz RF field at specific absorption rate (SAR) of 3 W/kg for 24 h combined with or without X-ray irradiation at 6 Gy. After treatment, the cell proliferation level was determined by 3-(4,5-dimethyl-2-thiazolyl)-2,5-diphenyl-2-H-tetrazolium bromide (MTT) Assay and 5-Bromo-2-deoxy Uridine (BrdU) enzyme linked immunosorbent (ELISA) Assay. The apoptosis level was detected by annexin V flow cytometry assay, transferase-mediated deoxyuridine triphosphate-biotin nick end labeling (TUNEL) Assay and Caspase-3 Activity Assay. It was found that the proliferation and apoptosis level did not change in GC-1 cells after RF exposure alone. However, compared with the X-ray group, the proliferation level significantly decreased and the apoptotic rate significantly increased in the RF+X-ray group. Moreover, a significant decrease in Bcl-2 protein expression and increase in Bax protein expression were observed. The findings suggested that RF exposure at SAR of 3 W/kg did not affect apoptosis and proliferation in GC-1 cells by itself, but that it did enhance the effects of X-ray induced proliferation inhibition and apoptosis, in which B-cell lymphoma-2 (Bcl-2) and Bcl-2 associated X protein (Bax) might be involved.
View Full-Text
►

▼

Figures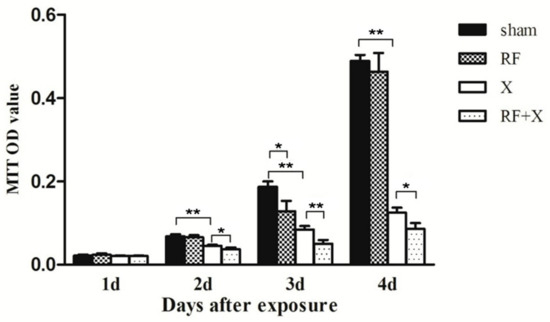 Figure 1
This is an open access article distributed under the
Creative Commons Attribution License
which permits unrestricted use, distribution, and reproduction in any medium, provided the original work is properly cited (CC BY 4.0).

Share & Cite This Article
MDPI and ACS Style
Zhang, K.-Y.; Xu, H.; Du, L.; Xing, J.-L.; Zhang, B.; Bai, Q.-S.; Xu, Y.-Q.; Zhou, Y.-C.; Zhang, J.-P.; Zhou, Y.; Ding, G.-R. Enhancement of X-ray Induced Apoptosis by Mobile Phone-Like Radio-Frequency Electromagnetic Fields in Mouse Spermatocyte-Derived Cells. Int. J. Environ. Res. Public Health 2017, 14, 616.
Note that from the first issue of 2016, MDPI journals use article numbers instead of page numbers. See further details here.
Related Articles
Comments
[Return to top]