Histological Lesions, Cell Cycle Arrest, Apoptosis and T Cell Subsets Changes of Spleen in Chicken Fed Aflatoxin-contaminated Corn
1
College of Veterinary Medicine, Sichuan Agricultural University, Sichuan 625014, China
2
Key Laboratory for Animal Disease-Resistance Nutrition of China Ministry of Education, Institute of Animal Nutrition, Sichuan Agricultural University, Sichuan 625014, China
*
Author to whom correspondence should be addressed.
Received: 11 July 2014 / Revised: 31 July 2014 / Accepted: 5 August 2014 / Published: 20 August 2014
Abstract
The purpose of this study was to evaluate the effects of corn naturally contaminated with aflatoxin B1 and aflatoxin B2 on pathological lesions, apoptosis, cell cycle phases and T lymphocyte subsets of spleen, and to provide an experimental basis for understanding the mechanism of aflatoxin-induced immunosuppression. A total of 900 COBB500 male broilers were randomly allocated into five groups with six replicates per group and 30 birds per replicate. The experiment lasted for 6 weeks and the five dietary treatments consisted of control, 25% contaminated corn, 50% contaminated corn, 75% contaminated corn and 100% contaminated corn groups. The histopathological spleen lesions from the contaminated corn groups was characterized as congestion of red pulp, increased necrotic cells and vacuoles in the splenic corpuscle and periarterial lymphatic sheath. The contaminated corn intake significantly increased relative weight of spleen, percentages of apoptotic splenocytes, induced cell cycle arrest of splenocytes, increased the percentages of CD3
+
CD8
+
T cells and decreased the ratios of CD3
+
CD4
+
to CD3
+
CD8
+
. The results suggest that AFB-induced immunosuppression maybe closely related to the lesions of spleen.
View Full-Text
►

▼

Figures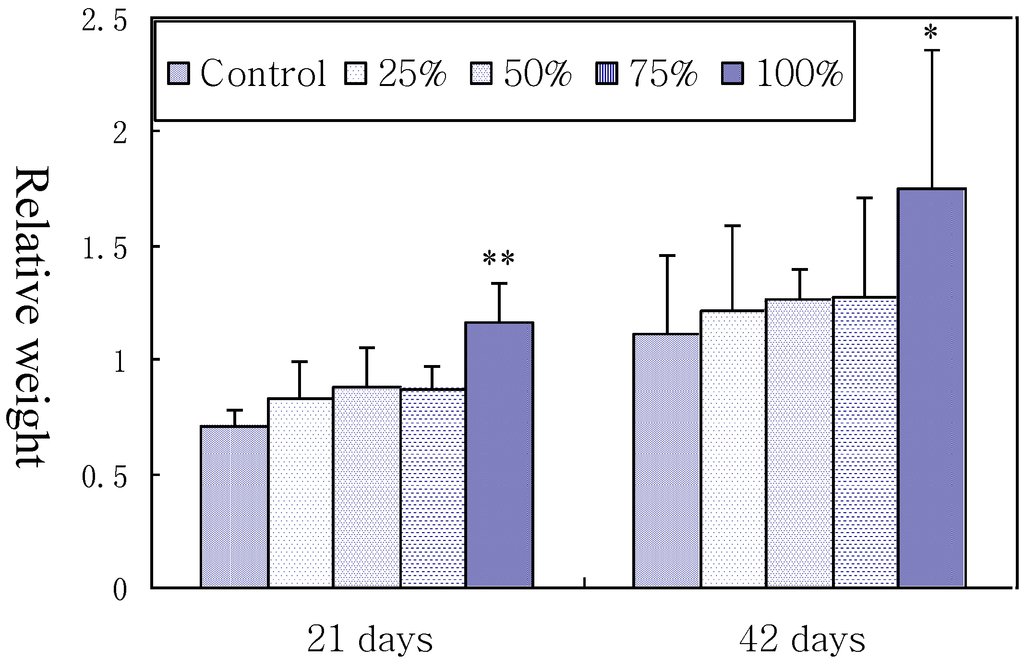 Figure 1

Share & Cite This Article
MDPI and ACS Style
Peng, X.; Zhang, K.; Bai, S.; Ding, X.; Zeng, Q.; Yang, J.; Fang, J.; Chen, K. Histological Lesions, Cell Cycle Arrest, Apoptosis and T Cell Subsets Changes of Spleen in Chicken Fed Aflatoxin-contaminated Corn. Int. J. Environ. Res. Public Health 2014, 11, 8567-8580.
Related Articles
Comments
[Return to top]