Linking Climate to Incidence of Zoonotic Cutaneous Leishmaniasis (
L.

major

) in Pre-Saharan North Africa

1

Biospheric Sciences Laboratory, Code 618, NASA's Goddard Space Flight Center, Maryland, MD 20771, USA

2

Laboratory of Ecology & Environment, Cadi Ayyad University, Marrakech 40000, Morocco

3

Faculty of Medicine, Sidi Bel Abbes 22000, Algeria

4

Florida International University, Florida, FL 33199, USA

5

ClimAdapt, LLC, Los Altos CA 94022, USA

6

Earth Resources Technology Inc., Laurel, MD 20707, USA

7

Joint Global Change Research Institute, Pacific Northwest National Laboratory, College Park, MD 20740, USA

8

Bethesda-Chevy Chase High School, MD 20814, USA

9

Hydrometeorological Institute of Training and Research, Oran 31025, Algeria

10

Laboratory of Hydrobiology, Ecotoxicology and Sanitation, Cadi Ayyad University, Marrakech 40000, Morocco

11

Establishment of Local Public Health, Saida 20000, Algeria

12

Directorate of Epidemiology and disease Control, Ministry of Health, Rabat 10010, Morocco

*

Author to whom correspondence should be addressed.

Received: 3 May 2013 / Revised: 12 July 2013 / Accepted: 13 July 2013 / Published: 31 July 2013
Abstract
Shifts in surface climate may have changed the dynamic of zoonotic cutaneous leishmaniasis (ZCL) in the pre-Saharan zones of North Africa. Caused by
Leishmania major
, this form multiplies in the body of rodents serving as reservoirs of the disease. The parasite is then transmitted to human hosts by the bite of a Phlebotomine sand fly (Diptera: Psychodidae) that was previously fed by biting an infected reservoir. We examine the seasonal and interannual dynamics of the incidence of this ZCL as a function of surface climate indicators in two regions covering a large area of the semi-arid Pre-Saharan North Africa. Results suggest that in this area, changes in climate may have initiated a trophic cascade that resulted in an increase in ZCL incidence. We find the correlation between the rainy season precipitation and the same year Normalized Difference Vegetation Index (NDVI) to be strong for both regions while the number of cases of ZCL incidence lags the precipitation and NDVI by 2 years. The zoonotic cutaneous leishmaniasis seasonal dynamic appears to be controlled by minimum temperatures and presents a 2-month lag between the reported infection date and the presumed date when the infection actually occurred. The decadal increase in the number of ZCL occurrence in the region suggests that changes in climate increased minimum temperatures sufficiently and created conditions suitable for endemicity that did not previously exist. We also find that temperatures above a critical range suppress ZCL incidence by limiting the vector's reproductive activity.
View Full-Text
►

▼

Figures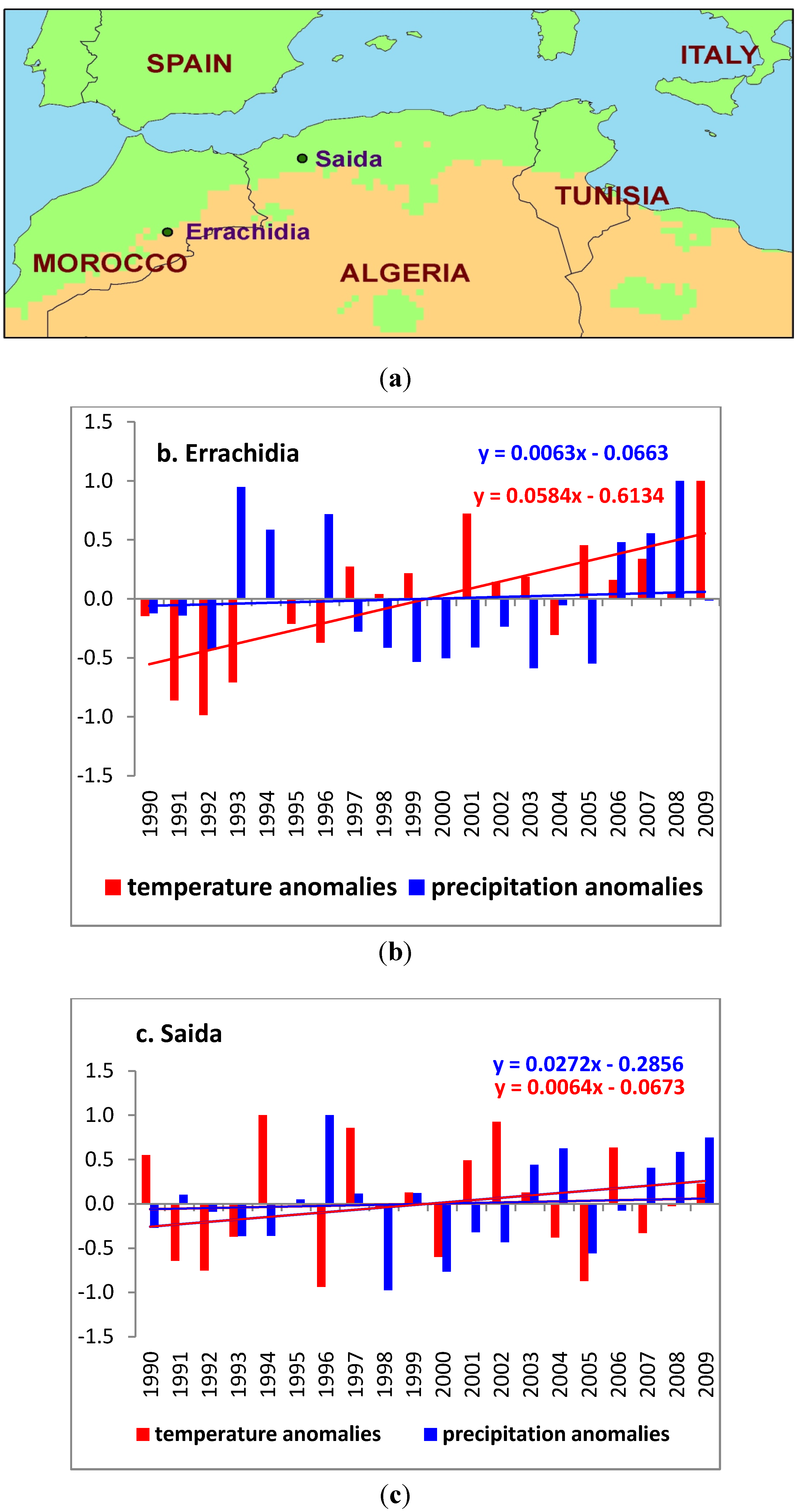 Figure 1

Share & Cite This Article
MDPI and ACS Style
Bounoua, L.; Kahime, K.; Houti, L.; Blakey, T.; Ebi, K.L.; Zhang, P.; Imhoff, M.L.; Thome, K.J.; Dudek, C.; Sahabi, S.A.; Messouli, M.; Makhlouf, B.; Laamrani, A.E.; Boumezzough, A. Linking Climate to Incidence of Zoonotic Cutaneous Leishmaniasis (L. major) in Pre-Saharan North Africa. Int. J. Environ. Res. Public Health 2013, 10, 3172-3191.
Related Articles
Comments
[Return to top]