Comprehensive Expression Profiling and Functional Network Analysis of Porphyra-334, One Mycosporine-Like Amino Acid (MAA), in Human Keratinocyte Exposed with UV-radiation
1
Division of Polar Life Sciences, Korea Polar Research Institute, Incheon 21990, Korea
2
Department of Polar Science, University of Science and Technology, Incheon 21990, Korea
*
Authors to whom correspondence should be addressed.
Received: 24 April 2017 / Revised: 17 June 2017 / Accepted: 21 June 2017 / Published: 24 June 2017
Abstract
Mycosporine-like amino acids (MAAs) have been highlighted as pharmacologically active secondary compounds to protect cells from harmful UV-radiation by absorbing its energy. Previous studies have mostly focused on characterizing their physiological properties such as antioxidant activity and osmotic regulation. However, molecular mechanisms underlying their UV-protective capability have not yet been revealed. In the present study, we investigated the expression profiling of porphyra-334-modulated genes or microRNA (miRNAs) in response to UV-exposure and their functional networks, using cDNA and miRNAs microarray. Based on our data, we showed that porphyra-334-regulated genes play essential roles in UV-affected biological processes such as Wnt (Wingless/integrase-1) and Notch pathways which exhibit antagonistic relationship in various biological processes; the UV-repressed genes were in the Wnt signaling pathway, while the activated genes were in the Notch signaling. In addition, porphyra-334-regulated miRNAs can target many genes related with UV-mediated biological processes such as apoptosis, cell proliferation and translational elongation. Notably, we observed that functional roles of the target genes for up-regulated miRNAs are inversely correlated with those for down-regulated miRNAs; the former genes promote apoptosis and translational elongation, whereas the latter function as inhibitors in these processes. Taken together, these data suggest that porphyra-334 protects cells from harmful UV radiation through the comprehensive modulation of expression patterns of genes involved in UV-mediated biological processes, and that provide a new insight to understand its functional molecular networks.
View Full-Text
►

▼

Figures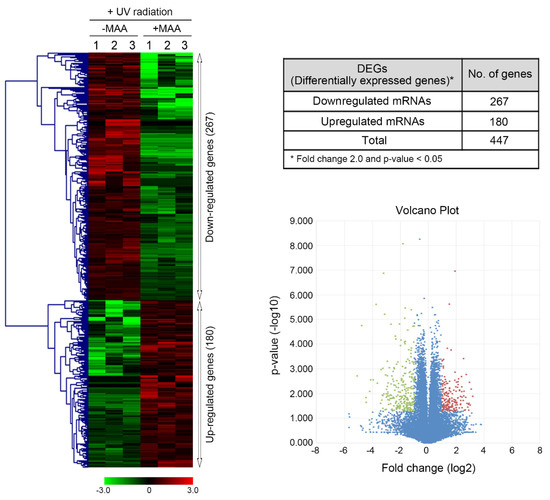 Figure 1
This is an open access article distributed under the
Creative Commons Attribution License
which permits unrestricted use, distribution, and reproduction in any medium, provided the original work is properly cited (CC BY 4.0).

Share & Cite This Article
MDPI and ACS Style
Suh, S.-S.; Lee, S.G.; Youn, U.J.; Han, S.J.; Kim, I.-C.; Kim, S. Comprehensive Expression Profiling and Functional Network Analysis of Porphyra-334, One Mycosporine-Like Amino Acid (MAA), in Human Keratinocyte Exposed with UV-radiation. Mar. Drugs 2017, 15, 196.
Note that from the first issue of 2016, MDPI journals use article numbers instead of page numbers. See further details here.
Related Articles
Comments
[Return to top]