Characterization of a New Trioxilin and a Sulfoquinovosyl Diacylglycerol with Anti-Inflammatory Properties from the Dinoflagellate
Oxyrrhis marina
1
Environment and Resource Convergence Center, Advanced Institutes of Convergence Technology, Suwon 16229, Korea
2
School of Earth and Environmental Sciences, College of Natural Sciences, Seoul National University, Seoul 08826, Korea
3
Department of Oceanography, Kunsan National University, San 68 Miryong-dong, Kunsan, JeonBuk 573-701, Korea
4
Department of Agronomy & Medicinal plant Resources, Gyeongnam National University of Science and Technology, Jinju 660-758, Korea
*
Author to whom correspondence should be addressed.
Academic Editor: Vassilios Roussis
Received: 17 December 2016 / Revised: 4 February 2017 / Accepted: 13 February 2017 / Published: 27 February 2017
Abstract
Two new compounds—a trioxilin and a sulfoquinovosyl diacylglycerol (SQDG)—were isolated from the methanolic extract of the heterotrophic dinoflagellate
Oxyrrhis marina
cultivated by feeding on dried yeasts. The trioxilin was identified as (4
Z
,8
E
,13
Z
,16
Z
,19
Z
) -7(
S
),10(
S
),11(
S
)-trihydroxydocosapentaenoic acid (
1
), and the SQDG was identified as (2
S
)-1-
O
-hexadecanosy-2-
O
-docosahexaenoyl-3-
O
-(6-sulfo-α-
d
-quinovopyranosyl)-glycerol (
2
) by a combination of nuclear magnetic resonance (NMR) spectra, mass analyses, and chemical reactions. The two compounds were associated with docosahexaenoic acid, which is a major component of
O. marina
. The two isolated compounds showed significant nitric oxide inhibitory activity on lipopolysaccharide-induced RAW264.7 cells. Compound
2
showed no cytotoxicity against hepatocarcinoma (HepG2), neuroblastoma (Neuro-2a), and colon cancer (HCT-116) cells, while weak cytotoxicity was observed for compound
1
against Neuro-2a cells.
View Full-Text
►

▼

Figures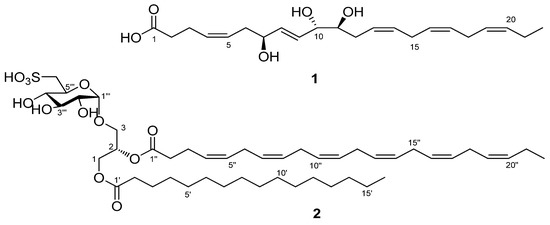 Figure 1
This is an open access article distributed under the
Creative Commons Attribution License
which permits unrestricted use, distribution, and reproduction in any medium, provided the original work is properly cited (CC BY 4.0).

Share & Cite This Article
MDPI and ACS Style
Yoon, E.Y.; Yang, A.R.; Park, J.; Moon, S.J.; Jeong, E.J.; Rho, J.-R. Characterization of a New Trioxilin and a Sulfoquinovosyl Diacylglycerol with Anti-Inflammatory Properties from the Dinoflagellate Oxyrrhis marina. Mar. Drugs 2017, 15, 57.
Note that from the first issue of 2016, MDPI journals use article numbers instead of page numbers. See further details here.
Related Articles
Comments
[Return to top]