Mugilid Fish Are Sentinels of Exposure to Endocrine Disrupting Compounds in Coastal and Estuarine Environments
Research Centre for Experimental Marine Biology and Biotechnology, Plentzia Marine Station (PIE-UPV/EHU) and Department of Zoology and Animal Cell Biology, Faculty of Science and Technology, University of the Basque Country (UPV/EHU), E-48080 Bilbao PO Box 644, Basque Country, Spain
*
Author to whom correspondence should be addressed.
Received: 1 April 2014 / Revised: 11 August 2014 / Accepted: 27 August 2014 / Published: 12 September 2014
Abstract
Effects on fish reproduction can result from a variety of toxicity mechanisms first operating at the molecular level. Notably, the presence in the environment of some compounds termed endocrine disrupting chemicals (EDCs) can cause adverse effects on reproduction by interfering with the endocrine system. In some cases, exposure to EDCs leads to the animal feminization and male fish may develop oocytes in testis (intersex condition). Mugilid fish are well suited sentinel organisms to study the effects of reproductive EDCs in the monitoring of estuarine/marine environments. Up-regulation of aromatases and vitellogenins in males and juveniles and the presence of intersex individuals have been described in a wide array of mullet species worldwide. There is a need to develop new molecular markers to identify early feminization responses and intersex condition in fish populations, studying mechanisms that regulate gonad differentiation under exposure to xenoestrogens. Interestingly, an electrophoresis of gonad RNA, shows a strong expression of 5S rRNA in oocytes, indicating the potential of 5S rRNA and its regulating proteins to become useful molecular makers of oocyte presence in testis. Therefore, the use of these oocyte markers to sex and identify intersex mullets could constitute powerful molecular biomarkers to assess xenoestrogenicity in field conditions.
View Full-Text
►

▼

Figures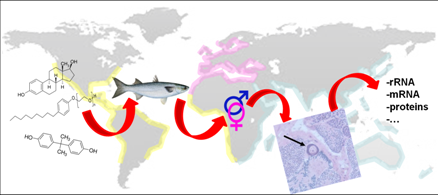 Graphical abstract

Share & Cite This Article
MDPI and ACS Style
Ortiz-Zarragoitia, M.; Bizarro, C.; Rojo-Bartolomé, I.; De Cerio, O.D.; Cajaraville, M.P.; Cancio, I. Mugilid Fish Are Sentinels of Exposure to Endocrine Disrupting Compounds in Coastal and Estuarine Environments. Mar. Drugs 2014, 12, 4756-4782.
Related Articles
Comments
[Return to top]