11-
epi

-Sinulariolide Acetate Reduces Cell Migration and Invasion of Human Hepatocellular Carcinoma by Reducing the Activation of ERK1/2, p38MAPK and FAK/PI3K/AKT/mTOR Signaling Pathways

1

Graduate Institute of Veterinary Medicine, National Pingtung University of Science and Technology, Pingtung 91202, Taiwan

2

National Museum of Marine Biology and Aquarium, Pingtung 94450, Taiwan

3

Kaohsiung District Agricultural Improvement Station, Pingtung 900, Taiwan

4

Department of Physical Medicine and Rehabilitation, Kaohsiung Medical University Hospital, Kaohsiung 80761, Taiwan

5

Department of Beauty Science, Meiho University, Pingtung 91202, Taiwan

*

Author to whom correspondence should be addressed.

†

These authors contributed equally to this work.

Received: 27 May 2014 / Revised: 11 August 2014 / Accepted: 22 August 2014 / Published: 12 September 2014
Abstract
Cancer metastasis is one of the major causes of death in cancer. An active compound, 11-
epi
-sinulariolide acetate (11-
epi
-SA), isolated from the cultured soft coral
Sinularia
flexibilis
has been examined for potential anti-cell migration and invasion effects on hepatocellular carcinoma cells (HCC). However, the molecular mechanism of anti-migration and invasion by 11-
epi
-SA on HCC, along with their corresponding effects, remain poorly understood. In this study, we investigated anti-migration and invasion effects and the underlying mechanism of 11-
epi
-SA in HA22T cells, and discovered by trans-well migration and invasion assays that 11-
epi
-SA provided a concentration-dependent inhibitory effect on the migration of human HCC HA22T cells. After treatment with 11-
epi
-SA for 24 h, there were suppressed protein levels of matrix metalloproteinase-2 (MMP-2), matrix metalloproteinase-9 (MMP-9) and urokinase-type plasminogen activator (uPA) in HA22T cells. Meanwhile, the expression of tissue inhibitor of metalloproteinase-1 (TIMP-1) and metalloproteinase-2 (TIMP-2) were increased in a concentration-dependent manner. Further investigation revealed that 11-
epi
-SA suppressed the phosphorylation of ERK1/2 and p38MAPK. The 11-
epi
-SA also suppressed the expression of the phosphorylation of FAK/PI3K/AKT/mTOR pathways.
View Full-Text
►

▼

Figures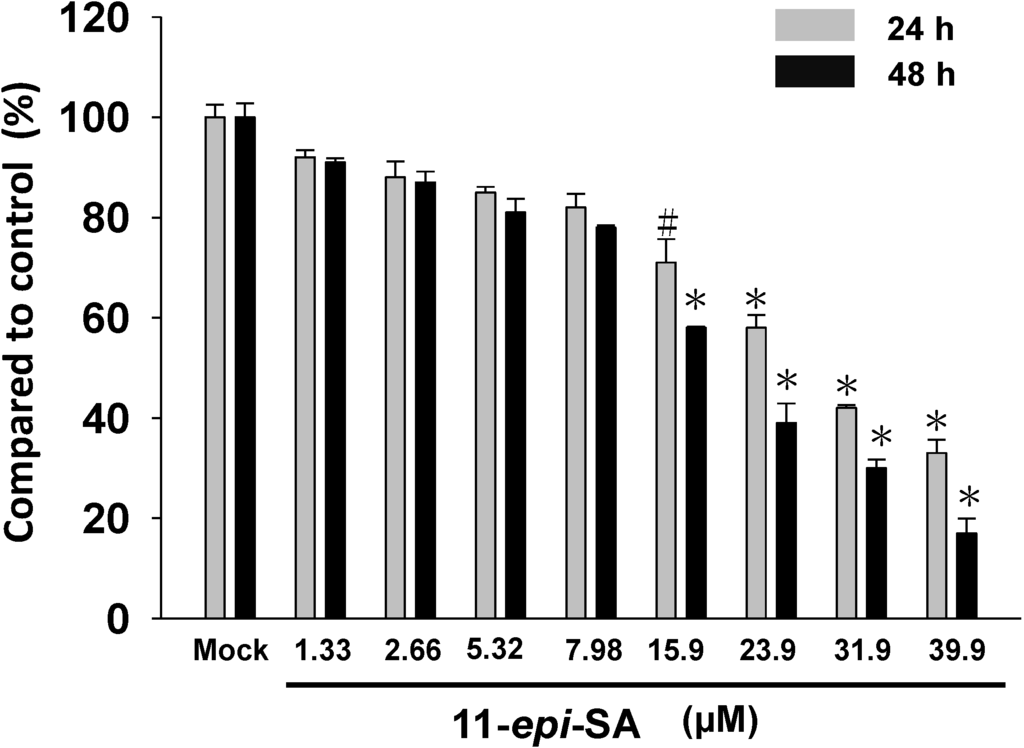 Figure 1

Share & Cite This Article
MDPI and ACS Style
Lin, J.-J.; Su, J.-H.; Tsai, C.-C.; Chen, Y.-J.; Liao, M.-H.; Wu, Y.-J. 11-epi-Sinulariolide Acetate Reduces Cell Migration and Invasion of Human Hepatocellular Carcinoma by Reducing the Activation of ERK1/2, p38MAPK and FAK/PI3K/AKT/mTOR Signaling Pathways. Mar. Drugs 2014, 12, 4783-4798.
Related Articles
Comments
[Return to top]