Mitochondrial Genome-Knockout Cells Demonstrate a Dual Mechanism of Action for the Electron Transport Complex I Inhibitor Mycothiazole
1
Centre for Biodiscovery and Schools of Biological Sciences, Victoria University of Wellington, PO Box 600, Wellington, New Zealand
2
Centre for Biodiscovery and School of Chemical and Physical Sciences, Victoria University of Wellington, PO Box 600, Wellington, New Zealand
3
Malaghan Institute of Medical Research, Wellington, New Zealand
*
Author to whom correspondence should be addressed.
Received: 19 March 2012 / Revised: 10 April 2012 / Accepted: 12 April 2012 / Published: 16 April 2012
Abstract
Mycothiazole, a polyketide metabolite isolated from the marine sponge
Cacospongia mycofijiensis
, is a potent inhibitor of metabolic activity and mitochondrial electron transport chain complex I in sensitive cells, but other cells are relatively insensitive to the drug. Sensitive cell lines (IC
50
0.36–13.8 nM) include HeLa, P815, RAW 264.7, MDCK, HeLa S3, 143B, 4T1, B16, and CD4/CD8 T cells. Insensitive cell lines (IC
50
12.2–26.5 μM) include HL-60, LN18, and Jurkat. Thus, there is a 34,000-fold difference in sensitivity between HeLa and HL-60 cells. Some sensitive cell lines show a biphasic response, suggesting more than one mechanism of action. Mitochondrial genome-knockout ρ
0
cell lines are insensitive to mycothiazole, supporting a conditional mitochondrial site of action. Mycothiazole is cytostatic rather than cytotoxic in sensitive cells, has a long lag period of about 12 h, and unlike the complex I inhibitor, rotenone, does not cause G
2
/M cell cycle arrest. Mycothiazole decreases, rather than increases the levels of reactive oxygen species after 24 h. It is concluded that the cytostatic inhibitory effects of mycothiazole on mitochondrial electron transport function in sensitive cell lines may depend on a pre-activation step that is absent in insensitive cell lines with intact mitochondria, and that a second lower-affinity cytotoxic target may also be involved in the metabolic and growth inhibition of cells.
View Full-Text
►

▼

Figures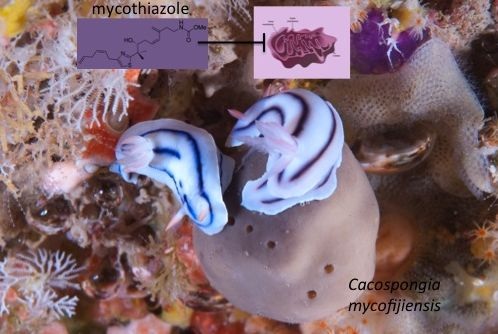 Graphical abstract

Share & Cite This Article
MDPI and ACS Style
Meyer, K.J.; Singh, A.J.; Cameron, A.; Tan, A.S.; Leahy, D.C.; O'Sullivan, D.; Joshi, P.; La Flamme, A.C.; Northcote, P.T.; Berridge, M.V.; Miller, J.H. Mitochondrial Genome-Knockout Cells Demonstrate a Dual Mechanism of Action for the Electron Transport Complex I Inhibitor Mycothiazole. Mar. Drugs 2012, 10, 900-917.
Related Articles
Comments
[Return to top]