1,2-Dihydroxyxanthone: Effect on A375-C5 Melanoma Cell Growth Associated with Interference with THP-1 Human Macrophage Activity
1
ICBAS, Institute of Biomedical Sciences Abel Salazar, University of Porto, Rua Jorge Viterbo Ferreira, 228, 4050-313 Porto, Portugal
2
FP-ENAS Research Unit, UFP Energy, Environment and Health Research Unit, CEBIMED, Biomedical Research Center, Fernando Pessoa University, Praça 9 de Abril, 349, 4249-004 Porto, Portugal
3
LAQV/REQUIMTE, Laboratory of Microbiology, Department of Biological Sciences, Faculty of Pharmacy, University of Porto, Rua Jorge Viterbo Ferreira, 228, 4050-313 Porto, Portugal
4
Molecular Oncology and Viral Pathology GRP - IC, Portuguese Institute of Oncology of Porto (IPO Porto), Rua Dr. António Bernardino de Almeida, 4200-072 Porto, Portugal
5
LPCC, Research Department - Portuguese League Against Cancer (LPPC - NRN), Estrada Interior da Circunvalação, 6657, 4200-172 Porto, Portugal
6
i3S, Institute for Research and Innovation in Health, University of Porto, Rua Alfredo Allen, 208, 4200-135 Porto, Portugal
7
IBMC, Institute for Molecular and Cell Biology, University of Porto, Rua Alfredo Allen, 208, 4200-135 Porto, Portugal
8
CIIMAR/CIMAR, Interdisciplinary Centre of Marine and Environmental Research, Terminal de Cruzeiros do Porto de Leixões, Av. General Norton de Matos s/n, 4450-208 Matosinhos, Portugal
9
Laboratory of Organic and Pharmaceutical Chemistry, Department of Chemical Sciences, Faculty of Pharmacy, University of Porto, Rua Jorge Viterbo Ferreira, 228, 4050-313 Porto, Portugal
*
Authors to whom correspondence should be addressed.
Received: 30 April 2019 / Revised: 1 June 2019 / Accepted: 3 June 2019 / Published: 4 June 2019
Abstract
Xanthones have been suggested as prospective candidates for cancer treatment. 1,2- dihydroxyxanthone (1,2-DHX) is known to interfere with the growth of several cancer cell lines. We investigated the effects of 1,2-DHX on the growth of the A375-C5 melanoma cell line and THP-1 human macrophage activity. 1,2-DHX showed a moderate growth inhibition of A375-C5 melanoma cells (concentration that causes a 50% inhibition of cell growth (GI
50
) = 55.0 ± 2.3 µM), but strongly interfered with THP-1 human macrophage activity. Supernatants from lipopolysaccharide (LPS)-stimulated THP-1 macrophage cultures exposed to 1,2-DHX significantly increased growth inhibition of A375-C5 cells, when compared to supernatants from untreated LPS-stimulated macrophages or to direct treatment with 1,2-DHX only. 1,2-DHX decreased THP-1 secretion of interleukin-1β (IL-1β) and interleukin-10 (IL-10), but stimulated tumor necrosis factor-α (TNF-α) and transforming growth factor-β1 (TGF-β1) production. This xanthone also inhibited nitric oxide (NO) production by RAW 264.7 murine macrophages, possibly through inhibition of inducible NO synthase production. In conclusion, these findings suggest a potential impact of 1,2-DHX in melanoma treatment, not only due to a direct effect on cancer cells but also by modulation of macrophage activity.
View Full-Text
►

▼

Figures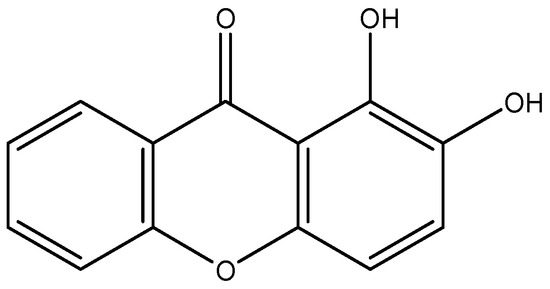 Figure 1
This is an open access article distributed under the
Creative Commons Attribution License
which permits unrestricted use, distribution, and reproduction in any medium, provided the original work is properly cited (CC BY 4.0).

Share & Cite This Article
MDPI and ACS Style
Silva, V.; Cerqueira, F.; Nazareth, N.; Medeiros, R.; Sarmento, A.; Sousa, E.; Pinto, M. 1,2-Dihydroxyxanthone: Effect on A375-C5 Melanoma Cell Growth Associated with Interference with THP-1 Human Macrophage Activity. Pharmaceuticals 2019, 12, 85.
Note that from the first issue of 2016, MDPI journals use article numbers instead of page numbers. See further details here.
Related Articles
Comments
[Return to top]