Open Access This article is
freely available
re-usable
Review
Sustainable Utilization of Indigenous Goats in Southern Africa
1
Department of Animal Science and Production, Botswana University of Agriculture and Natural Resources, Private Bag 0027, Gaborone, Botswana
2
Department of Agricultural Research, Private bag 0033, Gaborone, Botswana
3
Department of Para-clinical Veterinary Studies, University of Zimbabwe, P.O. Box MP167, Mt Pleasant, Harare, Zimbabwe
4
Animal Science Department, Lilongwe University of Agriculture and Natural Resources, P.O. Box 219, Lilongwe, Malawi
*
Author to whom correspondence should be addressed.
Received: 7 October 2019 / Accepted: 24 October 2019 / Published: 1 January 2020
Abstract
:
Goats have a key role in ensuring food security and economic livelihood to smallholder farmers in rural areas. Women play a vital role in goat rearing, promoting economic autonomy within households. Indigenous goats dominate and are of high significance due to their adaptive traits that are relevant for climate change and low maintenance. However, lack of emphasis on farmer-centered technology development and proper breed characterization remains a hitch to sustainable utilization and breed development of indigenous goats. This can be over come through proper linkage between market and production, workable regional and national agricultural policies, community breeding programs, collaborative research work within the region, and consistent government support.
Keywords:
food security; goats; climate change; Southern Africa
2. Characterization of Indigenous Goats
Phenotypic characterization is the primary phase for documentation of qualitative and quantitative traits of the indigenous goats [
17
]. Goats in the region are locally named according to different ethnic names and geographical habitats but show similar phenotypes. They are mostly multi-colored, bearded, horned, with medium to broad lopped ears, short hair and can be small to medium size [
18
]. Most variations observed in phenotypic characterization studies were due to environmental factors, resulting in different ecotypes. These variations have caused some discrepancies with regard to breed and ecotype identification. Although further studies are needed in this regard, genetic characterization is also needed to guide the final decisions on breed improvement and sustainable utilization programs.
Molecular technologies such as mitochondrial DNA, microsatellite markers and single nucleotide polymorphism (SNPs) are important for genetic characterizations [
19
].
Table 1
shows studies on genetic characterization of indigenous goats in different countries in Southern Africa. These studies have provided information on genetic diversity, genetic structure and genetic relationship within and between populations, which is relevant for breed monitoring and development and for the general improvement of goats. The scarcity of knowledge, however, still remains with genetic linkage of Southern African indigenous goats and adaptive traits that can be exploited for sustainable utilization to improve productivity and contribute to food security.
3. Sustainable Utilization
Derivation of significant benefits from goats as a strategic genetic resource in Southern Africa is still to be experienced. This is despite the existence of the Global Plan of Action [
22
] and national plans for management and utilization of genetic resources. While these plans are commendable, their implementation at the rural community level remains a challenge due to a variety of reasons. Therefore, a paradigm shift is required especially with regard to the way we view indigenous goats. Currently, governments, Non-Governmental Organizations (NGOs), markets and development agencies continue to promote exotic goat breeds and crossbreds at the expense of indigenous ones, despite the previous failures. A change of attitude by researchers, policy makers and extension workers towards traditional goat keepers and their breeds is very important. In Southern Africa, the majority (90%) of farmers are categorized as smallholders and own 75 percent of farm animals comprised mainly of indigenous breeds [
23
]. Consequently, for any production improvement strategies, the need for goat owners to be involved in decision-making and ownership of such initiatives is important. No matter how much effort is put into financial and technological support, the eventual survival of improvement programs depends on whether the farmers understand and agree with the objectives of the projects [
24
]. With that in mind, farmers' knowledge, innovations and practices must be integrated into research and extension. Community based programs have been found to be integral to the success of sustainable management and utilization of animal genetic resources (AnGR) [
25
].
4. Conclusions
Indigenous goats are important genetic resources kept under resource-poor farming systems with potential for increased productivity to enhance food security and the nation's welfare. Compared to cattle, these genetic resources have become even more important under changing climates.
Sustainable utilization and conservation of these genetic resources should be linked to the market. This will assist in supporting and exploiting niche products efficiently. In each country, there should be regulatory policies that will protect and regulate sustainable utilization of indigenous goats and developmental policies that will provide rules and regulations to facilitate marketing process of indigenous goat products.
The use of genomic tools has the potential to be explored in low-input farming systems by identifying SNPs associated with different traits e.g., disease resistance and adaptation, and these can be used to develop 'customized' chips for the low-input farming systems.
Farmer participation, informed policies and ring-fenced budget allocation to national indigenous genetic resources will promote and ensure sustainable utilization of indigenous goats in the region.
Author Contributions
All authors contributed in writing the review paper. All authors have read and agreed to the published version of the manuscript.
Funding
This research received no external funding.
Acknowledgments
The authors wish to thank their respective institutions for the material used and intellectual support.
Conflicts of Interest
The authors declare no conflict of interest.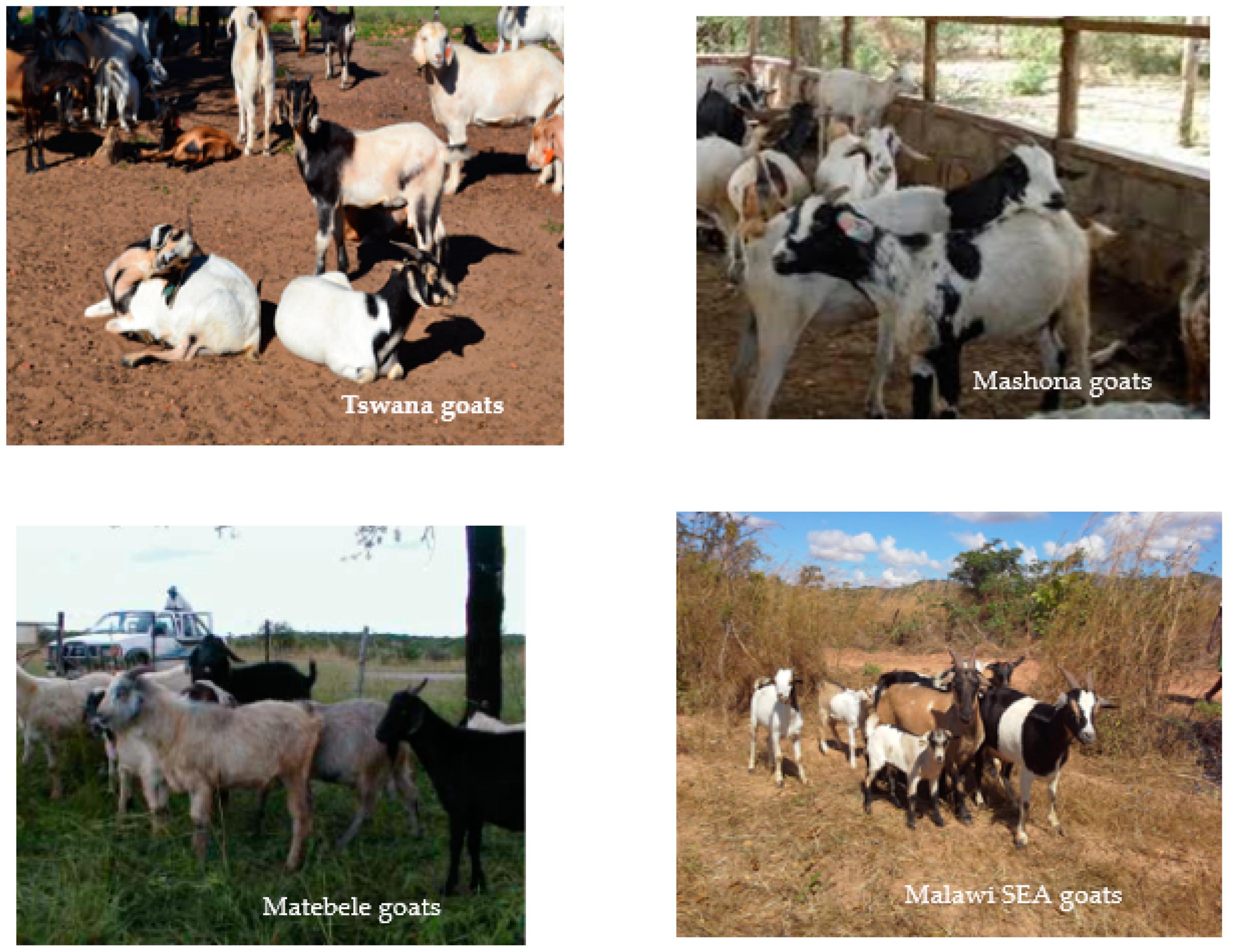 Country
Population
Ho
He
Markers
References
Mozambique
Pafuri, Tete, Maputo, Cabo Delgado
0.553
0.620
microsatellites
[14]
Tanzania
Sukuma, Gogo, Sonjo, Pare
0.620
0.714
microsatellites
[20]
Namibia
Kunene, Kavango, Caprivi, Ovambo
-
0.623
microsatellites
[21]
South Africa
Boer, Kalahari red, Savanna
Nguni, Tswana, Venda, Xhosa, Zulu and Tankwa
0.35–0.41
0.33–0.40
SNPs
[15]
Zimbabwe
Binga, Chipinge, Matopo, Shurugwi, Tsholotsho and MatopoResearch Station
0.61
0.60
SNPs
[16]
Botswana
Tswana
0.419
0.423
SNPs
[13]
Ho = observed heterozygosity, He = expected heterozygosity, SNP = single nucleotide polymorphism.

© 2020 by the authors. Licensee MDPI, Basel, Switzerland. This article is an open access article distributed under the terms and conditions of the Creative Commons Attribution (CC BY) license (http://creativecommons.org/licenses/by/4.0/).