An Illustrated Synoptic Key and Comparative Morphology of the Larvae of Dryophthorinae (Coleoptera, Curculionidae) Genera with Emphasis on the Mouthparts
Systematic Entomology Laboratory, Agricultural Research Service, United States Department of Agriculture, c/o National Museum of Natural History, Smithsonian Institution, P.O. Box 37012, MRC-168, Washington, DC 20013, USA
Received: 1 October 2018 / Revised: 7 December 2018 / Accepted: 10 December 2018 / Published: 2 January 2019
Abstract
This study provides an illustrated synoptic key and comparative morphology to the 38 known larvae of dryophthorine genera representing seven subtribes in four of the five tribes:
Cactophagus
LeConte,
Cosmopolites
Chevrolat,
Cyrtotrachelus
Schoenherr,
Diathetes
Pascoe,
Diocalandra
Faust,
Dryophthoroides
Roelofs,
Dryophthorus
Germar,
Dynamis
Chevrolat,
Eucalandra
Faust,
Eugnoristus
Schoenherr,
Foveolus
Vaurie,
Mesocordylus
Lacordaire,
Metamasius
Horn,
Metamasius
(=
Paramasius
Kuschel),
Myocalandra
Faust,
Nassophasis
Waterhouse,
Nephius
Pascoe,
Odoiporus
Chevrolat,
Phacecorynes
Schoenherr,
Polytus
Faust,
Poteriophorus
Schoenherr,
Rhabdoscelus
Marshall,
Rhinostomus
Rafinesque,
Rhodobaenus
LeConte,
Rhynchophorus
Herbst,
Scyphophorus
Schoenherr,
Sipalinus
Marshall,
Sitophilus
Schoenherr,
Sparganobasis
Marshall,
Sphenophorus
Schoenherr,
Stenommatus
Wollaston,
Temnoschoita
Chevrolat,
Trigonotarsus
Guerin-Meneville,
Trochorhopalus
Kirsch,
Tryphetus
Faust,
Xerodermus
Lacordaire, and
Yuccaborus
LeConte. Only
Prodioctes
Pascoe was not included due to lack of specimens to examine. Seven genera are reported here for the first time. Detailed line drawings of the mouthparts of 37 genera are provided. The synoptic key is a multi-entry key, different from a traditional, single entry dichotomous key, which allows the user to identify dryophthorine larvae using any combination of characters (couplets). A total of 52 characters are included. This study provides support for the retention of Stromboscerini in the subfamily.
View Full-Text
►

▼

Figures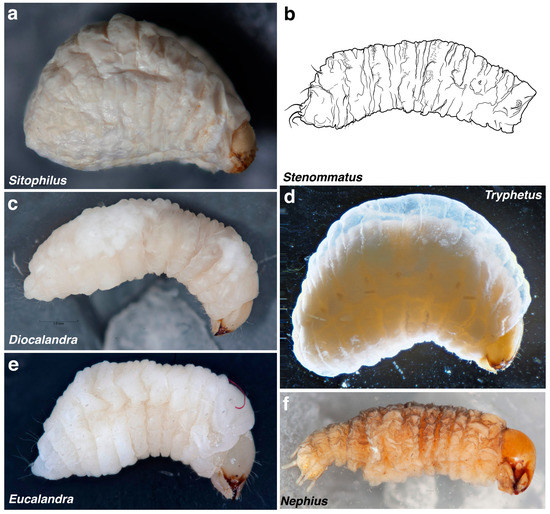 Figure 1
This is an open access article distributed under the
Creative Commons Attribution License
which permits unrestricted use, distribution, and reproduction in any medium, provided the original work is properly cited (CC BY 4.0).

Printed Edition Available!
A printed edition of this Special Issue is available
here
.
Share & Cite This Article
MDPI and ACS Style
Chamorro, M.L. An Illustrated Synoptic Key and Comparative Morphology of the Larvae of Dryophthorinae (Coleoptera, Curculionidae) Genera with Emphasis on the Mouthparts. Diversity 2019, 11, 4.
Note that from the first issue of 2016, MDPI journals use article numbers instead of page numbers. See further details here.
Related Articles
Comments
[Return to top]