Synthesis and Characterization of Core-Shell Acrylate Based Latex and Study of Its Reactive Blends
1
Department of Applied Chemistry, School of Science, Northwestern Polytechnical University Xi'an 710072, P. R. China
2
School of Chemistry and Chemical Engineering, ShiYou University, Xi'an 710065, P. R. China
*
Author to whom correspondence should be addressed.
Received: 18 December 2007 / Revised: 17 February 2008 / Accepted: 3 March 2008 / Published: 12 March 2008
Abstract
Techniques in resin blending are simple and efficient method for improving the properties of polymers, and have been used widely in polymer modification field. However, polymer latex blends such as the combination of latexes, especially the latexes with water-soluble polymers, were rarely reported. Here, we report a core-shell composite latex synthesized using methyl methacrylate (MMA), butyl acrylate (BA), 2-ethylhexyl acrylate (EHA) and glycidyl methacrylate (GMA) as monomers and ammonium persulfate and sodium bisulfite redox system as the initiator. Two stages seeded semi-continuous emulsion polymerization were employed for constructing a core-shell structure with P(MMA-co-BA) component as the core and P(EHA-co-GMA) component as the shell. Results of Transmission Electron Microscopy (TEM) and Dynamics Light Scattering (DLS) tests confirmed that the particles obtained are indeed possessing a desired core-shell structural character. Stable reactive latex blends were prepared by adding the latex with waterborne melamine-formaldehyde resin (MF) or urea-formaldehyde resin (UF). It was found that the glass transition temperature, the mechanical strength and the hygroscopic property of films cast from the latex blends present marked enhancements under higher thermal treatment temperature. It was revealed that the physical properties of chemically reactive latexes with core-shell structure could be altered via the change of crosslinking density both from the addition of crosslinkers and the thermal treatment.
View Full-Text
►

▼

Figures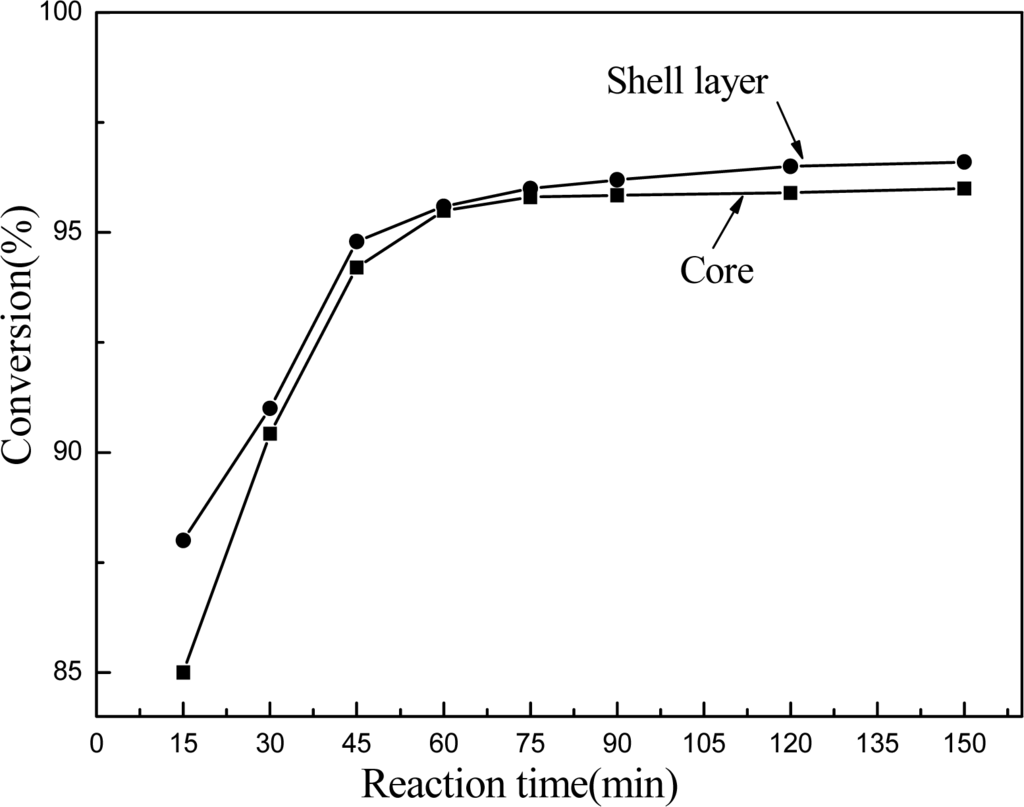 Share & Cite This Article
MDPI and ACS Style
Liu, X.; Fan, X.-D.; Tang, M.-F.; Nie, Y. Synthesis and Characterization of Core-Shell Acrylate Based Latex and Study of Its Reactive Blends. Int. J. Mol. Sci. 2008, 9, 342-354.
Related Articles
Comments
[Return to top]