Contribution of Natural Inhibitors to the Understanding of the PI3K/PDK1/PKB Pathway in the Insulin-mediated Intracellular Signaling Cascade
1
School of Bioscience and Biotechnology, and Institute of Bioscience and Biotechnology, Kangwon National University, Chuncheon 200-701, South Korea
2
Department of Pharmacology, Cell Signaling Laboratory, Daejeon Regional Cancer Center, Cancer Research Institute, RResearch Institute for Medical Sciences, College of Medicine, Chungnam, National University, Taejeon, 301-131, South Korea
*
Author to whom correspondence should be addressed.
Received: 15 July 2008 / Revised: 8 November 2008 / Accepted: 12 November 2008 / Published: 12 November 2008
Abstract
The critical initial steps in insulin action include phosphorylation of adapter proteins and activation of phosphatidylinositol 3-kinase (PI3K). One of important components in this process is a protein called Akt/protein kinase B (PKB). The work of numerous different researchers indicates a role of PKB in regulating insulin-stimulated glucose uptake. The crucial role of lipid second messengers in PKB activation has been dissected through the use of the PI3K-specific inhibitors wortmannin and LY294002. Receptor-activated PI3K synthesizes the lipid second messenger PtdIns[3,4,5]-trisphosphate, leading to the recruitment of PKB to the membrane. Membrane attachment of PKB is mediated by its pleckstrin homology domain binding to PtdIns[3,4,5]-trisphosphate or PtdIns[3,4]-bisphosphate with high affinity. Activation of PKB alpha is then achieved at the plasma membrane by phosphorylation of Thr308 in the activation-loop of the kinase domain and Ser473 in the carboxy-terminal regulatory region, respectively. 3-Phosphoinositide-dependent protein kinase-1 (PDK1) is responsible for T308 phosphorylation. The usage of specific inhibitors and natural compound has significantly contributed to investigate the molecular mechanism of PI3K/PDK1/PKB signaling pathway, leading to the putative therapeutics benefits of patients. This review focuses on the contribution of natural inhibitor or compound in our understanding of the mechanism by which insulin induces, especially in PI3K/ PDK1/PKB signaling.
View Full-Text
►

▼

Figures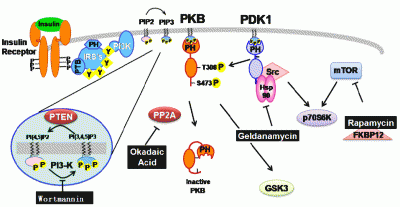 Graphical abstract

Share & Cite This Article
MDPI and ACS Style
Cho, J.Y.; Park, J. Contribution of Natural Inhibitors to the Understanding of the PI3K/PDK1/PKB Pathway in the Insulin-mediated Intracellular Signaling Cascade. Int. J. Mol. Sci. 2008, 9, 2217-2230.
Related Articles
Comments
[Return to top]