Studies on the Interaction between Zinc-Hydroxybenzoite Complex and Genomic DNA
1
Department of Chemistry, Faculty of Arts and Sciences, Kafkas University, 36300 Kars, Turkey
2
Department of Biochemistry, Faculty of Veterinary Medicine, Kafkas University, Kars, Turkey
3
Department of Biochemistry, Faculty of Veterinary Medicine, Kafkas University, Kars, Turkey
4
Department of Chemistry, Faculty of Arts and Sciences, Kafkas University, 36300 Kars, Turkey
*
Author to whom correspondence should be addressed.
Received: 14 November 2005 / Revised: 2 March 2006 / Accepted: 20 March 2006 / Published: 7 April 2006
Abstract
Zinc-Hydroxybenzoite ([Zn (H
2
0)
6
] (p-HO-C
6
H
4
COO)
22
H
2
0) complex which wassynthesized and characterized by instrumental methods and the DNA samples which hadbeen isolated from cattle were allowed to interact at 37
o
C for different time periods. Theinteraction of genomic DNA with this complex has been followed by agarose gelelectrophoresis at 50 V for 2 h. When DNA samples were allowed to interact with this metalcomplex, it was found that band intensities changed with the concentrations of the complex.In the result of interaction between this complex and genomic DNA samples, it wasdetermined that the intensities of bands were changed at the different concentrations of thecomplex. The brightness of the bands was increased and mobility of the bands wasdecreased, indicating the occurrence of increased covalent binding of the metal complexwith DNA. In this study it was concluded that the damage effect of ascorbate was reducedby Zinc-Hydroxybenzoite.
View Full-Text
►

▼

Figures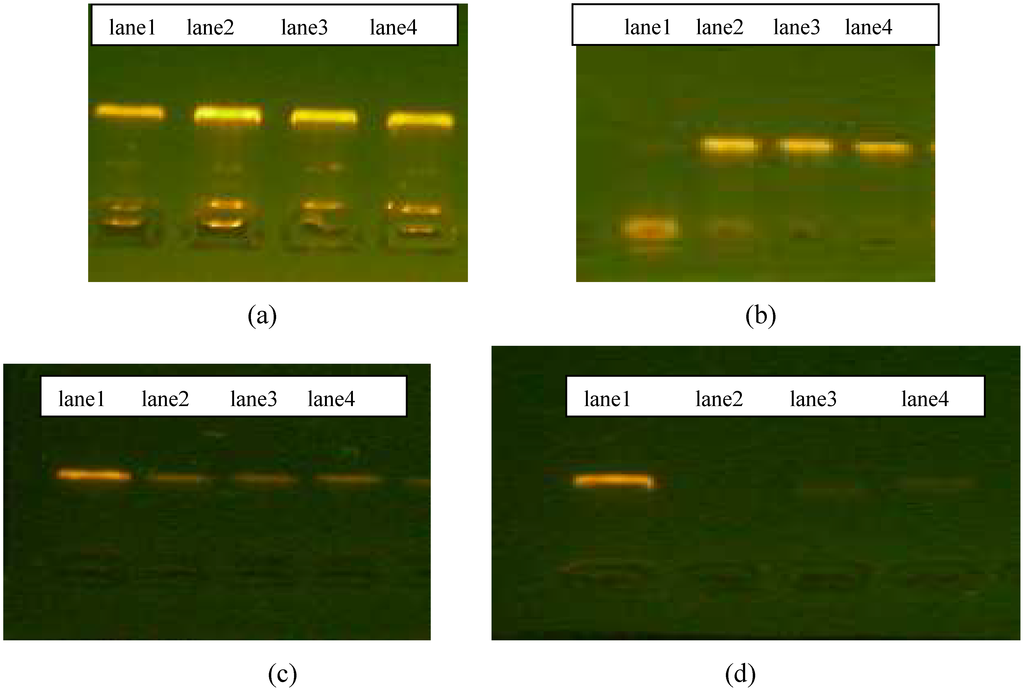 Figure 1

Share & Cite This Article
MDPI and ACS Style
Arslantas, A.; Devrim, A.K.; Kaya, N.; Necefoglu, H. Studies on the Interaction between Zinc-Hydroxybenzoite Complex and Genomic DNA. Int. J. Mol. Sci. 2006, 7, 111-118.
Related Articles
Comments
[Return to top]