Effect of Organic Solvents and Biologically Relevant Ions on the Light-Induced DNA Cleavage by Pyrene and Its Amino and Hydroxy Derivatives
1
Department of Chemistry, Jackson State University, Jackson, MS 39217, USA
2
Department of Biology, Jackson State University, Jackson, MS 39217, USA
3
National Center for Toxicological Research, Jefferson, AR 72079, USA
*
Author to whom correspondence should be addressed.
Received: 7 June 2002 / Accepted: 15 August 2002 / Published: 30 September 2002
Abstract
Polycyclic aromatic hydrocarbons (PAHs) are a class of carcinogenic compounds that are both naturally and artificially produced. Many PAHs are pro-carcinogens that require metabolic activation. Recently, it has been shown that PAH can induce DNA single strand cleavage and formation of PAH-DNA covalent adduct upon irradiation with UVA light. The light-induced DNA cleavage parallels phototoxicity in one instance. The DNA photocleavage efficiency depends on the structure of the PAHs. This article reports the effect of both organic solvents and the presence of biologically relevant ions, Na
+
, Mg
2+
, Ca
2+
, K
+
, Fe
3+
, Cu
2+
, Zn
+2
, Mn
2+
, and I
-
, on the light-induced DNA cleavage by pyrene, 1-hydroxypyrene and 1-aminopyrene. Since both 1-hydroxypyrene (0.6 μM) and 1-aminopyrene (6 μM) dissolve well in the minimum organic solvents used (2% methanol, dimethylsulfoxide, and dimethylformamide), increasing the amount of the organic solvent resulted in the decrease of the amount of DNA single strand cleavage caused by the combination effect of 1-hydroxy or 1-aminopyrene and UVA light. The result with the less watersoluble pyrene shows that increase of the amount of the organic solvent can increase the amount of DNA single strand DNA photocleavage cause by the combination of pyrene and UVA light. Therefore, there are two effects by the organic solvents: (i) to dissolve PAH and (ii) to quench DNA photocleavage. The presence of Fe
3+
and Zn
2+
enhances, while the presence of Ca
2+
and Mn
2+
inhibits the DNA photocleavage caused by 1-aminopyrene and UVA light. Other metal ions have minimal effect. This means that the effect of ions on DNA photocleavage by PAHs is complex. The presence of KI enhances DNA photocleavage. This indicates that the triplet-excited state of 1-aminopyrene is involved in causing DNA cleavage
View Full-Text
►

▼

Figures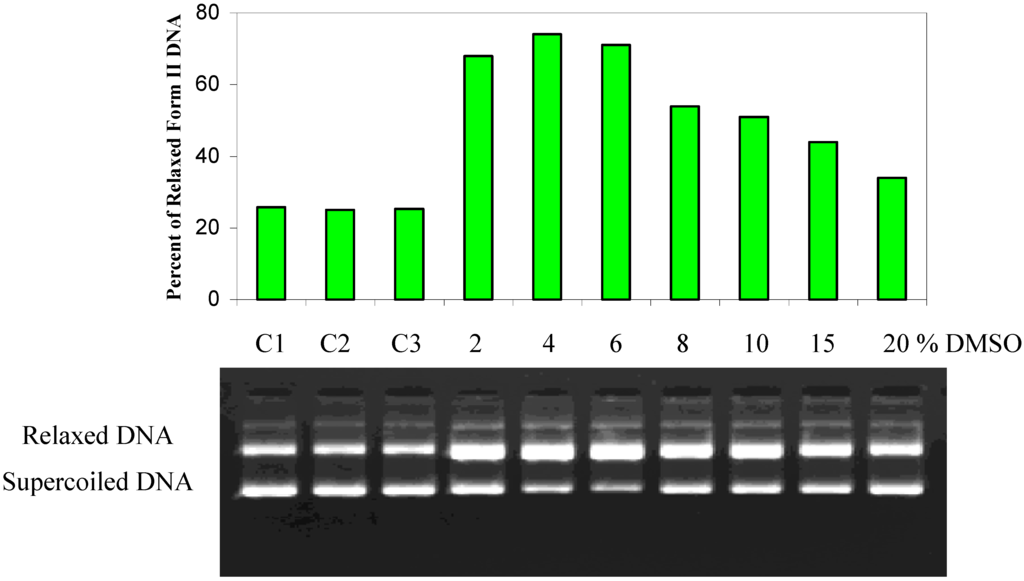 Figure 1

Share & Cite This Article
MDPI and ACS Style
Dong, S.; Wang, S.; Stewart, G.; Hwang, H.-M.; Fu, P.P.N.; Yu, H. Effect of Organic Solvents and Biologically Relevant Ions on the Light-Induced DNA Cleavage by Pyrene and Its Amino and Hydroxy Derivatives. Int. J. Mol. Sci. 2002, 3, 937-947.
Related Articles
Comments
[Return to top]