The Endocannabinoid/Endovanilloid System in Bone: From Osteoporosis to Osteosarcoma
1
Department of Women, Child, and General and Specialized Surgery, University of Campania Luigi Vanvitelli, 80138 Naples, Italy
2
Department of Experimental Medicine, University of Campania Luigi Vanvitelli, 80138 Naples, Italy
3
Department of Gynecology, Obstetrics and Reproductive Sciences, University of Campania Luigi Vanvitelli, 80138 Naples, Italy
*
Author to whom correspondence should be addressed.
†
These authors contributed equally to this work.
Received: 29 March 2019 / Revised: 16 April 2019 / Accepted: 17 April 2019 / Published: 18 April 2019
Abstract
Bone is a dynamic tissue, whose homeostasis is maintained by a fine balance between osteoclast (OC) and osteoblast (OB) activity. The endocannabinoid/endovanilloid (EC/EV) system's receptors are the cannabinoid receptor type 1 (CB1), the cannabinoid receptor type 2 (CB2), and the transient receptor potential cation channel subfamily V member 1 (TRPV1). Their stimulation modulates bone formation and bone resorption. Bone diseases are very common worldwide. Osteoporosis is the principal cause of bone loss and it can be caused by several factors such as postmenopausal estrogen decrease, glucocorticoid (GC) treatments, iron overload, and chemotherapies. Studies have demonstrated that CB1 and TRPV1 stimulation exerts osteoclastogenic effects, whereas CB2 stimulation has an anti-osteoclastogenic role. Moreover, the EC/EV system has been demonstrated to have a role in cancer, favoring apoptosis and inhibiting cell proliferation. In particular, in bone cancer, the modulation of the EC/EV system not only reduces cell growth and enhances apoptosis but it also reduces cell invasion and bone pain in mouse models. Therefore, EC/EV receptors may be a useful pharmacological target in the prevention and treatment of bone diseases. More studies to better investigate the biochemical mechanisms underlining the EC/EV system effects in bone are needed, but the synthesis of hybrid molecules, targeting these receptors and capable of oppositely regulating bone homeostasis, seems to be a promising and encouraging prospective in bone disease management.
View Full-Text
►

▼

Figures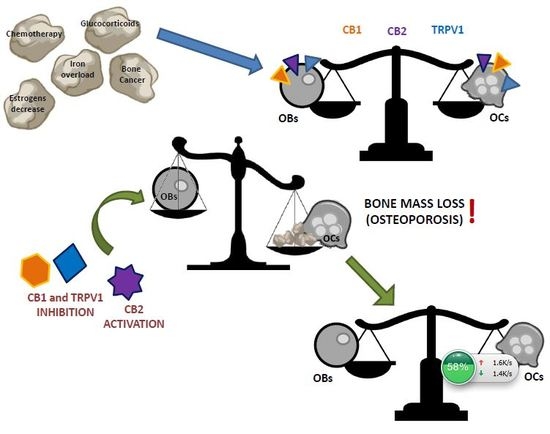 Graphical abstract
This is an open access article distributed under the
Creative Commons Attribution License
which permits unrestricted use, distribution, and reproduction in any medium, provided the original work is properly cited (CC BY 4.0).

Share & Cite This Article
MDPI and ACS Style
Rossi, F.; Tortora, C.; Punzo, F.; Bellini, G.; Argenziano, M.; Di Paola, A.; Torella, M.; Perrotta, S. The Endocannabinoid/Endovanilloid System in Bone: From Osteoporosis to Osteosarcoma. Int. J. Mol. Sci. 2019, 20, 1919.
Note that from the first issue of 2016, MDPI journals use article numbers instead of page numbers. See further details here.
Related Articles
Comments
[Return to top]