Decreased Protein Kinase C-β Type II Associated with the Prominent Endotoxin Exhaustion in the Macrophage of FcGRIIb−/− Lupus Prone Mice is Revealed by Phosphoproteomic Analysis
1
Medical Sciences Program, Faculty of Medicine, Chulalongkorn University, Bangkok 10330, Thailand
2
Center of Excellence in Immunology and Immune-mediated Diseases, Department of Microbiology, Chulalongkorn University, Bangkok 10330, Thailand
3
Center of Excellence in Systems Biology, Research affairs, Faculty of Medicine, Chulalongkorn University, Bangkok 10330, Thailand
4
Laboratory of Immune System Biology, National Institute of Allergy and Infectious Diseases, National Institutes of Health, Bethesda, MD 20892-1892, USA
*
Authors to whom correspondence should be addressed.
Received: 13 February 2019 / Revised: 13 March 2019 / Accepted: 14 March 2019 / Published: 18 March 2019
Abstract
Dysfunction of FcGRIIb, the only inhibitory receptor of the FcGR family, is commonly found in the Asian population and is possibly responsible for the extreme endotoxin exhaustion in lupus. Here, the mechanisms of prominent endotoxin (LPS) tolerance in FcGRIIb−/− mice were explored on bone marrow-derived macrophages using phosphoproteomic analysis. As such, LPS tolerance decreased several phosphoproteins in the FcGRIIb−/− macrophage, including protein kinase C-β type II (PRKCB), which was associated with phagocytosis function. Overexpression of PRKCB attenuated LPS tolerance in RAW264.7 cells, supporting the role of this gene in LPS tolerance. In parallel, LPS tolerance in macrophages and in mice was attenuated by phorbol 12-myristate 13-acetate (PMA) administration. This treatment induced several protein kinase C families, including PRKCB. However, PMA attenuated the severity of mice with cecal ligation and puncture on LPS tolerance preconditioning in FcGRIIb−/− but not in wild-type cells. The significant reduction of PRKCB in the FcGRIIb−/− macrophage over wild-type cell possibly induced the more severe LPS-exhaustion and increased the infection susceptibility in FcGRIIb−/− mice. PMA induced PRKCB, improved LPS-tolerance, and attenuated sepsis severity, predominantly in FcGRIIb−/− mice. PRKCB enhancement might be a promising strategy to improve macrophage functions in lupus patients with LPS-tolerance from chronic infection.
View Full-Text
►

▼

Figures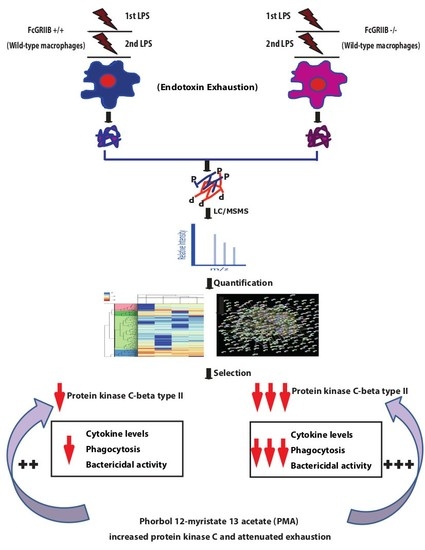 Graphical abstract
This is an open access article distributed under the
Creative Commons Attribution License
which permits unrestricted use, distribution, and reproduction in any medium, provided the original work is properly cited (CC BY 4.0).

Share & Cite This Article
MDPI and ACS Style
Ondee, T.; Jaroonwitchawan, T.; Pisitkun, T.; Gillen, J.; Nita-Lazar, A.; Leelahavanichkul, A.; Somparn, P. Decreased Protein Kinase C-β Type II Associated with the Prominent Endotoxin Exhaustion in the Macrophage of FcGRIIb−/− Lupus Prone Mice is Revealed by Phosphoproteomic Analysis. Int. J. Mol. Sci. 2019, 20, 1354.
Note that from the first issue of 2016, MDPI journals use article numbers instead of page numbers. See further details here.
Related Articles
Comments
[Return to top]