Upregulated gga-miR-16-5p Inhibits the Proliferation Cycle and Promotes the Apoptosis of
MG

-Infected DF-1 Cells by Repressing PIK3R1-Mediated the PI3K/Akt/NF-κB Pathway to Exert Anti-Inflammatory Effect

Key Laboratory of Agricultural Animal Genetics, Breeding and Reproduction, Ministry of Education, College of Animal Science and Technology and College of Veterinary Medicine, Huazhong Agricultural University, Wuhan 430070, China

*

Author to whom correspondence should be addressed.

Received: 17 January 2019 / Revised: 21 February 2019 / Accepted: 25 February 2019 / Published: 27 February 2019
Abstract
Mycoplasma gallisepticum
(
MG
) mainly infects chickens to initiate chronic respiratory disease (CRD). microRNAs (miRNAs) play vital roles according to previously reported studies. Our previous study showed that gga-miR-16-5p, in
MG
-infected lungs of chicken embryo, was upregulated by Illumina sequencing. The study aimed to reveal what role gga-miR-16-5p plays in CRD progression. gga-miR-16-5p was upregulated in
MG
-infected fibroblast cells (DF-1). Phosphoinositide-3-kinase regulatory subunit 1 (PIK3R1) was demonstrated as the target gene of gga-miR-16-5p. Furthermore, PIK3R1 expression was lower in
MG
-infected groups than it in noninfected controls measured by qPCR. Additionally, overexpressed gga-miR-16-5p could downregulate PIK3R1 and phosphorylated serine/threonine kinase (p-Akt) to express protein, whereas there is an opposite effect on inhibition. Overexpressed gga-miR-16-5p resulted in decreased activity of tumor necrosis factor alpha (TNF-α) and the nuclear factor-kappaB (NF-κB) by qPCR. Furthermore, overexpressed gga-miR-16-5p restricted cell multiplication, cycle progression, and increased apoptosis of
MG
-infected DF-1 cells, whereas inhibited gga-miR-16-5p led to the opposite effect. Collectively, upregulated gga-miR-16-5p could decrease multiplication, cycle progression, and increase apoptosis of
MG
-infected DF-1 cells, at least partly through directly targeting PIK3R1 and inhibiting PI3K/Akt/NF-κB pathway to exert an anti-inflammatory effect. Our results will provide more experimental evidence to bring pathogenesis of
MG
infection to light.
View Full-Text
►

▼

Figures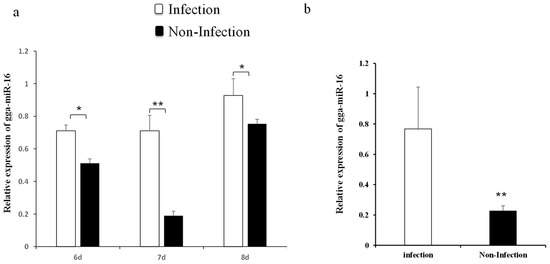 Figure 1
This is an open access article distributed under the
Creative Commons Attribution License
which permits unrestricted use, distribution, and reproduction in any medium, provided the original work is properly cited (CC BY 4.0).

Share & Cite This Article
MDPI and ACS Style
Zhang, K.; Han, Y.; Zhao, Y.; Sun, Y.; Zou, M.; Fu, Y.; Peng, X. Upregulated gga-miR-16-5p Inhibits the Proliferation Cycle and Promotes the Apoptosis of MG-Infected DF-1 Cells by Repressing PIK3R1-Mediated the PI3K/Akt/NF-κB Pathway to Exert Anti-Inflammatory Effect. Int. J. Mol. Sci. 2019, 20, 1036.
Note that from the first issue of 2016, MDPI journals use article numbers instead of page numbers. See further details here.
Related Articles
Comments
[Return to top]