Exosomal Expression of CXCR4 Targets Cardioprotective Vesicles to Myocardial Infarction and Improves Outcome after Systemic Administration
1
Cellular and Molecular Cardiology Laboratory, Cardiocentro Ticino Foundation, 6900 Lugano, Switzerland
2
Molecular Cardiology Institute, Department of Cardiology, University of Zürich, 8952 Schlieren, Switzerland
3
Laboratory of Cardiovascular Research, Lausanne University Hospital, 1011 Lausanne, Switzerland
4
"Victor Babes" National Institute of Pathology, 050096 Bucharest, Romania
5
Faculty of Biomedical Science, University of Italian Switzerland, 6900 Lugano, Switzerland
*
Author to whom correspondence should be addressed.
†
These authors contributed equally to this work.
Received: 8 January 2019 / Accepted: 20 January 2019 / Published: 22 January 2019
Abstract
Cell therapy has been evaluated to enhance heart function after injury. Delivered cells mostly act via paracrine mechanisms, including secreted growth factors, cytokines, and vesicles, such as exosomes (Exo). Intramyocardial injection of cardiac-resident progenitor cells (CPC)-derived Exo reduced scarring and improved cardiac function after myocardial infarction in rats. Here, we explore a clinically relevant approach to enhance the homing process to cardiomyocytes (CM), which is crucial for therapeutic efficacy upon systemic delivery of Exo. By overexpressing exosomal CXCR4, we increased the efficacy of plasmatic injection of cardioprotective Exo-CPC by increasing their bioavailability to ischemic hearts. Intravenous injection of Exo
CXCR4
significantly reduced infarct size and improved left ventricle ejection fraction at 4 weeks compared to Exo
CTRL
(
p
< 0.01). Hemodynamic measurements showed that Exo
CXCR4
improved dp/dt min, as compared to Exo
CTRL
and PBS group. In vitro, Exo
CXCR4
was more bioactive than Exo
CTRL
in preventing CM death. This in vitro effect was independent from SDF-1α, as shown by using AMD3100 as specific CXCR4 antagonist. We showed, for the first time, that systemic administration of Exo derived from CXCR4-overexpressing CPC improves heart function in a rat model of ischemia reperfusion injury These data represent a substantial step toward clinical application of Exo-based therapeutics in cardiovascular disease.
View Full-Text
►

▼

Figures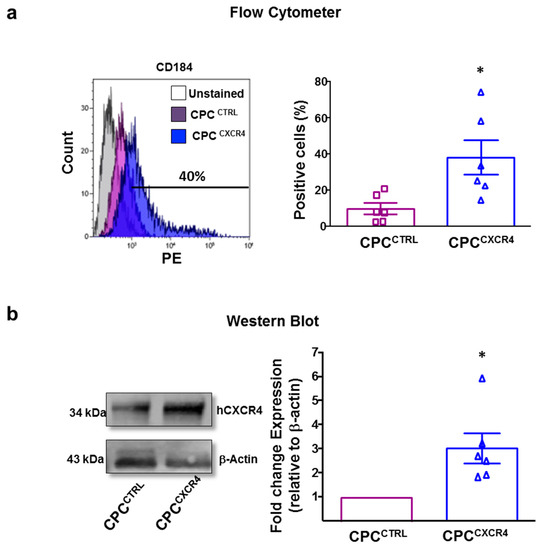 Figure 1
This is an open access article distributed under the
Creative Commons Attribution License
which permits unrestricted use, distribution, and reproduction in any medium, provided the original work is properly cited (CC BY 4.0).

Share & Cite This Article
MDPI and ACS Style
Ciullo, A.; Biemmi, V.; Milano, G.; Bolis, S.; Cervio, E.; Fertig, E.T.; Gherghiceanu, M.; Moccetti, T.; Camici, G.G.; Vassalli, G.; Barile, L. Exosomal Expression of CXCR4 Targets Cardioprotective Vesicles to Myocardial Infarction and Improves Outcome after Systemic Administration. Int. J. Mol. Sci. 2019, 20, 468.
Note that from the first issue of 2016, MDPI journals use article numbers instead of page numbers. See further details here.
Related Articles
Comments
[Return to top]