Anti-Osteoporotic Effects of Kukoamine B Isolated from
Lycii Radicis

Cortex Extract on Osteoblast and Osteoclast Cells and Ovariectomized Osteoporosis Model Mice

1

Department of Medical Genetics, Ajou University School of Medicine, Suwon 16499, Korea

2

Department of Biomedical Sciences, Ajou University Graduate School of Medicine, Suwon 16499, Korea

3

Natural Products Research Institute, Gyeonggi Institute of Science & Technology Promotion, Suwon 16229, Korea

4

Department of Biomedical Laboratory Science, College of Life and Health Sciences, Hoseo University, Asan 31499, Korea

5

International Biological Material Research Center, Korea Research Institute of Bioscience and Biotechnology, Daejeon 34141, Korea

6

Institute of Medicinal Plants, Yunnan Academy of Agricultural Sciences, Kunming 650200, China

7

Korea Food Research Institute, Seongnam 13539, Korea

8

Dongwoodang Pharmacy Co. Ltd., Yeongchen 38819, Korea

*

Authors to whom correspondence should be addressed.

†

These authors contributed equally to this work.

Received: 26 May 2019 / Accepted: 6 June 2019 / Published: 6 June 2019
Abstract
Osteoporosis is an abnormal bone remodeling condition characterized by decreased bone density, which leads to high risks of fracture. Previous study has demonstrated that
Lycii Radicis
Cortex (LRC) extract inhibits bone loss in ovariectomized (OVX) mice by enhancing osteoblast differentiation. A bioactive compound, kukoamine B (KB), was identified from fractionation of an LRC extract as a candidate component responsible for an anti-osteoporotic effect. This study investigated the anti-osteoporotic effects of KB using in vitro and in vivo osteoporosis models. KB treatment significantly increased the osteoblastic differentiation and mineralized nodule formation of osteoblastic MC3T3-E1 cells, while it significantly decreased the osteoclast differentiation of primary-cultured monocytes derived from mouse bone marrow. The effects of KB on osteoblastic and osteoclastic differentiations under more physiological conditions were also examined. In the co-culture of MC3T3-E1 cells and monocytes, KB promoted osteoblast differentiation but did not affect osteoclast differentiation. In vivo experiments revealed that KB significantly inhibited OVX-induced bone mineral density loss and restored the impaired bone structural properties in osteoporosis model mice. These results suggest that KB may be a potential therapeutic candidate for the treatment of osteoporosis.
View Full-Text
►

▼

Figures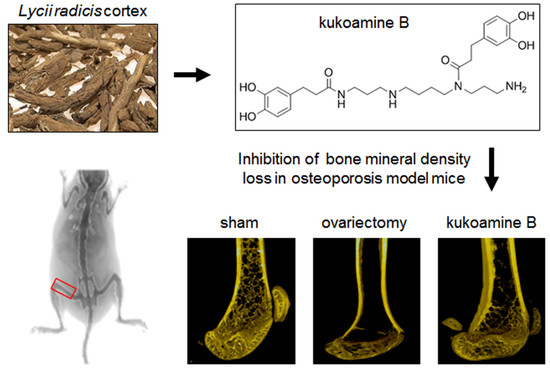 Graphical abstract
This is an open access article distributed under the
Creative Commons Attribution License
which permits unrestricted use, distribution, and reproduction in any medium, provided the original work is properly cited (CC BY 4.0).
Supplementary materials
Supplementary File 1:

PDF-Document (PDF, 567 KB)

Externally hosted supplementary file 1
Link: https://none
Description: Supplementary Figs. 1~7

Share & Cite This Article
MDPI and ACS Style
Park, E.; Kim, J.; Kim, M.-C.; Yeo, S.; Kim, J.; Park, S.; Jo, M.; Choi, C.W.; Jin, H.-S.; Lee, S.W.; Li, W.Y.; Lee, J.-W.; Park, J.-H.; Huh, D.; Jeong, S.-Y. Anti-Osteoporotic Effects of Kukoamine B Isolated from Lycii Radicis Cortex Extract on Osteoblast and Osteoclast Cells and Ovariectomized Osteoporosis Model Mice. Int. J. Mol. Sci. 2019, 20, 2784.
Note that from the first issue of 2016, MDPI journals use article numbers instead of page numbers. See further details here.
Related Articles
Comments
[Return to top]